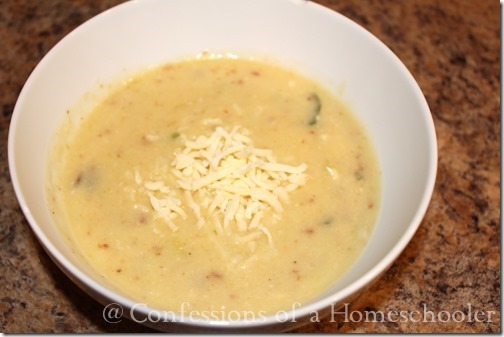 Hello readers!
Today I wanted to share a yummy comforting soup recipe with you. It's a simple creamy potato soup that is not only easy to make, but definitely warms the belly on a cool day!
Ingredients:
1 pound bacon, chopped
3 Tbsp. butter
2 stalks celery, diced (I omit this to please kids, but it gives the soup nice flavor.)
1/2 sweet onion, diced
2 cloves garlic, minced
8 potatoes, peeled and cubed (I prefer red potatoes)
1/4 cup all-purpose flour
1 cup heavy cream (Can sub. milk to reduce calories)
4 cups chicken broth or stock
Salt and pepper to taste
1 cup Monterrey Jack cheese, shredded
2  green onions, chopped
Method:
1. In a Dutch oven, or large pot, cook bacon over medium heat until done. Remove bacon from pan and chop.
2. Drain off all but 1/4 cup bacon grease. Add onion, and celery to pot and sauté until soft. Add garlic and cook about 1 more minute.
3. Add cubed potatoes, butter, and flour and stir well. Sauté for another 2 minutes.
4. Return the bacon to the pan and add heavy cream, and chicken stock. (Make sure you add enough stock to cover potatoes completely.)
5. Scoop out about 4 cups of the soup mixture and puree in blender, then add back into the soup. Continue to simmer on low until ready to eat.
6. Add chopped green onion and 1 cup Monterrey Jack cheese and stir until cheese is melted.
7. Salt and pepper to taste.
Serving Instructions: Serve warm, top with sprinkle of Monterrey Jack shredded cheese and chopped green onion.
I hope you enjoy this soup, let me know if you try it out and what your family thinks!
Have a favorite comfort food to share? Make sure to leave a comment below!