Hi everyone! I wanted to take a minute this weekend to reflect on this week's Ephesian's study that we're doing.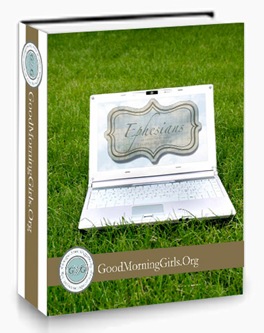 One thing I LOVE about this study is that each day is broken down into only a few verses! Not only is it totally DOABLE, but it really allows me to soak in what God has for me each day and not stress out about how much reading I have to do.
My favorite part of this week: "Grace and Peace to you from God our Father and the Lord Jesus Christ".  (Eph 1:2) I'm not sure about you all, but I can seriously use some grace and peace these days! I tend to get caught up in the daily grind, and forget to keep God as my priority. But I can always tell when I'm searching for something to appease me, and nothing is working. It's a clear indication to me to get back into the Word of God. It's the only thing that can give us that peace and fulfillment we are longing for!
And isn't it wonderful to know that God chose us in Him before the creation of the world to be holy and blameless in His sight! That He has blessed us in the heavenly realms with every spiritual blessing in Christ! In LOVE He adopted us to be His precious children. It made me think about how much I love my own children. It's hard to imagine but God loves us even more.
Even if we've wandered a little, or a lot, or never committed our lives to Him, He still loves us. And in Ephesians 1:4 scripture tells us that He chose US! We know that He is faithful even when we are not, and for that I am so thankful. There have been many times that I haven't been faithful with the things of God, so I'm thankful to be diving into a study that will put me back on track, and keep my focus on things above!
I'm so excited that you all chose to make the commitment to join in this study together.  I pray that you have a wonderful week and enjoy the blessings that God has for you! I look forward to encouraging each other, and sharing our thoughts as we journey through this together!
If you didn't have time to get to your study this week, things got in the way, I wanted to paste the verse here, so you can have a chance to meditate over His words before you start your next week:
I bolded all of the promises that God has bestowed upon us, and I want you to take special note of them! We are blessed, chosen, predestined, adopted, accepted, beloved, redeemed,  and forgiven. And all of these things He has abounded towards us, given to us as an inheritance!
In the words of my sweet friend Darlene Schacht….
"You are loved by an almighty God!"
Ephesians 1:1-14

Greeting

1 Paul, an apostle of Jesus Christ by the will of God,
To the saints who are in Ephesus, and faithful in Christ Jesus:
2 Grace to you and peace from God our Father and the Lord Jesus Christ.

Redemption in Christ

3 Blessed be the God and Father of our Lord Jesus Christ, who has blessed us with every spiritual blessing in the heavenly places in Christ, 4 just as He chose us in Him before the foundation of the world, that we should be holy and without blame before Him in love, 5 having predestined us to adoption as sons by Jesus Christ to Himself, according to the good pleasure of His will, 6 to the praise of the glory of His grace, by which He made us accepted in the Beloved.

7 In Him we have redemption through His blood, the forgiveness of sins, according to the riches of His grace 8 which He made to abound toward us in all wisdom and prudence, 9 having made known to us the mystery of His will, according to His good pleasure which He purposed in Himself, 10 that in the dispensation of the fullness of the times He might gather together in one all things in Christ, both[a] which are in heaven and which are on earth—in Him. 11 In Him also we have obtained an inheritance, being predestined according to the purpose of Him who works all things according to the counsel of His will, 12 that we who first trusted in Christ should be to the praise of His glory. 13 In Him you also trusted, after you heard the word of truth, the gospel of your salvation; in whom also, having believed, you were sealed with the Holy Spirit of promise, 14 who is the guarantee of our inheritance until the redemption of the purchased possession, to the praise of His glory.
Encouragement to persevere:
One last thing I wanted to do is encourage you to steady on in this study! I was at an awesome conference with Sally Clarkson this weekend, and one thing really stood out to me.
"We can't pour out, what we are not taking in."

This means that you need to commit today, if you haven't already, to make some time each day to get into God's word! 
Blessings to all of you who are going through this study with me, you're already taken that commitment! If you aren't finding time to spend in His word each day, I encourage you to take a minute to think about who you are passing up spending with. Then ask yourself if you can afford NOT to spend time with the almighty God.
If you haven't started the study yet, it's not too late! You've just read the first week of verses above, so start fresh this week and commit to spend time in the Word each day!
Download the GMG Ephesians Study Guide

Join our Facebook Discussion Group