Welcome back to another post in my Homeschooling 101 series! Last week I talked about learning a few basics before starting out, and today we're going to talk about what to teach each year.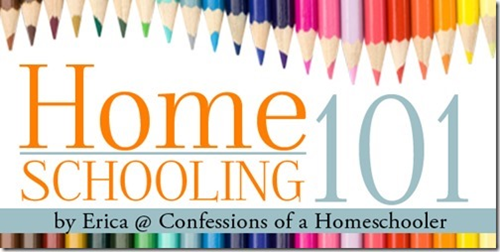 Planning Ahead:
One thing that has helped me the most in my homeschooling journey is to plan ahead. We do not choose to school year round, instead we take summer breaks.
I use that time to gather all of my curriculum, organize everything, and get all of my lesson plans into my homeschooling software.  Knowing that I'm prepared for our year greatly reduces my stress level while we're in school.
And it's much easier than trying to fly by the seat of my pants everyday. Planning ahead helps keep chaos at bay, and also allows you to feel like you're actually accomplishing things that need to be done. It also gives you the freedom to take breaks without feeling guilty, and know when you can and can't take a day off.
Prepare for the Year:
1. List Subjects: One of the first things I do, is list the subjects we'll need to cover for the year.  In my homeschool planning forms, I have a curriculum sheet where I list all of the subjects that I plan to do for each student. This step is extremely helpful to complete prior to researching curriculum.
I use one sheet per student, plus one to list subjects that we do as a group. This helps me keep everything organized and make sure that I actually acquire all of my desired curriculum one it's been decided upon. Believe it or not there was one year where I thought I'd purchased everything, but on day one I realized that was NOT the case! LOL!
So on each sheet I list the subject only needed for that student. Leave the other columns blank until you get to the next step. I list my subjects in alphabetical order, but that's just so I make don't forget a subject.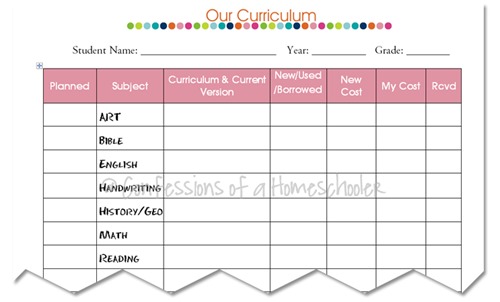 Below is a sample list of subjects to teach each year based on your students grade level. These subject lists are NOT legal requirements, but instead a list of how I typically list subjects for each grade to help you get started:
Kindergarten
1st & 2nd
3rd – 5th
Bible
Phonics/Reading
Math
Handwriting
* Art
* Social Studies
* Science
Bible
Reading
Math
Handwriting
Spelling
English/Language
Social Studies
Science/Health
* Art
* Music
* PE
Bible
Reading
Math
Handwriting
Spelling
English/Grammar
History/Geography
Science/Health
Writing
* Art
* Music
* PE
* Foreign Language
* Typing
6th – 8th
High School
Bible
Reading
Math
Handwriting
Spelling
English/Grammar
History/Civics
Science/Health
Writing
* Art* Foreign Language* Literature
* Music
* PE
* Typing** US History* Speech/Debate
***If you are homeschooling a high school student, I highly recommend taking a look at college entrance requirements prior to setting your schedule for the year. Even if your child may not attend a formal college this will help you assess what classes and credits are typically required of a high school level degree.
* Indicates optional subjects for that grade.
** If you live in the United States some states require that you do a certain amount of instruction on the US Constitution each year. You'll want to check your state requirements to make sure you are meeting them.
Now comes the fun part…
Once you get all of your subjects chosen for the year, you get to pick curriculum! That'll be our next topic in the Homeschooling 101 series.
Want more information? Check out Homeschooling 101: A guide to getting started!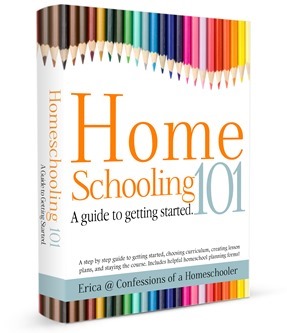 Stay tuned for the next post in my series on Homeschooling 101!
Our Homeschool: Here is a list of posts on our curriculum choices, our schoolroom setup and our daily schedule.
Here are some more helpful posts for new homeschoolers getting started:
Disclaimer: I am not a legal attorney, nor do I have a degree in law. The information contained in this Book is what I have gleaned from my own research and should not be taken as legal advice. If you have any questions regarding homeschooling, please refer to the laws in accordance with your own state, or seek professional legal counsel.