Hi everyone, I just wanted to put up a quick post to let you all know that there's still time to get in on the 30% off discount for The Well Planned Day planners from Home Educating Family Association!
They offer teacher planners, student planners, an online planner, and a great family magazine!  
I know many of you use and love these beautifully done planners, so if you haven't gotten yours yet, do it soon! The sale ends this Saturday, September 7, 2013!
Click the image below to order your planner now!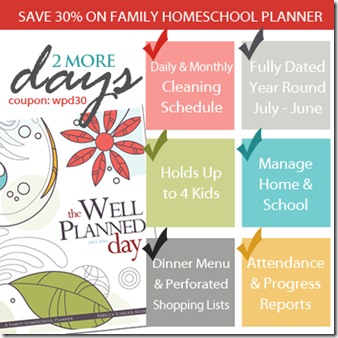 (This post contains affiliate links.)
Happy homeschool planning, I hope you are having a great year!