Hey guys! Okay, since we just started a new school year, I thought it was high time for a "What's in the Workbox" post. It's been a little bit since I've done one of these, and I also haven't had a 1st grader for a while either. So let's take a peek into her workboxes to see what she's got going on this year!
Just to recap, Miss Lady Bug is in 1st grade this year. Her schedule is a little bit full because I couldn't decide between a couple of things so I'm making her do it all. But so far she's handling it well. The only thing I've officially removed from her list is typing. She just isn't ready for it, though she loves to do it and begs me constantly.
DRAWER 1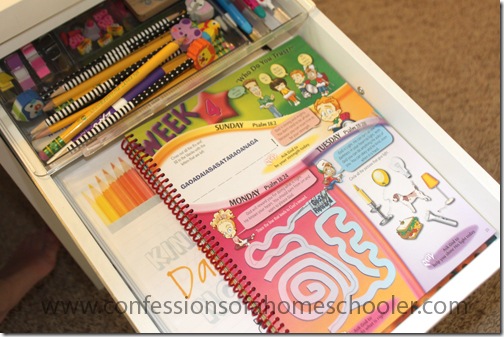 Here is her first drawer. Inside you'll find her Daily Learning Notebook She'll be using the Elementary level manuscript version. As well as our Word of Life Challenger Quiet Time devotion, and our Linus expandable drawer divider from the Container Store. It has pencils, glue sticks, erasers, sticky tabs, and probably a few toys as well.
DRAWER 2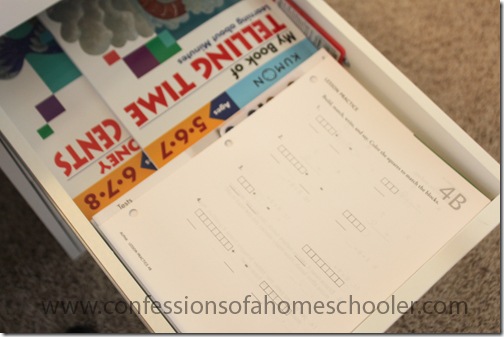 Her second drawer is all math. She has her Math U See Alpha, Kumon Dollars & Cents, & Kumon Telling Time books in there. She does a Math-U-See worksheet each day, and then alternates the counting money and telling time books. So for example she does Counting Money on M/W and Telling Time on T/Th. She also has a ruler in there. I keep the workbooks in the drawer, an just pull out each day's worksheet and lay it on top.
DRAWER 3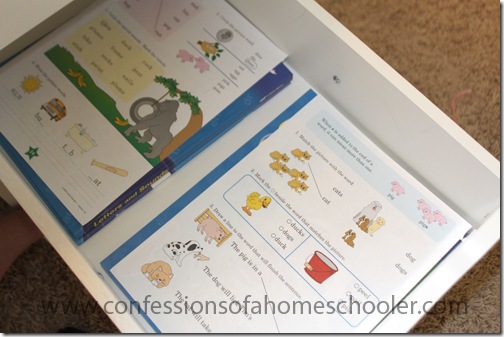 This is our phonics drawer. When she hits this drawer she lets me know, and we do our Abeka phonics lesson, and our All About Spelling Level 1 phonics flashcards together. I just find that they go together well. Then she does an Abeka Letters & Sounds 1, and  Language 1 worksheet each day. We aren't using the word list from AAS right now, just the phonics rules.
DRAWER 4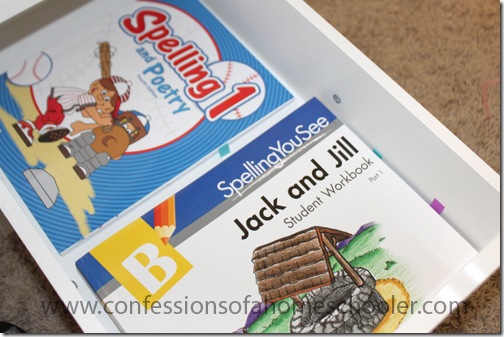 So this is clearly our spelling drawer. And by now I think you're all probably wondering why she has 2 spelling things in here. Partly it's because I want her to get used to a word list each week and the Abeka Spelling 1 lists are great. I also like the Spelling You See program and it kind of doubles as handwriting for us, so yeah. She gets to do two. Lucky girl

So she works on her Spelling You See B, and then does one sheet from the Abeka Spelling 1.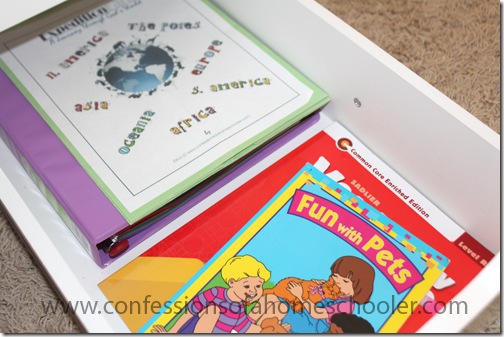 This last drawer holds her Expedition Earth Geography/Science Curriculum binder along with her vocabulary and her daily Abeka 1 readers. Do any of you do Vocab for first grade? This is the first year I'm trying it, and honestly I'm not sure it's worth it. Since I have to read almost everything to her it almost seems a little bit like a waste of time. She's using the Vocabulary Workshop Grade 1 Level Red book. They do have some cool online audio things to listen to each week for her word list, so that's a plus. Hmm…decisions decisions.
And that's all that is in her daily workbox drawers. Here are a few of the things we do that aren't stored in her boxes:
For anyone with questions on our school room or workbox drawers, you can check out our school room setup here. Links to all of furniture and supplies are there to help you out.
You can also see a check out this video I did a while back on our workboxes! We've stuck with the Ikea drawer units since they fit better in our room right now.
Need workbox printables? I have a ton of free printables you're welcome to download and use in your homeschool!