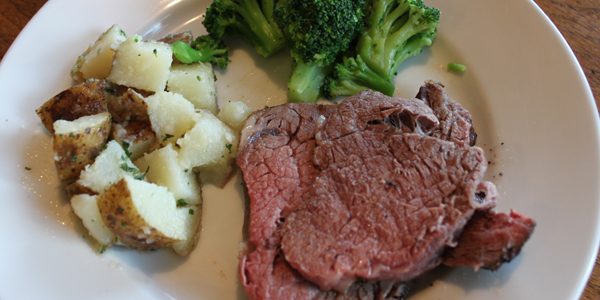 Oh baby, do I have a wonderful recipe to share with you today! I actually got it from Paula Deen, and we all know she ROCKS!
This recipe is literally fool proof! Which, incidentally is exactly what a person such as myself needs.
And, it's super easy, which is what else a person like me needs. While I dream of being a wonderfully creative chef, I've accepted the fact that is not my calling. So I find easy recipes that make me appear to be wonderfully creative. There. I've confessed. I feel much better now.
Onto the recipe, are you ready for the ingredients? Don't blink or you'll miss it…
1 5-pound standing rib roast or prime rib (oh yeah, this is so good with prime rib!)
Did you catch that?
House Seasoning: (mix below ingredients and store in baggie or airtight container for up to 6 mos! Use to season anything that used to moo. Trust me. So yummy.)
1 cup salt
1/4 cup black pepper
1/4 cup garlic powder
Directions:
Let roast stand at room temperature for about 1 hour.
Preheat oven to375 degrees F.
Rub roast with House Seasoning (above) coating well!
Place roast on rack in pan with rib side down and fatty side up and roast for 1 hour at 374 degrees F.
After 1 hour, turn off oven, but DO NOT OPEN DOOR! Let sit for 3 hours.
30-40 minutes before serving time, turn oven back on to 375 degrees and heat for 30-40 minutes.
Do not remove roast or re-open door from time roast is put in until you are ready to serve it!
Serve with parsley potatoes and a salad or veggie! What are parsley potatoes? I'm glad you asked! They're on the left in the picture below. Aren't they pretty?
Parsley Potatoes:
3-6 russet potatoes (I do about 1 potato per person, a half for little guys, you can also substitute with red potatoes)
butter (lots of butter, like a half to whole stick depending on how many potatoes. I'm sorry, I didn't say they were healthy.)
1 T parsley
1 tsp garlic salt
1 tsp onion salt
Step 1: Fill large sauce pan with water and bring to boil.
Step 2: Wash potatoes thoroughly, then dice into about 1" pieces and place in boiling water. Cook approximately 15 minutes or until tender. Drain water.
Step 3: Meanwhile, melt approx. 4tbs of butter in sauté pan on low. Add garlic salt, onion salt and parsley. (Can add more of any ingredient to taste)
Step 4: Stir cooked potatoes into butter mixture until coated well and serve!