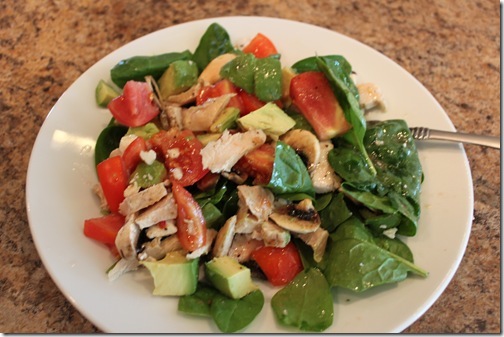 With all of the Mac-n-Cheese and chicken nugget requests around here, I really needed a lunch idea that I could throw together easily for me! Now, I know you all don't need me to tell you how to make a scrumptious salad for yourselves, but maybe just a little inspiration to remind you how easy it can be! So for those of you out there yearning for something other than kid food for lunch, here we go!
Introducing the Grilled Chicken Salad! I know, it's a totally new concept… ;o) bear with me here…
My husband started eating healthier and grilled up a bunch of chicken breasts to take for his lunches. When I went searching for lunch one day I spotted them! I think this is a key part to this recipe, because if I can find something healthy and ready to go in my fridge then I'm all over it!
I mean, when you've got about 30 seconds between subjects for lunch…I'm just sayin'
So praying he wouldn't notice or care that I've swiped some of his lunch sustenance, I quietly snagged one. Later I confessed, and you know what? He said, "Great! I made them for us to eat, so go for it!" What a nice guy ;o)
So all moral aspects of this story aside, here's what I came up with that day…
Ingredients: (So these ingredients are totally optional based on your likes, but here's what I put in)
1 Grilled Chicken Breast (If you can, pre-grill this and slice it, then just store it in baggies in the fridge for grab-n-go purposes!)
Handful of your favorite lettuce (Baby spinach leaves are in the photo above, great nutrition value!)
1 Sliced Roma Tomato
1/4 Sliced Avocado (Store remaining avocado WITH SEED, in a ziploc baggie)
2 Sliced Mushrooms
1-2 Tablespoons of Crumbled Feta Cheese
1 hard boiled egg (Again, I pre-boil a few of these for the week and store them in the fridge)
2 Tablespoons of your favorite dressing. I like Good Seasons Italian, or a Raspberry Vinaigrette
Optional: If you don't have grilled chicken, you can substitute sliced ham or turkey. I like Oscar Meyer Deli meats, they are about 50 calories for 6 slices!
Directions:
Combine all ingredients on a plate, toss on some of your favorite dressing, and enjoy your healthy mom lunch!
Variations:
Chicken breast, raspberries, almond slides with the raspberry vinaigrette.
Tomato, basil, mozzarella chunks with balsamic vinegar and a splash of olive oil.
Diced ham, turkey, tomato and avocado with Italian dressing.
Chicken Breast, mandarin orange slices, almond slices, and chopped green onion with balsamic vinegar and a splash of olive oil.
Have  a favorite quick salad idea to share? Leave it in the comments, we love variety!