Today we received a box. A very large box. It was stuffed full with a HUGE fluffy AHH Products Bean Bag! The kids absolutely LOVE LOVE LOVE their new bean bag chairs! I think someone's been sitting in it since it got here, so I feel safe saying it's passed the "Confessions" stress test!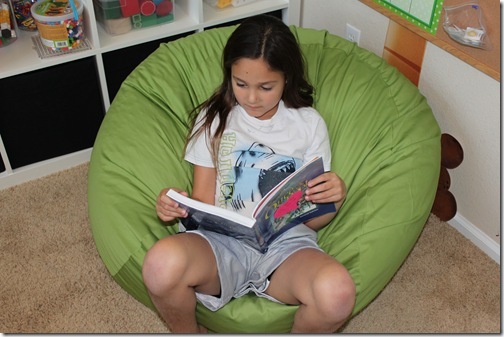 Being the smart homeschooling mom that I am, I quickly labeled our AHH Bean Bag as the official "Reading Chair" for school time. WOW! What a difference this has made! Now they can't wait for reading time, before it was kind of an "ugh, I have to read?" attitude. I know, all homeschoolers are supposed to love reading…apparently no one told that to my children!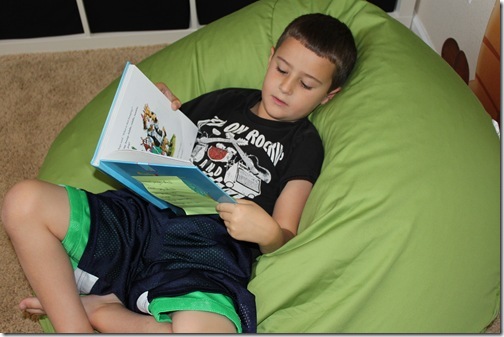 I love that the bags are super comfy, easy to move around, and nice and soft! Plus I like that ours is a Hypoallergenic-Organic Bag, we received the 37 inch Lime Organic Cotton. I think they're a great size for kids and they don't take up a huge amount of room.
I also had to mention the box. That very large box. I think the box was almost as big a hit as our new bean bag was LOL! I know you can't see it very well, but the bean bag is inside the box along with the Teeny Tot, Tinkerbell, and a few various stuffed friends.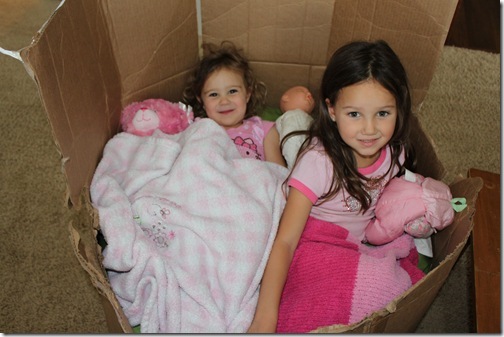 Now I find them reading, cuddling, playing, and relaxing in our new bean bag all the time, and I'm totally fine with that!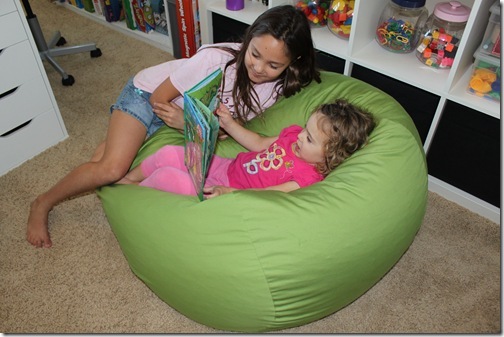 Even the Teeny Tot has commissioned her own private AHH Bean Bag time…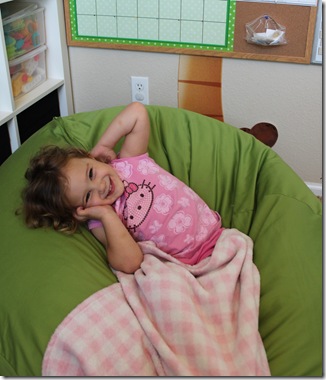 The other great thing about these bean bags is that they come with a zip-off machine-washable cover and water-repellent, stain resistant liner! Yes! Such a great feature when kids are involved, unless you have those kids who never spill anything.
We don't have those kind.
We have the other kind.
You know, the one's that spill even when they don't appear to have anything near them.
The AHH Bean Bags also have a double-stitched seam on the covers and liners, so there won't be any leaking of little balls all over the place.  And each bag comes with a 10 year warranty and a 365 day no-hassle return policy! Can't really beat that in my opinion.
I think these would be a great idea for holiday gifts, or as an incentive if you have not so enthusiastic readers! They carry four different sizes and a ton of different fabric selections to choose from.
Due to a high response, AHH Bean Bags has offered a $10 off discount to my readers! Enter coupon code: Homeschooler for your discount! Coupon good through Oct. 1, 2011
Want more information? Visit the  AHH! Bean Bag Website to see all their prices, fabrics and styles.
Disclosure: AHH! Bean Bags provided me with a free bean bag for review purposes. I do not have to return the product to the vendor and I was not paid for this post. All opinions expressed in this post are my own.