I have a refreshing and light fruit salad recipe to share with you all today. This is going to be short because how much can one really say about fruit?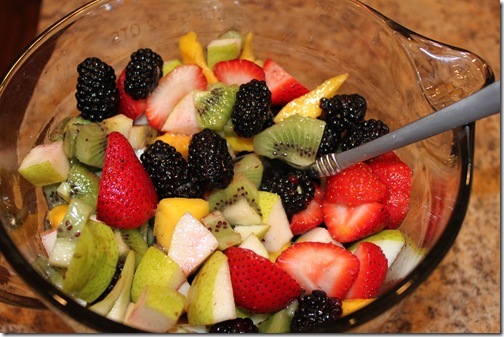 It's not super fancy, but it is super easy and it is super yummy! I know, I know…you all don't need my advice on the fruit front, but this one was so colorful and tasty that I had to share! Also because sadly I don't remember what I make and have to refer to my own blog to find recipe ideas! Shhh…don't tell anyone please…
Ingredients:
1 small pkg Blackberries
2 Mangoes, peeled and diced
5-6 Kiwi, peeled and diced
1 pint Strawberries, halved
3 Bartlett Pears, diced
2-3 Tablespoons Fresh Lemon Juice (Helps give a little zest and keeps pears white!)
Directions: Combine all fruit in a bowl then sprinkle lemon juice over the top and gently stir.
Serve as a side dish to some grilled chicken.
Serve as a side dish to some grilled steak.
Serve as a healthy snack during the school day.
Either way, just serve and enjoy!