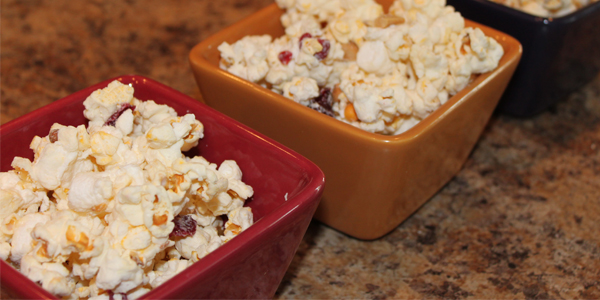 Oh my sweet goodness, this recipe was the bomb! Is that still a cool word? I never know. I'm a homeschooler. I don't get out much. ;o) Except to buy cashews for this recipe…yeah baby!
Ingredients:
1 large bag microwaveable butter flavor popcorn (I use a reduced fat version. Because it makes me feel better about eating an entire bowl of popcorn, never mind the marshmallow and cashews. Oh yeah, and the white chocolate. But still.)
2 cups mini marshmallows
1/2 cup roasted salted cashew pieces
1/2 cup dried cranberries
1 cup white chocolate chips…mmmm
LARGE microwave safe bowl
Step 1: Line a cookie sheet with waxed paper and set aside. Or just lay it out on your counter, that's what I did. Why dirty a pan when you don't need to?
Step 2: Pop the bag of popcorn and pour half of the hot popcorn into a large microwave-safe bowl. Top it with the marshmallows, cashews, and dried cranberries. Then top it with the rest of the hot popcorn and toss everything together.
Step 3: Melt the white chocolate in the microwave for about 30 seconds on high, stir to smooth. If the chocolate is too thick, put the bowl in the microwave for 10 second increments until you are able to drizzle the mixture over the popcorn and toss until everything is nicely coated with the white chocolate.
Step 4: Spread the popcorn out on the prepared wax paper. Cool completely, then gently break up the popcorn and put in cute little popcorn bowls for the family!
Makes about 8 cups…but you don't have to tell your kids that ;o) Oh, and grab a tall glass of ice water, you're gonna need it!
And try to be a good girl and save some for your husband. Unless you're a man reading this…then save some for your wife…you'll be rewarded ;o)