Happy Holidays! What's for dinner you ask? Today I have my December Monthly Meal Plan download to help answer that nagging question.
I really hope these meal plans are helping you out, they're critical for my sanity, especially during school and the holidays. The last thing I want to be worrying about is what's for dinner. This way I can know all of my meals are planned for and that leaves me some free time to make Christmas cookies, and other goodies this season!
I even added in some yummy Christmas snack recipes to this one for you all! Kind of takes care of some of your holiday baking and snacks all in one ;o)
Yep…I'm always thinkin' ahead people.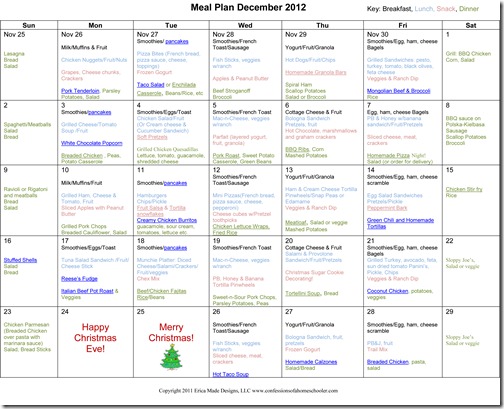 Download the December 2012 Monthly Meal Plan:
I need to work on branching out and adding in some new recipes for the new year, so if you all have any yummy, easy weekday dinner recipes I'd love to have you share them below!
Hope you enjoy!