Hi everyone! May is here (well it will be in two days) and that means we only have one more month until summer break! Not that I'm excited or anything. And we do some school over summer break just so we don't experience brain drain or anything. But still, it's mostly fun, sun, pool, and relaxation for us here at the Confessions house hold!
And here's my way of keeping it simple and getting me through this last month of chaos! Hope my monthly meal plans help you as much as they do me!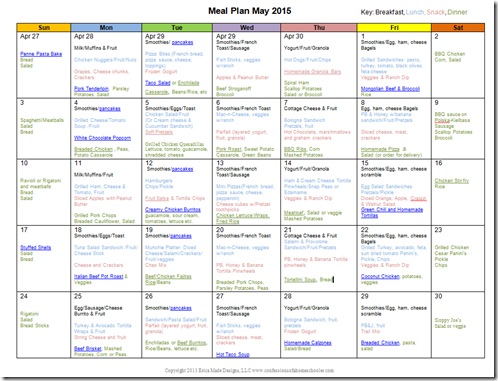 Download the 2015 May Monthly Meal Plan:
If you haven't already used this before, you can click on any of the underlined menu items to get to the recipe. I hope this helps all you homeschooling warriors who are in the final stretch of the year!
For more fun recipes, visit my Recipes Page!
Here are some of our favorite smoothie recipes, just click on the image below!