Calling all of my quilty friends, boy do I have a special treat for you all today!
A couple of weeks ago, I did a getting started post on quilting and I mentioned one of my favorite etsy shops Stitches 'n Giggles. Well Lori saw my post and as a thank you she has offered to do a giveaway for my readers! Yipee!!
If you have been following me on Instagram, you've already seen my post on the super cute book called Farm Girl Vintage book by Lori Holt! I've also posted some of my chosen fabrics for the online sew-a-long Lori Holt is doing called Farm Girl Fridays. The sew-a-long started on May 1, but there's still time to join in the fun. Every Friday she'll be posting a block with tips and inspiration for sewing said block! The Instagram #FarmGirlFridays hashtag is already buzzing with cute little projects, and so I definitely wanted to hop on board!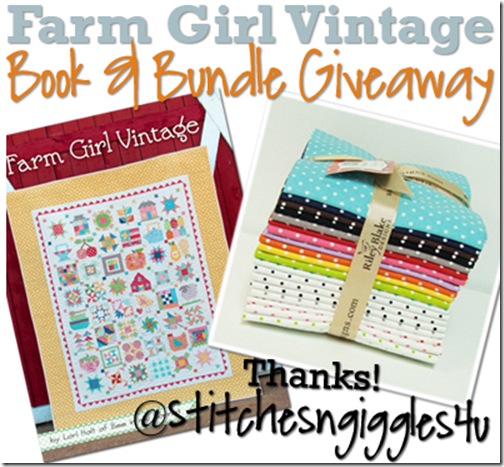 Which leads me back to my giveaway. When Lori asked me what I wanted to giveaway, I thought of the new Farm Girl Vintage book by Lori Holt! Because sew-a-longs are so much better with friends right?
So I asked if she would be willing to sponsor a giveaway for a copy of the Farm Girl Vintage book, and she kindly offered to throw in the super cute Riley Blake Swiss Dot fabric bundle that Lori Holt recommended as background fabric for the blocks!
How awesome is that right!?
In my post last week, I  mentioned that Stitches 'n Giggles was one of my favorite places to get fabric and that's why! Lori's so sweet and gracious to her customers. Not only does she have great prices, but I've always received my fabrics really quickly, and she often throws in little extra goodies just to thank you for buying from her shop.
If you're on Instagram, make sure to stop by Stitches 'n Giggles on Instagram and send some love her way with a big thank you for sponsoring this giveaway!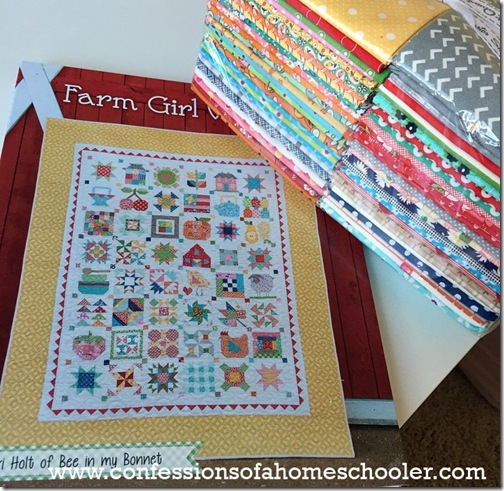 For my Farm Girl Friday's I'll be using a combination of the bundle that Lori Holt picked out for her book, as well as the Riley Blake Swiss Dots bundle for my backgrounds. (See bundle above. You can put together your own farm girl fabric bundle from your local quilt shop, or get this one by Lori Holt from Fat Quarter Shop.)
Since I couldn't wait for May 1st to roll around, I've already started making some super cute Farm House blocks for a Christmas quilt I've been excited to get to work on! You know, because I'll probably have to make four Christmas quilts just so there's no fighting amongst the kiddos.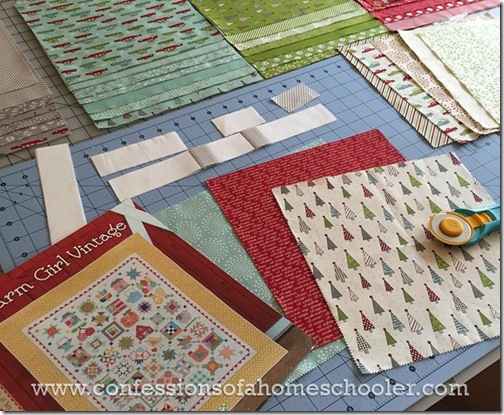 The Christmas quilt fabric I'm using is called Holly's Tree Farm by Sweetwater for Moda Fabrics. It releases in May 2015 and I happen to know that Stitches 'n Giggles will be getting some in

I'm going to be making a variation of Lori Holt's Farm House Lane quilt, but since it's Christmas time in my house, I added in some Christmas-y trees instead of the trees in the pattern. Which by the way are super cute too!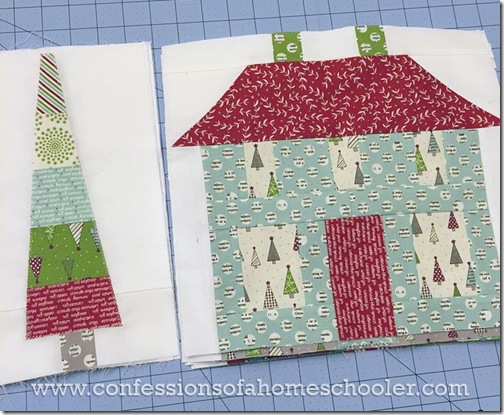 Honestly this book has so many sweet little blocks in it, I don't know where to start! But I'm going to dive in with the sew-a-long, and see what happens! Sound like fun? Want to join in? Keep reading for your chance to win a copy of the book and a fabric bundle to get you started!
Win it!
Stitches 'n Giggles is sponsoring a giveaway for a free copy of Farm Girl Vintage plus the Riley Blake Swiss Dot fabric Bundle! Fill out the rafflecopter below to enter to win and join in on the fun with us!
Can't wait for the giveaway?
Don't worry, you can pick up a copy of Farm Girl Vintage, and the cute Riley Blake Swiss Dot fabric Bundle from Stitches 'n Giggles and join in on the #FarmGirlFridays sew a long!
Make sure to follow along with my Confessions of a Homeschooler Instagram account to see what I'll be making…
Happy Sewing!!