Did you know that May is national BBQ Month?
It's also "date your mate" month, so I'm thinking a BBQ dinner date sounds in order, what do you think? What's your favorite BBQ recipe or restaurant? Leave a comment below!
Then again it's also national blood pressure month, and that seems kind of contradictory. I'm thinking eating lots of BBQ might not be so healthy. Hmm…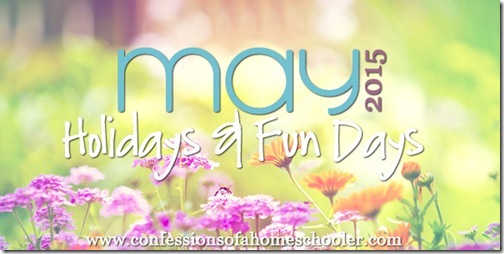 Holidays
May 10 Mother's Day
May 5 Cinco De Mayo
May 25 memorial Day
Fun Days
May 1 May Day
May Day is celebrated around the world an usually signifies the celebration of spring and the coming of summer. Some like to celebrate by sharing May Day baskets typically filled with flowers. If you have little guys, you can do an easy flower planting activity using small terra-cotta pots. Or you can use colorful construction paper to create  May Basket art!
May 2 Brothers and Sisters Day
This day is to honor and celebrate our siblings! Have a sibling dear to you? Take some time today to call them up and chat. If you have little ones, you might want to encourage them to do something kind for their siblings today.
May 4 Bird Day
Bird Day was first observed on May 4, 1894 as a day set aside to recognize our lovely feathered friends. You might encourage your students to take a nature walk and do a little bird watching. Make sure to bring along a drawing pad and sketch some of your favorites while you're at it!
May 5 Cinco De Mayo
On May 5, 1862 the Mexican army defeated the French army at the Battle of Puebla. The battle was the root of the Cinco De Mayo holiday that is now celebrated. Today it signifies Hispanic and Mexican pride as well as the culture. I think we'll be having a Taco Bar fiesta if the weather's nice!
May 6 National Teachers Day
Whoohoo! I'd like to take a minute today to thank all of the teachers out there working diligently to enrich the lives of their students!
May 8 Military Spouses Day
Let's give a little shout out and love for the spouses of our military service men and women who sacrifice and serve our country as well.
May 8 V-E Day
Victory in Europe Day, which was first celebrated on May 8, 1945, commemorates the end of fighting in Europe during World War II. The German Army ceased fighting on May 2nd and formerly surrendered on May 7th. Celebrations erupted worldwide as crowds gathered in streets cheering.
May 10 Mother's Day
The first Mother's Day was celebrated on May 10, 1908 in Philadelphia. The tradition stuck and we now celebrate all of the awesome moms out there each year. But honestly, I think Mother's Day should be celebrated everyday! I know I could never repay my mom for all of the awesome things she's done for me over my lifetime, and haven't ever had anyone whose encouraged and supported me like she has, and still does! THANKS MOM!! I LOVE YOU!
May 12 Fatigue Syndrome Day
I'm thinking this developed from all of the moms out there making lovely Mother's Day brunches for their families. And let's face it the next day we just need a rest! So go ahead and take a nap!
May 15 National Bike to Work Day
Since I work at home, I guess we'll have to just take a bike ride around the neighborhood so we can participate! If you work outside your home, dust off the old 2-wheeler and take the scenic route to work today! P.S. You might want to make sure to bring a little deodorant with you so your co-workers can't tell that you actually biked to work. Just a suggestion.
May 16 Armed Forces Day
Today is a day to salute all of the amazing men and women in all branches of the service who protect our country and us on a daily basis. They sacrifice and serve in more ways than I can even imagine and for that I'm eternally grateful! Take some time today to reach out to those near you and say thank you!
May 20 Pick Strawberries Day
We have a local berry farm here that allows you to go and pick berries. It's so much fun, and the kids get to pick their own little basket of berries, then they have a small market they can browse around as well. If you have something like that in your neck of the woods I highly suggest checking it out! We had a lot of fun. Except we didn't like the raspberry picking part. They had a lot of bees on them, and Strawberry Shortcake is allergic.
May 24 National Escargot Day
Um, no thanks.
May 25 Memorial Day
Memorial day goes back to 1865 and the end of the Civil War. It is dedicated to service men and women who gave their lives for freedom and country. It's also a time to remember those lost loved ones who served as well.
May 25 Victoria Day
Victoria Day is held in celebration of the birthday of Queen Victoria, England's long reigning queen. The holiday has been observed since around 1845, and is usually celebrated in England, Canada, and other British colonies and territories.  Her 63 year reign was the longest of all monarchs.
May 27 Sunscreen Day
I think most days should be sunscreen day, but if you live North of the equator summer's just around the corner, so make sure to get a fresh bottle!
May 30 Water a Flower Day
I love doing our planters on our front and back porch once the weather turns nice. In CO it's usually safe to plant flowers after Mother's Day, so if you haven't already, today would be a great day to add a little color to your patio! And of course make sure to keep them well watered.
And those are my top picks out of all of the May celebrations! If I forgot any let me know in the comments, there were tons to choose from this month.
Hope you enjoy May and have a great day!