I was praying over what to do for our Bible studies this year and stalling, and praying and stalling. I didn't have any clear direction and was starting to get a little concerned. I'd been considering using Grapevine Studies but wasn't sure. Then I got an email from them. They wanted to see if I'd be interested in reviewing for them! YAY! What a great answer to my prayers! And I'm so thankful for that opportunity!
Bible has quickly become one of our favorite parts of the day now, and I'm so loving the stick figure drawing method Grapevine uses.
We are currently reviewing the Joseph Unit for them right now and loving it! I chose the multi-level unit which comes with a Teacher's Manual and Student Workbook. (You'll need to print 1 copy of your student workbook for each of your children because they draw in it daily.)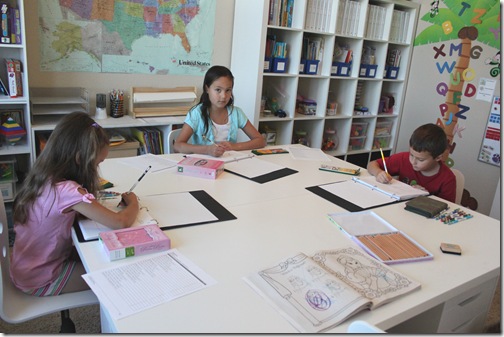 Each lesson starts off with a guided reading from the Bible, some discussion points, mapping assignments where applicable, and then guided stick figure drawing for each lesson. As you go through the unit you'll create a drawn time line for all of the main events in that study. There are also certain vocabulary words to look up in the Bible Dictionary as well.
My favorite thing about the stick figure drawing is that literally everyone can do it! The teacher's manual provides you with a sample for each drawing so that you don't have to make one up. I draw mine on the white board as we go and my kids are free to copy mine, or make up their own. My kids think it's funny that all my guys are n*ked, so they put clothes on theirs. ;o) They also think it's funny that each time I draw Joseph he gets taller. But I think its fair to assume he's growing, no? And besides, it's NOT a drawing contest!
I love Strawberry Shortcake's picture of Joseph dreaming! I think he looks dead, but she says he's dreaming about wheat ;o) Also notice all her figures are fully clothed.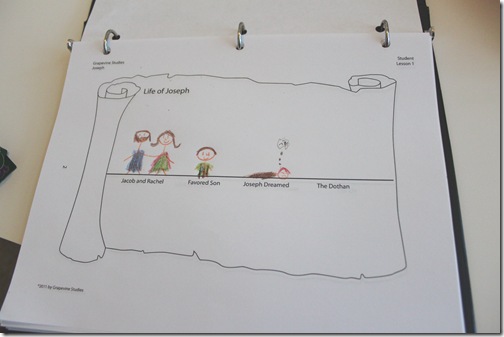 See for yourself! Click here to download Sample Lesson from Grapevine.
Supplies:
1/2" 3-ring binders (one per student and 1 for teacher)
Colored Pencils (one set per student)
Bible
You certainly don't have to, but I went and got 1/2" binders for each of my kids to keep their time lines in. We also grabbed some new Crayola washable, erasable colored pencils. They work great, provide some color and allow for  correction of mistakes as well. When it's time for bible, they just pull out their binders and we get to drawing!
I have my teacher's manual in a binder as well, then it's easy for me to flip to the daily lesson.
We use (and love) the Zonderkidz NIrV Discoverer's Bible for Young Readers. This Bible for Young Readers uses the full text of the New International Reader's Version (NIrV—the NIV for kids!), written at a third grade reading level.
What's the cost?
Prices vary depending on which unit you choose, but I've found all of them to be VERY reasonable! You can choose to purchase by grade level, or multi-level teaching which really makes it easy!
I absolutely LOVE that it's easy to do for all my kids ages 5-8 all together and they each seem to be doing a great job at drawing the figures and remembering the study as we go. I think it will be a great resource for them to flip through later on for review as well!
Want more information? Visit Grapevine below, make sure to let them know Erica @ Confessions sent you!
I really wanted to be able to share this with you so the awesome people at Grapevine offered a 20% discount on any  non-sale items for my readers! YAY!
Use coupon code: BLOG55 to receive 20% off any non-sale item! Code is good on any NON-sale item through September 30, 2011.
Disclosure: I was provided with a free copy of the Joseph Unity Study for review on my blog. The opinions I have given are mine and may differ from others but were not influenced by the company or the free product provided.