Hi everyone! I'm so excited to be giving away 2 Prize Packs to see the brand new Son of God movie opening THIS FRIDAY, February 28, 2014 in over 3,000 theatres nationwide. 
I can't wait to see this film! I always love to see things that bring people back to Christ on the big screen. And I'm excited to see how the filmmakers tell the story of Jesus. From the trailer it looks like an excellent depiction of the life of Christ. And with a PG-13 rating I'm hoping it will be more family friendly version as well.
Interested? Keep reading to see what's included in the Prize Packs I'm offering to you!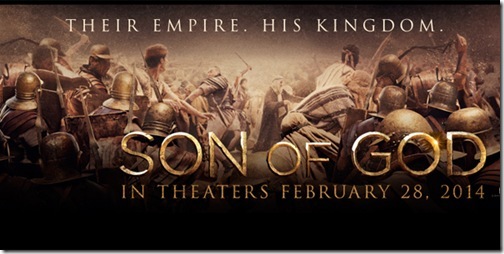 About the Film:
"From the award-winning producers of the record-breaking miniseries The Bible, Roma Downey and Mark Burnett, comes Son of God, the larger-than-life story of The New Testament, to be released by 20th Century Fox on February 28, 2014. Son of God is a major motion picture that brings the life of Jesus Christ to the big screen like never before.
Told with the scope and scale of an action epic, the film features powerful performances, exotic locales, dazzling visual effects and a rich orchestral score from Oscar®- winner Hans Zimmer. Award-winning actor Diogo Morgado portrays Jesus as the film spans from his humble birth through his teachings, crucifixion and ultimate resurrection.
The movie is action-packed with special effects, powerful acting, and beautiful cinematography. It marks the first major motion picture about Jesus' life since Passion of the Christ, released ten years ago."
You can see more about Diogo Morgado in his interview on The Today Show!
About the Filmmakers: Mark Burnett and Roma Downey
Five time Emmy Award winner Mark Burnett has produced more than 2,400 hours of television programming, which regularly airs in more than 70 countries worldwide. Currently, Burnett's network series include "Survivor" (CBS), "The Voice" (NBC), "The Celebrity Apprentice" (NBC) and "Shark Tank" (ABC).
A celebrated, Emmy® nominated actress and producer Roma Downey is best known for her nine seasons as the tender-hearted angel on the hit CBS show Touched by an Angel. Ms. Downey starred in over 200 episodes and her work as the compassionate angel inspired millions of people around the world and earned Ms. Downey multiple best actress nominations for Emmy® and Golden Globe® awards.
Together Ms. Downey along with her husband Mr. Burnett produced 'The Bible' a ten episode mini series for History Channel. Ms. Downey and Mr. Burnett have co-authored a companion book to the Bible series 'A Story of God and all of Us.'
See what the Son of God filmmakers have to say here!
Want more information?
You don't want to miss this film! Enter to win below!
1 pair of movie tickets to see SON OF GOD in theaters (Digital tickets, you will be notified via email.)
1 Music Inspired By Son of God CD courtesy of Word
1 Son of God Motion Picture Soundtrack courtesy of Universal
Act fast though, this giveaway ends Thursday 27, 2014!!