Hi everyone! I'm really excited to be releasing some new Classic Literature Unit Studies for you all! My kids have been absolutely loving these this year and we're taking a break from our regular reading to dive into some of these fun classics!
For this unit I am using the Classic Starts 20,000 Leagues Under the Sea version. I find the Classic Starts a little easier for younger readers, but you could certainly use this unit with the original version if you have an older student. The assignments are written to go with the Classic Starts edition, but the concepts are the same, so you should be able to complete the lapbook using any version you choose.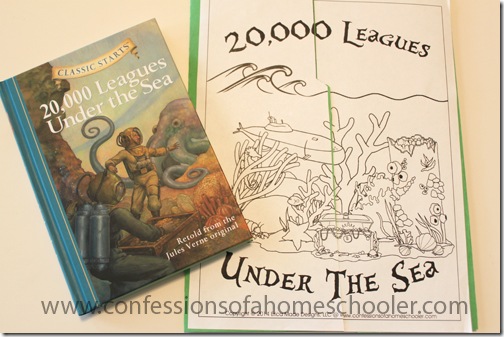 20,000 Leagues Under the Sea Unit Study & Lapbook
20,000 Leagues Under the Sea is an underwater fantasy adventure that is exciting as it is unusual! The story follows Professor Aronnax and his men who are setting sail in search of a "monstrous sea creature" that has been sighted somewhere in the Atlantic Ocean. Instead of finding his monstrous sea creature, the Professor runs into the mysterious Captain Nemo and his futuristic submarine, The Nautilus. 20,000 Leagues Under the Sea is a suspenseful journey of danger and discovery, sure to please all readers!
What ages are these units for?
I normally recommend these literature units for elementary level readers. You can assign them out individually to your student so they read on their own, then complete the mini-book assignment for each chapter.
Or you can read it together as a group if you have younger readers, then have them complete the mini-book assignments when you're done with each chapter.
Watch a video of the 20,000 Leagues Under the Sea lapbook:

What's included in the Unit Study?
Each unit includes everything you need to complete the 20,000 Leagues Under the Sea lapbook with the exception of the book itself and the file folders.
Included is a teacher's manual with the mini-book questions and answers. This makes it much easier for you to help your students even if you haven't read the book yourself.
There is also one mini-book for each chapter in the book. Inside your student will answer a comprehension question that relates directly to the chapter they've just read. Some assignments include vocabulary words, mapping the voyage, and completing the mini-reports.
The unit includes 5 reports that your students can complete. The reports include:
Story Facts (Setting, Main Plot, Main Characters)
Protagonist vs. Antagonist
Prediction Sheet
My Book Report
Book vs. Movie
Storyboard timeline
If you're doing this unit with younger readers you might want to skip these pages, but it's totally up to you.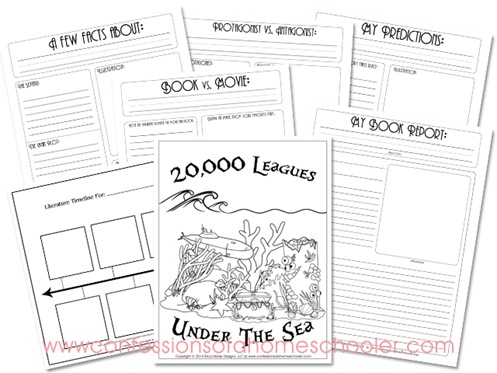 As you read through the book, each chapter has a mini-book with comprehension questions for your student to complete.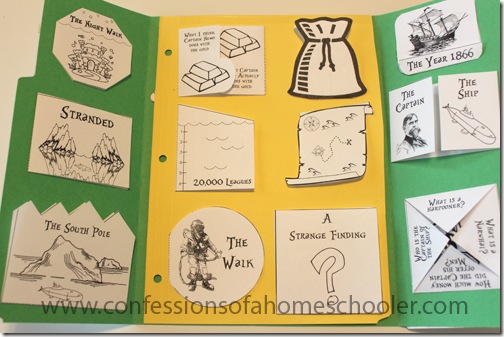 This unit has 20 mini-books including a vocabulary mini-book full of terms to learn thoroughout the story.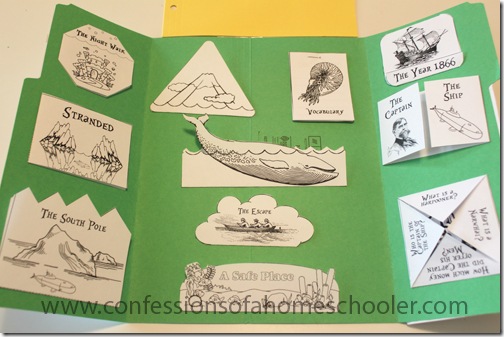 Then on the backside of the lapbook, I added a pocket to the backside where you can store the reports and story timeline.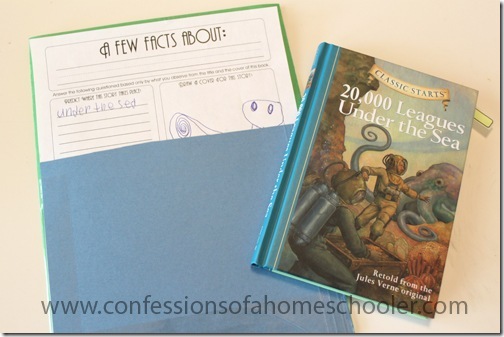 Get your copy today and start learning with classic literature! 

Looking for more unit studies? Check out these links!
Win it!
Of course you know I love to give back to my readers, so I'm offering 1 of these units free for one of you! Enter below!
CLOSED