Oh my heavens were the kids excited to see the Dino Dig Velociraptor kit show up at our house today! The awesome folks at Educational Insights sent it for our review, and I was begged daily to let them try it out. I wanted to wait for a nice day out before starting since it looked like it might be messy.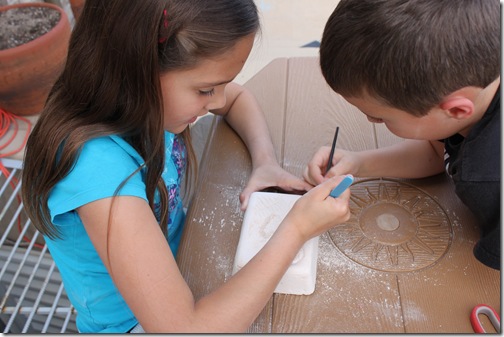 It was a good plan.
It was messy.
Very messy.
And very FUN!
The GeoSafari Dino Dig kits come with everything you need to perform a "life like" excavation of dinosaur fossils. Each kit includes fossils encased in a clay block, an excavation tool, a brush, and a wax block (used to hold the fossil pieces together once completed), and a detailed instruction booklet with more ideas and information. (Just as a side note, these books are written with a secular world view)
I was actually amazed at how long my kids sat and worked on this kit. They were even taking turns which is a miracle! Honestly I was a little concerned that we only received one kit, but as you can see below, they were working as a team. Strawberry Shortcake was digging, Tinkerbell was brushing off the dust, and Turbo was holding the block. Then they swapped duties so everyone could have a turn. Seriously…amazing.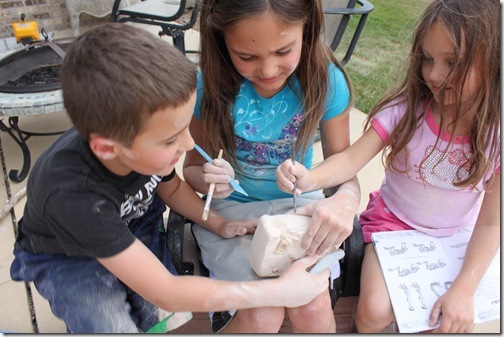 At first I thought they'd lose interest because the block was so big, but OH NO!! Those smart folks at GeoSafari put a few bones right at the top of the block so they had almost instant gratification as they dug. Each time they uncovered a new bone I heard squeeling followed by calls to me to see what they'd discovered.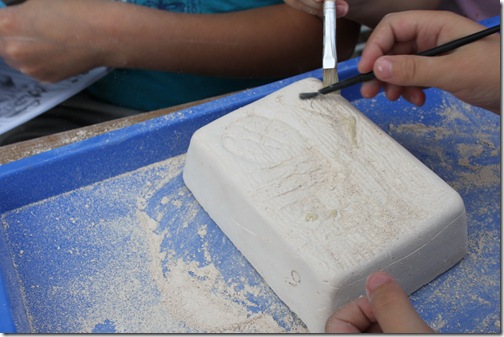 Each bone was brought in so I could see them. As you can see the kids started getting dustier and dustier…did I mention you want to do this outside?
And our finished product: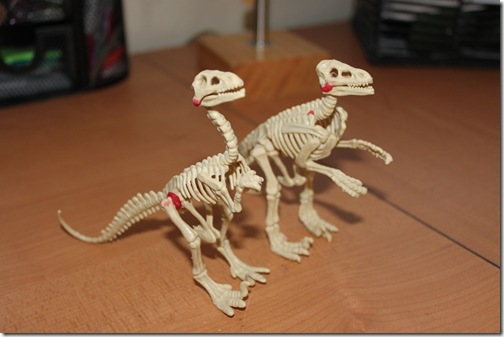 Here are the details:
Each kit costs about $20, and takes about 2 hours to uncover all the bones. That's right parents, two hours of uninterrupted alone time! Well a few interruptions due to all the excitement, but still…
They offer Velociraptors, Tyrannosaurus Rex & Triceratops & Stegosaurus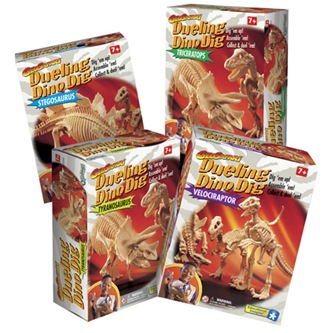 Would you like more information? Stop by and visit Educational Insights, make sure to let them know Erica @ Confessions sent you over!
So you KNOW I am going to offer one of these kits to you today!
Buy It: GeoSafari® Dino Digs
Win It: (Yeah, that's right, they're giving away 1 FREE Dino Dig kit to one of you!)
Mandatory Entry for Giveaway:
Leave a comment on this blog post letting me know why you'd like to win!
Additional Optional Entries: (After completing the below tasks, make sure to come back here and leave a comment letting me know you did so you can get your extra entries!)
Tweet about this giveaway:
@ericahomeschool is giving away a FREE GeoSafari Dino Dig Kit! Enter Here: /?p=4592
(Yes, you can enter if you already follow or subscribe

  I love my readers! )
Giveaway Nitty Gritty:
The give away will be open until midnight EST Friday November 4, 2011. Winner will be announced by Sunday November 6, 2011.

Make sure to leave a separate comment for each entry, winner will be chosen at random!

Please leave a way for me to contact you in your entry otherwise another winner will be chosen.
NOTE: This giveaway is offered to US & Canada residents only!

This promotion is in no way sponsored, endorsed or administered by, or associated with, Facebook.

In order to enter the contest you must leave a comment on THIS post. To leave a comment scroll to the bottom of the post and click "Post a comment" (Facebook comments will not count, if you are reading this via RSS, you will need to visit my actual blog to post a comment.)
Disclosure: I was provided with a free GeoSafari® Dino Dig for review on my blog. The opinions I have given are mine and may differ from others but were not influenced by the company or the free product provided.