Hello readers! Today we're taking a closer look at the 5th grade daily homeschool schedule that Turbo has been doing this year.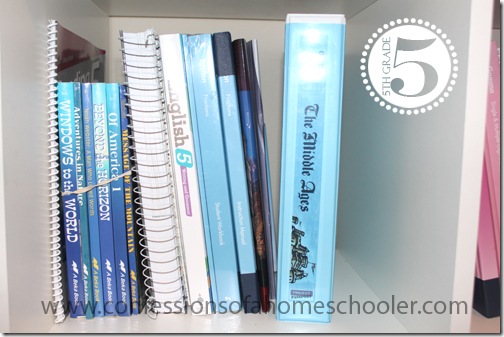 This is basically an outline of our day and things do change up a bit here and there. But for the most part, this is the schedule that Turbo is following this year. I didn't let him pick an elective class this year, but I think I'll allow everyone to pick one next year since Strawberry Shortcake's photography class went so well.
We switched things up a little this year, and instead of doing history and science everyday, we now alternate them doing both only twice per week. I did have to pick units for our science because we won't get through the whole book in one year now, but several of them were repeats for us anyway. And I prefer alternating them each twice a week rather than trying to do both daily.
Turbo is currently 10 years old, and in the 5th grade. He definitely has a filled schedule this year, but he's doing great!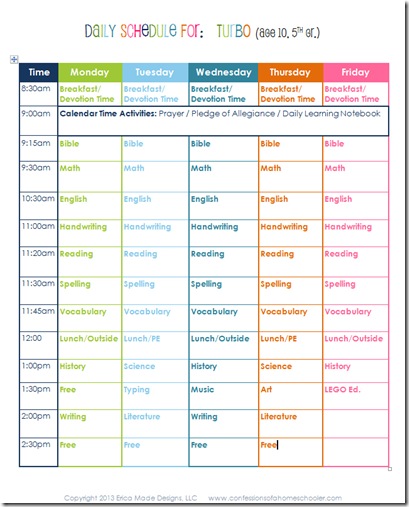 Download a copy:
Here is our basic 5th Grade Schedule:
8:30am – Breakfast / Family Devotions
9:00am – Daily Learning Notebook
9:15am – Bible
9:30am – Math
10:30am – English
11:00am – Handwriting
11:20am – Reading
11:30am – Spelling
11:45am – Vocabulary
12:00 – Lunch/PE
1:00pm – History / Science
1:30pm – Typing, art, music, LEGO Robotics
2:00pm – Writing / Literature (2x per week)
2:30pm – Free
4pm – Swimming & Inline Hockey. And yes, I drive around a lot this time of day.
We are currently doing Bible, History, Science, and Literature as a group which makes it a bit easier on me. And this year Tinker Bell, Turbo, and Strawberry Shortcake all do IEW writing together too.
Here is our 5th grade curriculum for the year:
Extra-Curricular Activities:

Hope you enjoy seeing our daily schedules, I'll be posting more on our up coming year's schedule and curriculum soon!