I've had a lot of requests to add higher numbers to my K4 Preschool Curriculum missing numbers worksheets. So I've updated them to include 1-100 missing numbers worksheets to help add some challenge and fun into your day!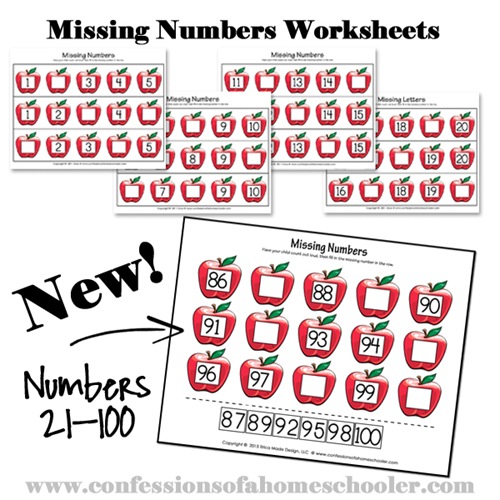 The number activities are great for number recognition, counting skills, and logical thinking.
For those of you who don't know, I also have missing letter activities that help work on alphabetical order along with uppercase and lowercase letter recognition.
Simply read the set of numbers (or letters) to your student and then have them either say then write the missing number (or letter) in the blank spot. The downloads also include printable letter and number tiles if they prefer to glue the tiles into place rather than writing in the missing items.
The Missing Letters activities include capital and lowercase A-Z worksheets.
The Missing Numbers activities now include numbers 1-100.
–> Click below links to download
PLEASE NOTE: If you're just purchasing my K4 Kindergarten Curriculum you'll receive the new pages with your purchase. If you purchased prior to now, you'll just want to download the updates here to add to your curriculum.
These printables are included in my K4 Kindergarten Curriculum. I also have a lot of free kindergarten worksheets on my free printables page!
Is my Letter of the Week Preschool Curriculum a little too easy for your student? Are you ready for something a little more challenging? Then the K4 Curriculum is for you! The K4 Curriculum is geared towards kids ages 4-5 who are kindergarten ready and want a fun hands-on kindergarten curriculum. The K4 curriculum covers beginning reading and phonics skills as well as basic math addition, subtraction, and skip counting skills and more!