It's here! It's finally here! Today we received an iPad2 and everyone is excited! So just to show how necessary this purchase was, I wanted to share some great educational iPad Apps with you today! Although I think it's a fun thing to have around in general, the truth is I am really excited to use it as a tool in our homeschool!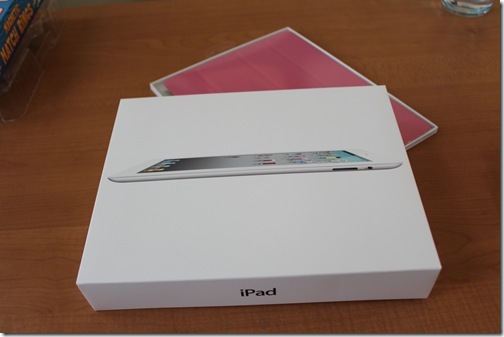 There are so many iPad and iPhone apps out there, it's hard to tell which one's are worth the money! I'm excited to share a new site with you today as well called Apps For Homeschooling. The site allows you to search by grade/age, subject, cost, and device. It also gives you a thorough review of the app along with costs and devices it is available on.
I also wrote a post with my favorite iPhone apps awhile back that you also check out.
Math Blaster – HyperBlast  by Knowledge Adventure
Since then, here are some of our favorites! We, and by we, I mean both the kids and me, love the Knowledge Adventure Math Blaster –HyperBlast . It's a fun fast paced math game that my kids absolutely beg to play! And don't worry, if you don't have an iPhone or iPad, you can play online at MathBlaster! You can choose your skill level and activity as well which makes this game great for multiple age levels!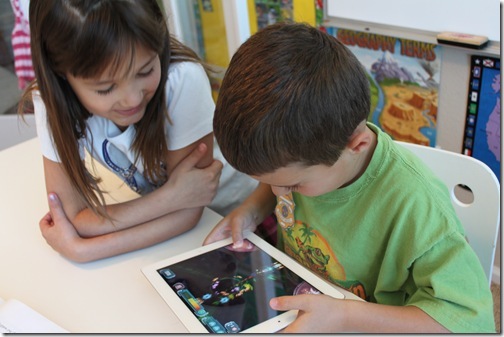 Another favorite of ours is the JumpStart JetPack! This is another great game that includes reading skills, math skills, and critical thinking challenges. It's a little harder to steer the ship, so Strawberry Shortcake does better than Turbo at this one.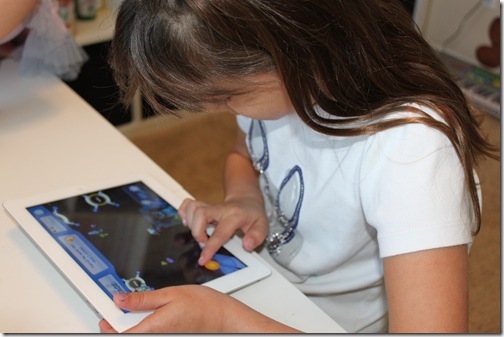 Here's a screenshot from JumpStart JetPack. The goal is to fly yourself through the correct words, in this example she is flying through all of the nouns.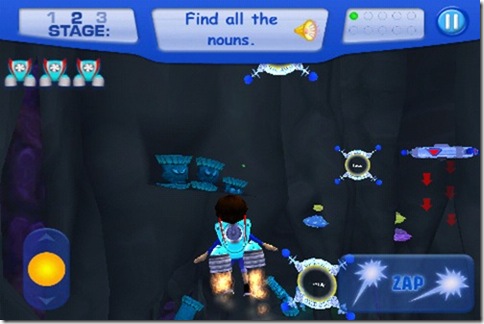 Virtuoso:
I found this fun piano app called Virtuoso, this one is Free although they also offer a paid HD version as well. It's been wonderful for motivationg Strawberry Shortcake to practice her piano. Now, I'll admit it's a little harder to play than her keyboard, but it is fun, and anything that motivates her to work on this is okay by me!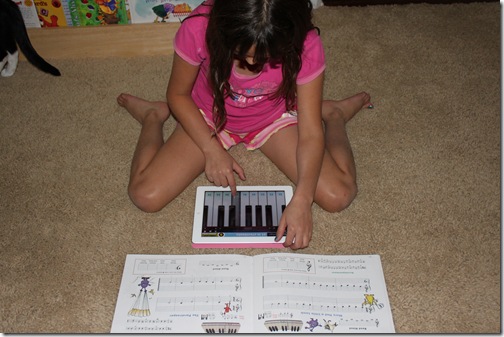 Hangman:
This is another favorite, it is Hangman Classic by VirtueSoft. I picked this one because it has a lot of customizable features.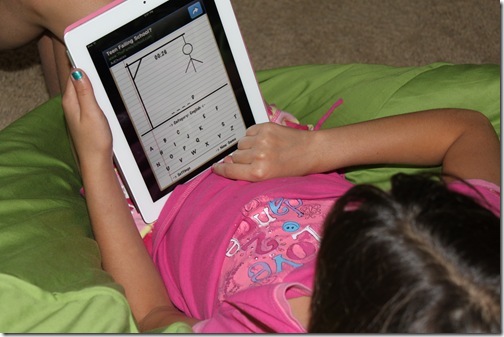 Sight Word Bingo
This game is super fun to play! It's called Sight Word Bingo by ABCya.com and is compatible with the iPhone, iPod touch, and iPad. It is based on the Dolch Word List and is suggested for children ages 5 and older depending on reading level. There is also some gaming skills required to play as well. This app also includes spelling practice, and a few other word game choices as well.
We also have Math Bingo by the same company and love it as well!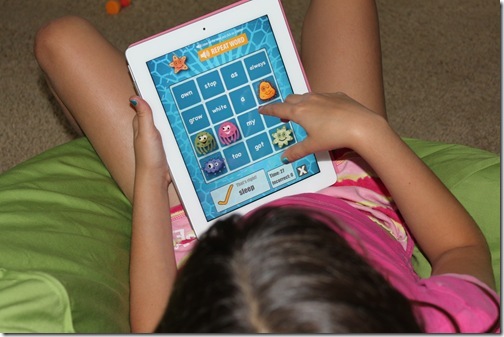 Now on to apps for younger kids, for example the Teeny Tot! This, by the way, is a GREAT tool for keeping your toddler busy while doing school with the older kiddos!  Read on to see the Teeny Tot's Picks for this week!
Shape Builder
One of her absolute favorites is Shape Builder By Darren Murtha Design! We liked this one so much, we bought the paid version for $0.99 , though they do have ShapeBuilder Lite which is free! Basically it's  a puzzle app that provides several different shape, letter, and number puzzles for your toddler to build. Once they've completed the puzzle, the real image is revealed to them.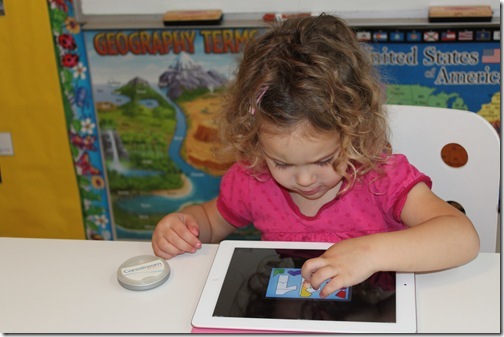 First Words
Another game she always goes for is the FirstWords App by Learning Touch.  This is another one we liked so much we purchased the paid version!  It's wonderful for practicing phonics as well as letter recognition. You can customize the settings as well, below she is  using the setting that allows for letter hints. So at this stage, she's matching the letters. Later on you can take the hints away so they put the letters in order on their own.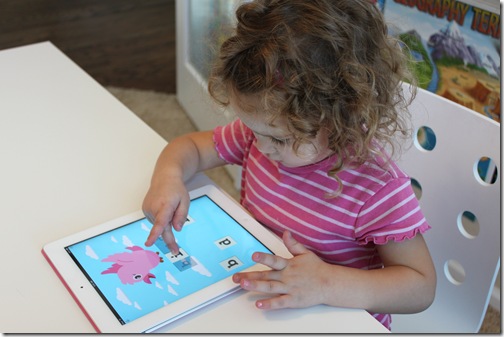 I've downloaded several books for the Teeny Tot, but the Nemo: Puzzle Book by Disney Publishing remains her favorite for now. As the story goes along, she picks up treasures to place in a puzzle at the end. Then periodically there is a puzzle for her to play as well. She loves these puzzles and is really starting to get good at them!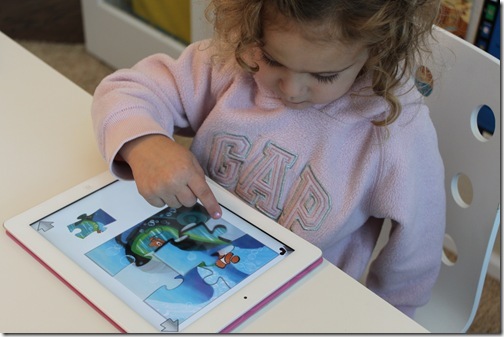 Here are some more of my favorite iPhone Apps if you need more ideas!
Math Bingo, Montessori Crosswords, Words With Friends, Move It, Fish School, Rocket Math, Solitaire City, Stack the States, Starfall ABC's, Preschool Connect the Dots, iJewels, Jewel Bling Free, Sudoku, Zaner-Bloser Handwriting, Shape Builder, Hangman Classic, SkyView, SpinArt, Tic-Tac-Toe, Word Wagon, Bob Books, Cookie Doodle, Living Earth, Sky Burger,  abc Pocket Phonics
Now, onto this great new site called Apps For Homeschooling! They've offered to do a giveaway for one of my readers of $25 iTunes Gift Card (US Store Only) to get you started off using your iPhone or iPad as an educational tool in your homeschool!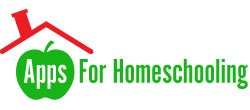 Visit Apps For Homeschooling:
Ready to Win!!?
Mandatory Entry:
Simply leave a comment below letting me know why you'd like to win a $25 iTunes Gift Card (US Store Only)
Additional Optional Entries: (not required to win, leave a separate comment on this post for each additional entry)
@ericahomeschool is giving away an @AppsHomeschool $25 iTunes Gift Card! Enter thru 10/15/11 /?p=4737
Nitty Gritty Giveaway Details:
The give away will be open until midnight EST Saturday October 15, 2011. Winner will be announced by Monday October 17, 2011.
Make sure to leave a separate comment for each entry, winner will be chosen at random!
This giveaway is offered to US residents only!
This promotion is in no way sponsored, endorsed or administered by, or associated with, Facebook.
NOTE: In order to enter the contest you must leave a comment on THIS post. To leave a comment scroll to the bottom of the post and fill in the form titled "Speak Your Mind" (If you are reading this via RSS, you will need to visit my actual blog to post a comment.)
Disclosure: Apps for Homeschooling is providing a $25 gift certificate for giveaway on my blog. The opinions I have given are mine and may differ from others but were not influenced by the company or the free product provided.