It's a new year, and that means that it is time for a NEW Quilt-A-Long! So today, we are launching the 2023 Sew With Me series! Join me as I teach you how to make some of the most fun and classic quilt blocks!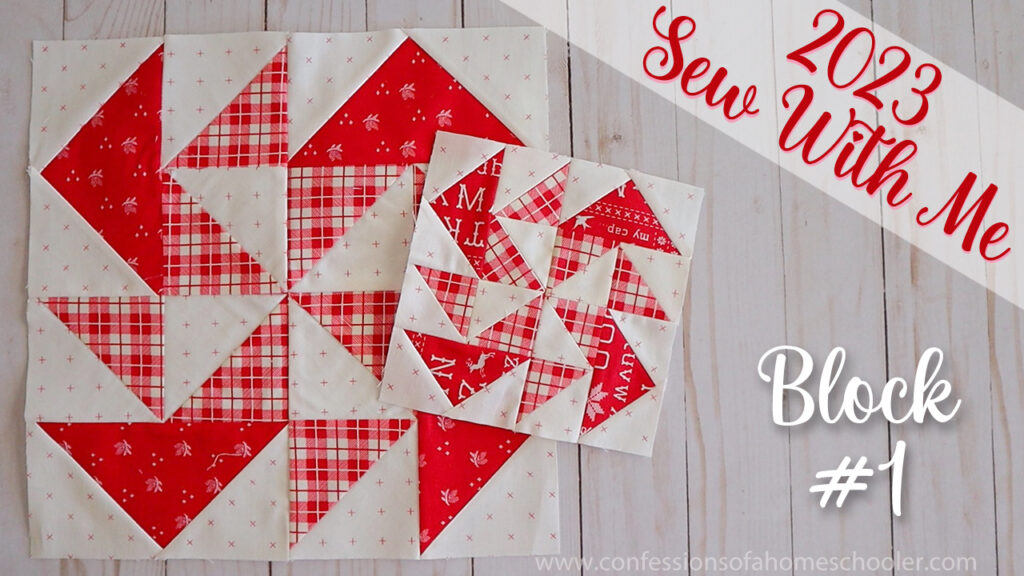 Throughout this series, I hope to teach you some new skills, tips, and tricks, and at the end of the series, we will have a fun selection of blocks to sew together into a sampler quilt!
The blocks will release the 2nd Thursday of each month. Each block will have a video tutorial and free PDF download.
–->>Download the 2023 Sew With Me Block #1 Pattern here!
Watch the Sew With Me – Block #1 video tutorial here!
Quilt-a-long Details
Finished Block Sizes: All blocks will be available in 6½" and 12½"
Finished Quilt Sizes*: 12″ block quilt: 66″ x 81″, 6″ block quilt: 40″ x 49″ (*This is totally dependent upon the finishing options you choose!)
QAL includes patterns for 12 quilt blocks + finishing options and bonus ideas!
Videos release on the 2nd Thursday of the month
Free PDF downloads are included for each block (The full pattern will be available in my shop once all blocks are released)
I suggest prepping your fabric with starch or Mary Ellen's Best Press prior to cutting your pieces.
Fabric Requirements (This is enough for both 12″ and 6″ blocks combined)
Background: 2-3/4 yards
Blocks: 12-14 Red FQs (18″ x 21″, feel free to use any colors you like!)
Sashing & Border 2: 1 yard Pink, 1/4 yard Red
Border 3: 2 yards Low Volume
Binding: 5/8 yard Red
Backing/Batting: 5 yards
(For the 12½"blocks, I'm using a mix of red fabrics from my stash and the Fat Quarter Shop Red Sampler FQ Bundle. For the 6½" blocks I am using Christmas Stitched by FigTree for Moda Fabrics)
Fabric Requirements 6″ blocks only:
Background: 1-3/8 yards
Blocks: 12-14 Red F8s (9″ x 21″, feel free to use any colors you like!)
Sashing & Border 2: 1/2 yard Pink, 1/4 yard Red
Border 3: 3/8 yard Low Volume
Binding: 3/8 yard Red (3) 2-1/2″ x WOF strips
Backing/Batting: 3-1/4 yards
Supplies Used in This Video: