Hi everyone! I've had several requests for a K4 Kindergarten sight word sentences worksheets. What makes these different from my other sight word sentence worksheets? Well, these words correlate directly with my K4 Kindergarten curriculum so you can use them as you go along through the program.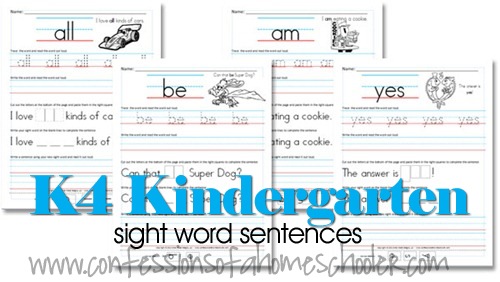 What do the worksheets include?
Each worksheet has a new word along with a funny sentence.
Students will practice tracing the word several times. Then they will write it on their own. Next they will add the word to a funny sentence, and make up their own fun sentence to go along with their new word.
Students will also cut out the letters and spell the word correctly to complete a sentence. This is great for fine-motor skills and spelling practice!
Next they will write the word to complete the sentence.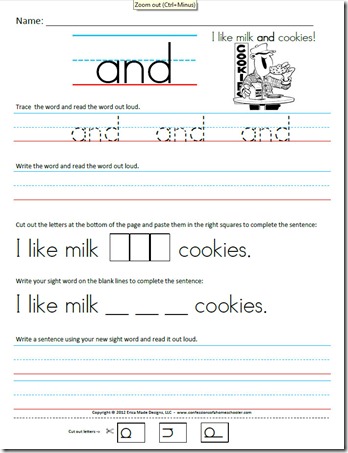 Finally they will make up their own sentence using their newly learned sight word!
The repetition of using and reading the word, along with the variety of activities really helps students remember their sight words!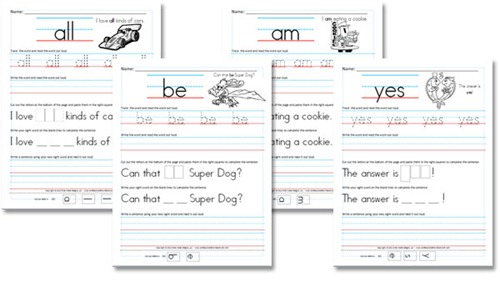 Please note: This download includes 45 K4 Kindergarten level sight words and correlates directly with my K4 Kindergarten curriculum. If you would like more words,  please download my other sight word sentence worksheets below. They're listed by grade, and the word lists follow the Dolch sight word list recommendations.
–> Download the K4 Kindergarten Sight Word Sentences ! <–
More Sight Word fun!
NOTE: These printables are now included in my K4 Kindergarten Curriculum. If you purchased your curriculum prior to today, please feel free to download these fun worksheets and add them to your curriculum for the year! You'll want to add them in on Monday of your lesson plans starting on week 3 in place of introducing sight words for the week.
I also have a lot of free kindergarten worksheets on my free printables page!
Is my Letter of the Week Preschool Curriculum a little too easy for your student? Are you ready for something a little more challenging? Then the K4 Curriculum is for you! The K4 Curriculum is geared towards kids ages 4-5 who are kindergarten ready and want a fun hands-on kindergarten curriculum. The K4 curriculum covers beginning reading and phonics skills as well as basic math addition, subtraction, and skip counting skills and more!