As most of you know, I've been participate in in Lakeshore's summer learning ambassador program. And part of the fun of that is that I get to review some of their fun summer products which are geared towards learning through play.
This happens to be one of my favorite ways to learn for those of you who don't know me!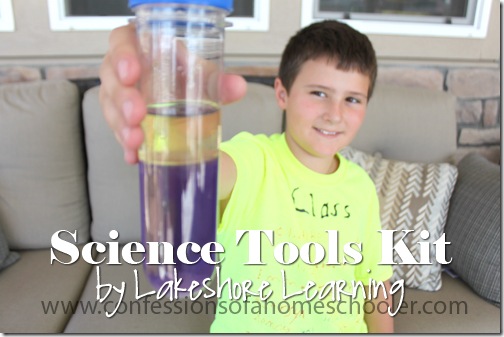 One of the products I requested was the Lakeshore Science Tools kit. I originally thought that the Teeny Tot (who is now 6 and really needs a new alias) would enjoy this. But when the kit arrived, it was my 11 year old who scooped it up and immediately went to work!
The kit costs $29.99 and comes with a bunch of fun lab tools  and illustrated experiment cards for kids to work through. It even came with those beloved test tubes, measuring spoons, beakers, and of course safety goggles which little kiddos love to play with.
You really only need a few extra household items to complete most of the experiments. Things like sand, water, oil, food coloring, and baking soda are on the list.
The cards also have vocabulary words as well as extra questions to help build logical and critical thinking skills. As well as a review of what they've learned from each experiment.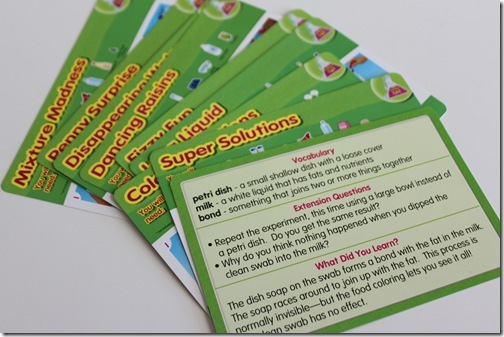 Turbo completed the Mixture Madness experiment first. Which is basically your classic water and oil experiment. Of course this shows students how water and oil separate into different layers due to density of each liquid.
He shook it up well to make sure there wasn't any funny business going on.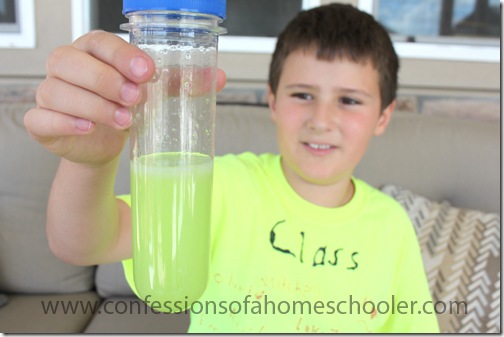 Then let it set while he moved on to his next project.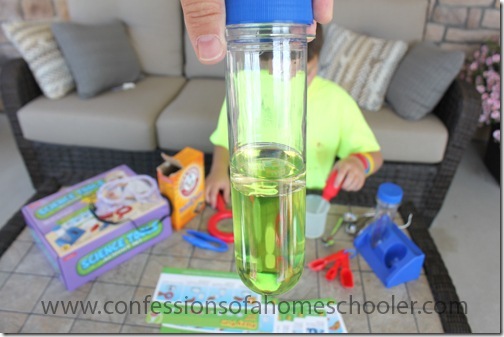 The kit is also a great way to get started showing children how to measure both dry and liquid products.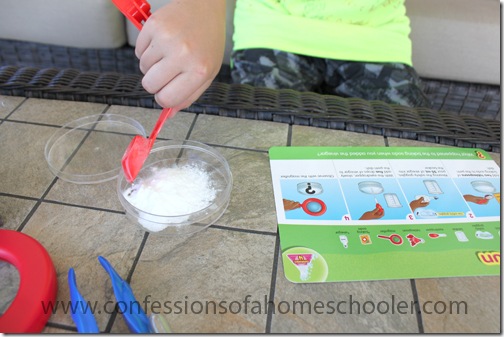 Here Turbo is experimenting the Fizzy Fun card which is basically a mixture of vinegar and baking soda. And we all know what that does right? Any of you homeschool peeps who have made your own volcano at home know what I'm talking about.
He should've been wearing his safety goggles, but apparently he was too cool for that. And he ended up okay, so no harm done.
As you can see the tools are nice and durable which are good for little hands. An the eye dropper has a large squeezey handle which makes it fairly easy to use as well.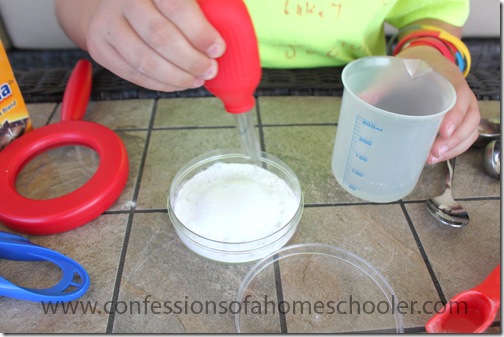 There kit comes with 10 cards with a variety of science experiments which are fun, colorful, and hands-on! They also include questions to help your student observe and analyze their findings as well as make predictions and alter their experiments for more fun. And don't worry, the cards are a thick cardstock that are coated so they won't get ruined from liquid right away. I wouldn't necessarily douse them with water on purpose, but they'll be okay if something gets spilled by tiny hands.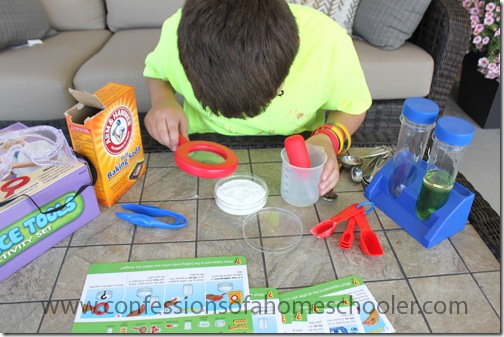 Next up he moved on to the Lava Liquid experiment. This one ended up looking pretty cool. Remember those lava lamps from the 70's? Well, we made our own. Kind of. This experiment included water, food coloring, cooking oil, and salt. Honestly I was surprised to see the salt suck up some of the oil then float to the top in bubbles like that.
I guess even a veteran homeschooling mama can learn a thing or to!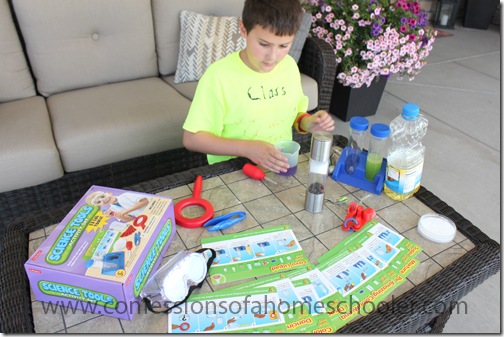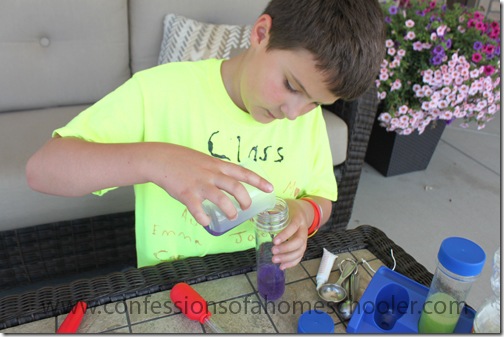 And I know if Turbo ever gives this up, the Teeny Tot would probably love to have a chance at it. But he seems to be fairly focused and working his way through all of the cards. But that's okay, it's keeping him busy and engaging his brain on this warm summer day!
And it's kind of fun to see him make his own modifications to the experiments. Even if he is using all of my cooking oil.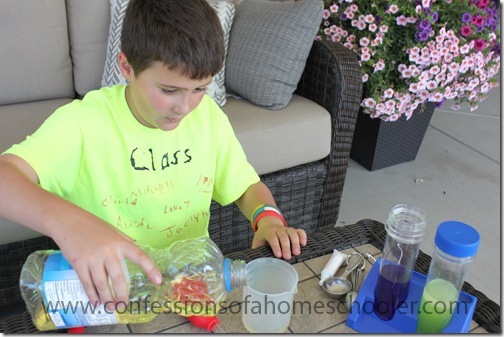 So all in all we're having fun with this kit! And you can find more fun science experiments on the Lakeshore Learning free resources page!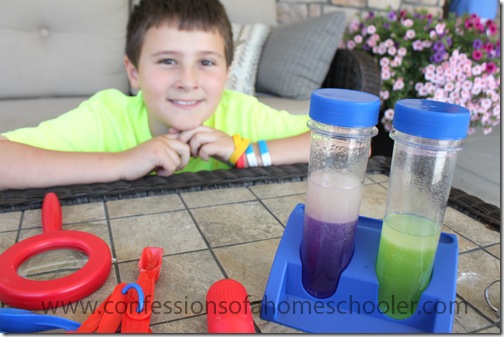 Want more information? Check out all of Lakeshore's social media to stay up to date on their products as well as gather fun ideas, crafts, as well as find great educational tools!
And don't forget to check out Lakeshore's Summer Learning Hub, and make sure to use the 20% off coupon good through 8/31/15!
Have a fun summer idea to share? Make sure to leave a comment below!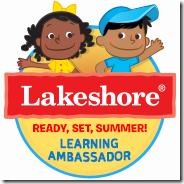 Disclosure: I received this product free for review on my blog. The opinions expressed are my own and were not influenced by the company or free product provided.
Click on the images below to see each idea!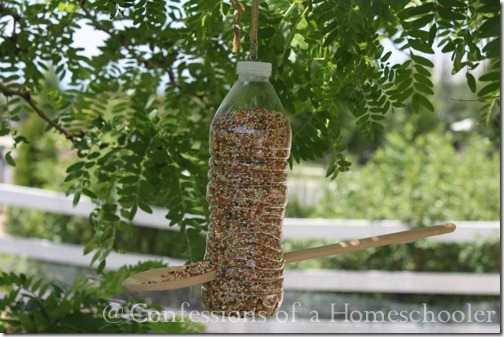 Click here to see more of my Summer Boredom Buster Series!