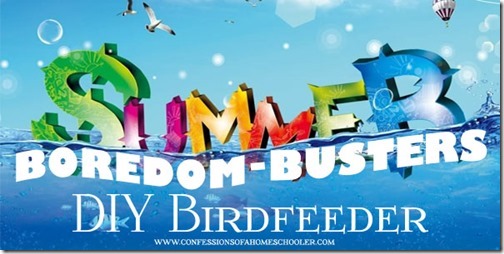 Hi everyone! I had so many ideas for  the iHomeschool Network blog hop last week that I decided to extend it a little on my blog so I could share everything.
So today we're talking about DIY bird feeders. I love the idea of watching all those cute feathered friends cruising around in our back yard. So we could get a closer look at some of them we thought we'd try to see if we could get some of them interested in our bird feeder.
It went okay, we had more big pigeon type birds than all the little colorful ones we'd hoped for, but hey, at least our bird seed didn't go to waste.
Keep on reading to find out how to make your own bird feeder. And this isn't just a summer thing, make sure to help feed your feathered friends all winter long too!
Materials Needed:
1-liter empty soda bottle
1 to 2 wooden spoons
craft knife and marker
small eye screw
Bird seed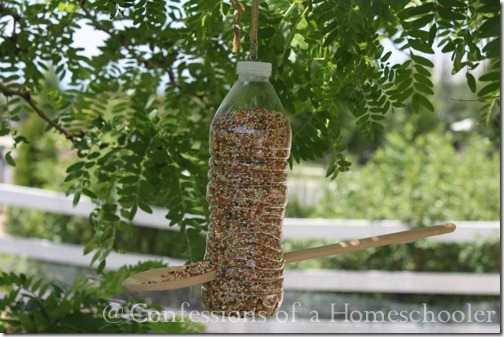 Directions:
Clean out the inside of the soda bottle with warm soap and water then allow to dry.
Draw a 1/2 inch asterisk on one side of the bottle about 4 inches up from the bottom.
Draw a 1 inch circle on the opposite side of the bottle, 4 inches up from the bottom.
Next use a craft knife to cut along the asterisk, on the 1/2 inch side. Then cut out the hole completely on the 1 inch side.
Slide a wooden spoon through the holes sliding the handle through the large hold first, then through the asterisk side.
Remove the bottle cap and twist a small eyelet screw into the top to hang it by.
Last, fill the feeder with birdseed and hang on a tree in your back yard!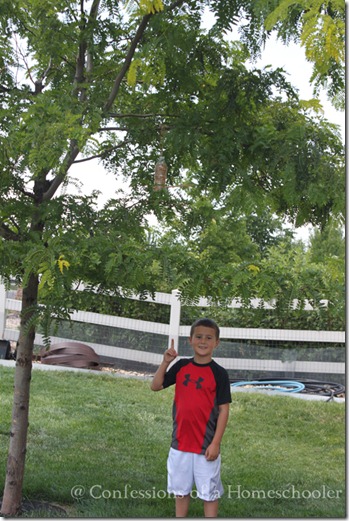 Okay, I realize it's hard to see in this picture, but there is a birdfeeder right above Turbo.
Finally, grab a cold drink and your favorite lawn chair then sit back and relax while watching your backyard birds.
Don't forget a small nature notebook so you can draw pictures of all of the fun birds that visit your feeder.