Our Expedition Earth World Geography journey has brought us to the continent of Africa.
So, Haai! And welcome to South Africa! The kids have been excited about Africa and it's finally here!
Here are some of the fun activities we did for the week: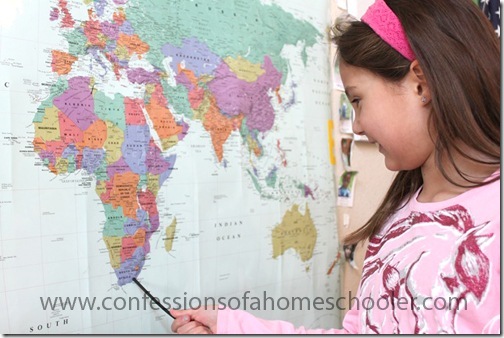 Some Things We Learned:
Where S. Africa is on the world map & located Cape Town
Learned a song in Afrikaans
How to say "Hello" in Afrikaans
Prayed for the people of South Africa, and Xhosa
Learned about children in Botswana (I know, not part of S. Africa, but its close by and it was in our book)
Completed a South Africa lapbook activity
Learned about the Baobab Tree (a.k.a. The Upside Down Tree)
Completed and classified animals of South Africa
Learned new Geography Vocabulary
Made an Apple and Cheese Crumble dessert
Learned more about South Africa from National Geographic Kids
Learned major landmarks and other fun facts about South Africa
And here are what I managed to take pictures of ;o)
Of course we always start off by reviewing all countries learned so far, then finding our newest one:
Here's my white board for the day. Although S. Africa has 3 capitals we really only memorized Cape Town.
We worked on our Flag and Mapping Worksheets. I doubled up on these this week due to other commitments, but it went fairly well.
Of course we did our favorite activity, the animals of each country.
And here were our favorite animals, it's hard to tell from the photo, but I think we liked the Meerkat and Rhinoceros.
We made S. Africa mini-books for our World Lapbook:
And we made Apple Crumble. This would've been really good had we skipped the cheddar cheese! We ended up scraping it off the top and eating the insides! Click here for the South African Apple Crumble recipe for one of our desserts, and then South African Malva Pudding!
The Pudding:
3/4 cup sugar
2 large eggs
1 tablespoon apricot jam
5 ounces all purpose flour
1 teaspoon baking soda
1/2 teaspoon salt
1 tablespoon butter (a generous tablespoon)
1 teaspoon vinegar
1/3 cup milk
The Sauce:
3/4 cup fresh cream
3 1/2 ounces butter
3/4 cup sugar
1/3 cup hot water
2 teaspoons vanilla extract
Directions:
Preheat oven to 350 degrees, grease 7×7 pyrex dish
Beat sugar and eggs until thick and lemon colored, add jelly and mix through.
Melt butter then add vinegar to the wet mixture.
In a separate bowl, mix flour, soda and salt.
Add both butter and flour mixes to sugar mixing bowl and beat well.
Pour into greased pan and bake @ 350 for approx 30-45 minutes or until pudding is brown and well-risen.
In pot, melt together all sauce ingredients and stir well. Pour over pudding as soon as it comes out of the oven. Let stand a few minutes to cool, but serve warm. Optional: Serve with vanilla ice cream!
Recipe courtesy a reader of www.confessionsofahomeschooler.com, THANK YOU!!!
We finished off filling in our passport and putting on our flag sticker for South Africa:
Well that wraps up our week on South Africa! Stay tuned as we head over to Kenya next week!
Click here if you'd like to follow along with our Expedition Earth Geography Curriculum Journey!
Expedition Earth is a hands on world geography curriculum that covers 31 countries across the world. It is designed primarily for K-5th grade students. Students will learn the continents, oceans, people, cultures, animals, climates, try new foods, crafts and more, all through hands-on activities!