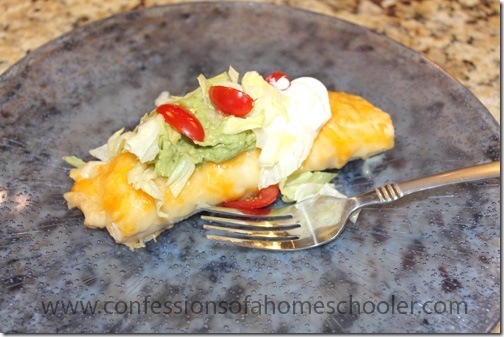 Hi everyone! I have another simple and fast recipe to share with all of you busy homeschoolers out there!
After saying this was fast, I realized that I normally make these a few days after I've made my Southwestern Chicken Tacos, refried beans, and Spanish rice. That way I can just pull out the leftovers, stuff them into burritos and heat!
It's a great way to use up the leftovers but make it seem like a whole new meal!
But if you need to take the long way…the directions for the insides are at the bottom of this post!
Ingredients:
4-5 Cooked and shredded chicken breasts
2 cups Spanish Rice
2 cups Refried beans
1 can cream of chicken soup
1/2 c. milk
Tortillas of your choice. I like the small corn tortillas, just heat in a warm skillet for about 30 seconds each side.
Optional: Toppings of your choice, we use sour cream, guacamole, tomatoes, and lettuce. Maybe a little hot sauce if we're feeling crazy ;o)
Directions:
Spray a casserole dish with cooking spray. Taking one tortilla, stuff with a bit of the chicken, rice, and beans then roll and place in casserole dish.
Mix milk and cream of chicken soup together, then pour mixture over the top of the rolled burritos.
Top with a handful of shredded cheddar cheese and bake at 350 degrees for about 30 minutes.
Serve warm with sour cream, guacamole, tomatoes, lettuce, etc.
_____________________________________________________
Chicken Stuffing:
Ingredients:
6 boneless, skinless chicken breasts, or 6 boneless, skinless chicken thighs
16 oz. jar of your favorite salsa
Crockpot/Slow Cooker
Tortillas & toppings of your choice (I used light sour cream, cheese, guacamole, and tomato)
Directions:
Place thawed chicken into your slow cooker, and cover with 1 whole jar of salsa. Cook on high for 4-6 hours, or low for 7-8. About 6 hours in, use a fork to shred chicken and stir it around to coat in the salsa.
Spanish Rice:
Ingredients:
1/4 c vegetable oil (enough to cover bottom of skillet)
1 c. long-grain white rice
1/4 c tomato sauce
2 1/2 c water
2 Tbsp Knorr chicken bouillon seasoning
Directions:
In 12 inch or larger skillet, heat oil. Add rice, stirring often until golden brown then stir in tomato sauce; add 2 1/2 cups of water and Knorr seasoning.
Bring to a boil, reduce heat to low, cover and simmer about 20 minutes or until rice is tender and liquid has been absorbed. (Do not mix while simmering or rice will become sticky!)
Let it rest for about 5 minutes before serving.
Refried Beans:
Ingredients:
1 small bag dry pinto beans
4-5 garlic cloves, minced
1 C. sour cream
1 C. cheddar cheese, shredded
Salt to taste
Crock-pot/Slow Cooker
Method:
Pour dry beans into a large bowl and fill with water covering the beans. Swish them around with your hands to clean all the dirt and brown gunk off of them. Drain water, and repeat about 3 times or until water is clear. Tip: A friend of mine uses grapefruit seed extract in the water to help clean them, but I didn't have any so I skipped that step.
Next put beans into your slow cooker and cover with water so water is about 1" above beans. Soak beans over night in your slow cooker (do not turn it on) to help soften the skins. Tip: If you don't have time to soak them overnight, you can put them straight into your slow cooker and turn it on, but add 1 tsp. of baking soda to the water to help break down the shells.
After soaking, add in the minced garlic and turn your slow cooker on low and cook beans about 6-8 hours. Check them periodically through the day to make sure water level is okay. If needed, add in some more hot water to keep the beans completely covered like the picture below.
Once beans are soft, mash them with a potato masher then add in the sour cream, shredded cheese, and salt to taste! Tip: You'll probably need more salt than you think, so add it a little at a time, and keep tasting until they're yummy!
I hope you enjoy these, and I'll see you next time with another fast and easy recipe!