Hello fabulous readers! I wanted to share a recipe that has eluded me for years now…simple homemade refried beans. Maybe it's because I'm Italian, and there's no pasta involved…
Anyway, I know you probably already have your own recipe for this, but for those of you like me who struggled to make them without the taste of cardboard coming to mind, please read on!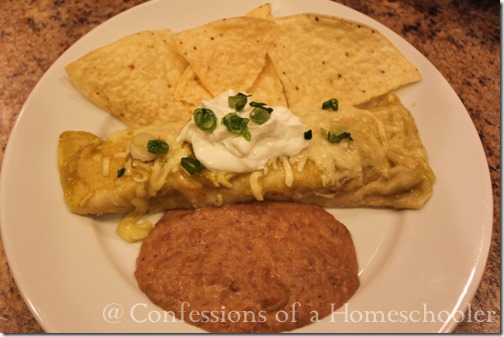 These are really quite easy, and thanks to a couple of my good friends, I think I've finally mastered the illusive refried beans.
Before I go on, I just want to let you know that I don't actually re-fry them…they're good as is, and I didn't feel the need to take something yummy and…well…fry it.
So let's get on with it shall we?
Ingredients:
1 small bag dry pinto beans
4-5 garlic cloves, minced
1 C. sour cream
1 C. cheddar cheese, shredded
Salt to taste
Crock-pot/Slow Cooker
Method:
Pour dry beans into a large bowl and fill with water covering the beans. Swish them around with your hands to clean all the dirt and brown gunk off of them. Drain water, and repeat about 3 times or until water is clear.
Tip: A friend of mine uses grapefruit seed extract in the water to help clean them, but I didn't have any so I skipped that step.
Next put beans into your slow cooker and cover with water so water is about 1" above beans. Soak beans over night in your slow cooker (do not turn it on) to help soften the skins.
Tip: If you don't have time to soak them overnight, you can put them straight into your slow cooker and turn it on, but add 1 tsp. of baking soda to the water to help break down the shells.
After soaking, (usually the next day for me) turn your slow cooker on low and cook beans about 6-8 hours on low. Add in the minced garlic, and let simmer all day! Check them periodically through the day to make sure water level is okay. If needed, add in some more hot water to keep the beans completely covered like the picture below: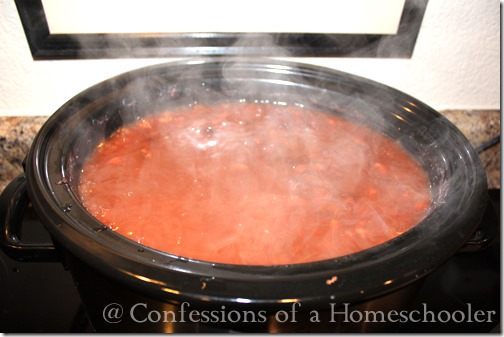 After beans are soft, use a ladle to remove as much excess water as you can from the cooker. DO NOT throw away the water, you may need to add water to your beans after mashing to help moisten them.
Using a hand masher, carefully mash the beans in the pot. You may need to add some of your cooking water back into the beans if they are dry. This is a preference thing, I like our beans a bit more moist, so I add some of my cooking water back in as needed.
Once the beans are well mashed, add sour cream and shredded cheese to the pot and mix well.
Stir in 1 tsp. salt to flavor the beans. (Or salt to taste.)
Serving ideas:
Add some salsa to them for a tasty dip, serve with tortilla chips.
Serve as a side with your favorite meal.
Use to fill burritos, or on top of a tostada.
Add to the top of tortilla chips with cheese, sour cream, and guacamole for yummy nachos!
Freeze Them!
Beans freeze really well, so I take any left overs and place them in a gallon freezer bag and lay flat in my freezer until frozen. Store in freezer up to 3 months.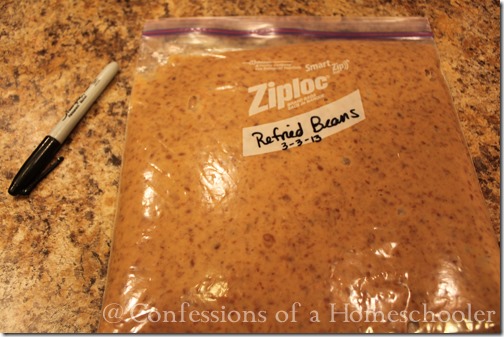 And that's it, they're super easy to make and taste so much better than canned beans! Not to mention that they're less expensive, and better for you without all of those preservatives!
And a special thanks to my friends M and K for sharing their recipe with me!