Hi everyone! I'm back today with an easy recipe for you!
Every now and then we make a spiral sliced ham for dinner, and for a long time, I just tossed the left over bone with all of that meat on it. I never could get it all off. ugh.
Anyway, I've finally come up with a really easy and delicious Ham and White Bean Soup recipe to use up that left over ham! Interested? Read on…
Ingredients
Leftover ham bone (with ham on it)
16 oz. bag of northern white beans
1/2 sweet onion finely diced
Optional: diced carrot and celery (or any other veggie you like in your soup)
Optional: 1 Tablespoon Apple Cider Vinegar
Directions:
Place ham bone and beans into a stockpot and cover with water. Simmer all day on low heat. Add your onions and other veggies about 1 hour prior to eating so they cook until soft. If you want a little fresh kick to your soup add 1 Tablespoon of apple cider vinegar right at the very end.
That's it!
No kidding, just put the stuff in and let it cook.
Then go about your homeschooling day and savor the smell as your dinner simmers!
And no, you don't need any extra salt. The ham is usually salty enough, so I would caution against adding in anything until it's done and you give it a taste.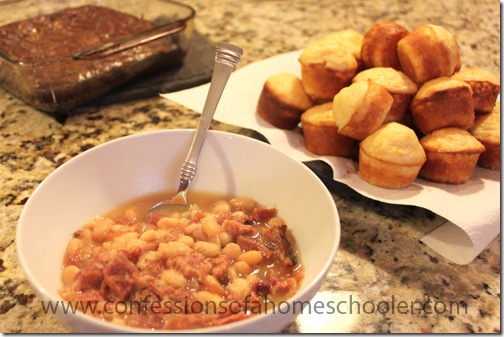 Serve with a side of rolls. We also had a treat of brownies courtesy Strawberry Shortcake!