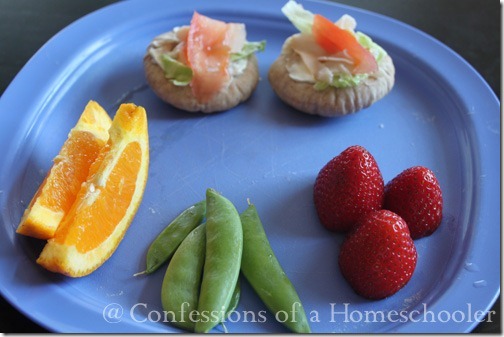 Looking for some new, and healthy, lunch ideas for kids? I've been following Fit Yummy Mummy on facebook, and she's doing a 21 day healthy lunch challenge with her family! She's been sharing some great lunch ideas, and while I'm not following them exactly, I thought I'd share a few of our ideas with you all as well!
Menu for today:
Mini-Pitas with cream cheese, turkey, lettuce, and tomato
Fresh Strawberries and orange slices
Fresh sugar-snap peas (and ranch dip if you would like!)
I found these cute little wheat mini-pitas in the deli section of our grocery store this week and I thought they were so cute I had to try them! They are also whole wheat, and taste absolutely yummy! I've also found that if you make your lunches 'look' cute, the kids tend to be more willing to eat them!
Have some fun healthy lunch ideas to share? Leave a comment below!