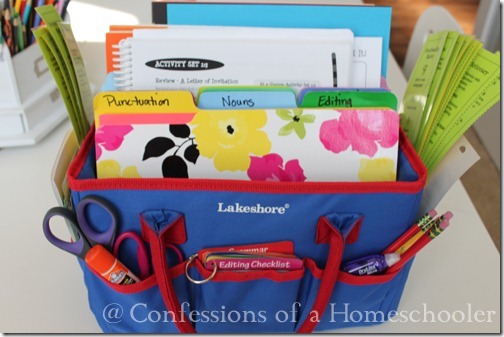 WriteShop Junior is a creative writing program that appeals to many learning styles. As with all WriteShop products, Book D helps you guide children through the steps of the writing process. To keep the experience fun for everyone, each lesson includes engaging games and activities that teach and review important writing and self-editing skills. And whether you have a more advanced child or one who is fairly new to writing, this program is flexible so children can work at their own level.
Book D teaches the basics: how to come up with ideas; brainstorm and organize before writing; choose more interesting words; learn to self-edit in a fun and positive way; and publish creatively. It's geared towards students in 3rd and 4th grades, as well as reluctant 5th graders.
–> Download a Book D sample lesson
We received the WriteShop Junior D Teacher's Guide, Activity Pack w/Fold-N-Go Grammar, and Time-Saver Pack (Which I HIGHLY recommend). These three things are everything you need to begin the Writeshop Junior D program.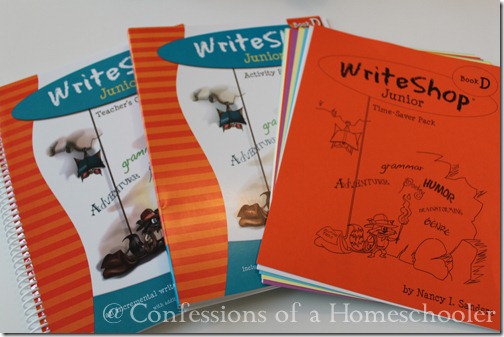 One of my favorite features are all of the self-editing techniques the students learn. To save time I premade the Fold-N-Go grammar packs, and then we went through them as the lessons called for them. Turbo and Strawberry Shortcake are doing really well checking their work now, and I think they actually look forward to it since they get to use this cute little bag!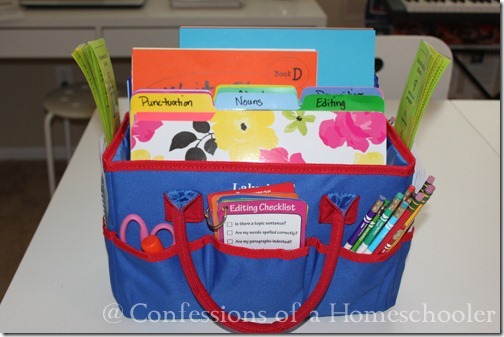 One of the first things I did was laminate all of the helpful bookmarks that came with the pack, as well as put together the Fold-N-Go folders. I also organized all of the printables from the student activity pack so they were ready to go for Turbo and Strawberry Shortcake. That definitely helps save time when we do the lessons!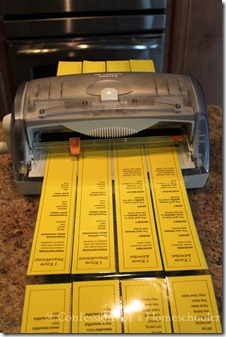 Once I got everything set up, it was time to start our lessons. We are doing WriteShop Junior D three times a week right now. The program has several different scheduling options to pick from, and so you can really tailor it for your needs. I don't always go by the script, but if you're unsure of how to teach, each lesson is scripted out for you so you don't have to worry about it at all!
My kiddos are having so much fun with the lessons, that they actually look forward to writing time now which is a huge bonus! One thing that's key for us, are the group brainstorming sessions. We discuss ideas together, using some of WriteShops story builders, and the lesson activities, and that has been a TREMENDOUS help for Turbo who has a hard time thinking of things to write on.
I've really seen Turbo blossom in writing since we've started the program. His first adventure story was 5 pages long! The kid just wouldn't stop writing, and not only that, but his story was actually really well put together and thought out!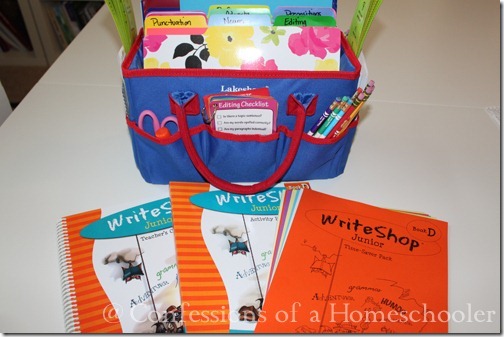 So What's in our writing bag? (Just because I know you'll ask, this cute bag is from Lakeshore Learning it's called the Teacher Carry-All.) I keep my Teacher's Guide in the middle section, along with the student Fold-N-Go packs. I also keep colored construction paper in there for our publishing days.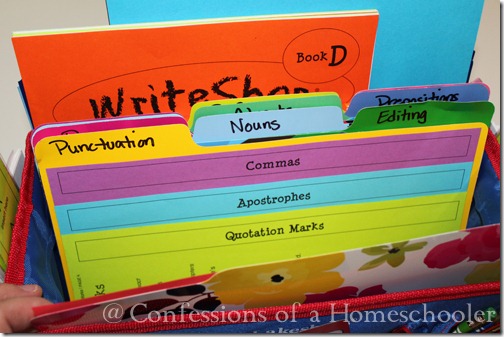 All of the little pockets on the outside house plenty of pencils, scissors, stickers, correcting tape (they absolutely LOVE this! I think they make mistakes now just so they can use it! Ha!), glue, correction pencils, highlighters, and the editing checklist I made awhile back. The WriteShop program also gives you a whole list of helpful tools to keep in your bag.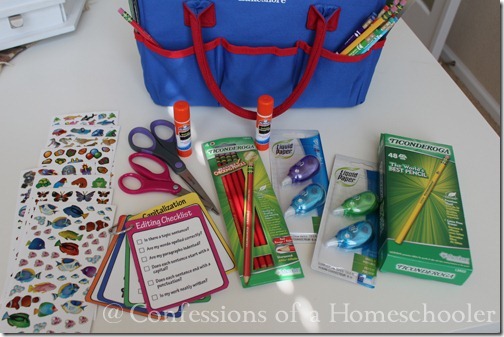 We're absolutely loving this program, and definitely plan to continue with WriteShop in the future!
Want more information?
Ready to win?
WriteShop is offering YOUR choice of 1 of their WriteShop curriculum packages! You can pick from WriteShop Primary Book A, B, or C or WriteShop Junior Book D. This includes both the Teacher's Guide and student Activity Pack (and Time-Saver Pack as well for Book D!) Whoot whoot! Just fill out the entries in the Rafflecopter below to win!
Can't Wait?
I have a 15% discount coupon, good for any purchase in the WriteShop store!
Use coupon code HSCON15 at checkout to get your discount!
(Coupon good now through October 21, 2012 Midnight!)