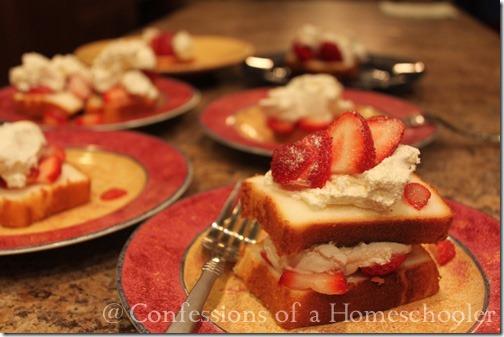 Okay, so this isn't like a homemade shortcake recipe. But it IS a super fast, easy, and relatively low fat dessert that everyone in our family loves. So I'm gonna share it.
Ready?
Ingredients:
Sliced Strawberries
Cool Whip (lowfat)
Sponge Cake or Pound Cake (Sliced)
Directions:
Place one slice of pound cake on a plate and top with a dollop of whip cream and a few strawberries. You could stop right there, but why? We like to go for one more slice of cake, another dollop of whip cream, and a few more strawberries. And that's it! Seriously easy, light, and supper yummy!
Alternate idea: Add a teaspoon of sugar to your sliced strawberries and allow the to set for a few minutes to create a more juicy strawberry topping.
I hope you enjoy our simple family dessert.
Have a recipe to share? If you have any quick dessert ideas, leave a comment below!