Hi everyone! As promised last week, today I'm talking about all of the school supplies I get to enjoy every year! Some are items that need to be repurchased, while others have lasted from year to year. It's one of the benefits to homeschooling in my opinion!
So let's jump right in shall we?
Laminator: You can either laminate at home, at a local teacher or office supply store, or not at all, it's up to you. If you do choose to purchase a laminator, which most homeschoolers find quite useful, I recommend this one, you can find it at Wal-mart and Sam's Clubs. It's about $30 for the laminator and $14 for refill packets.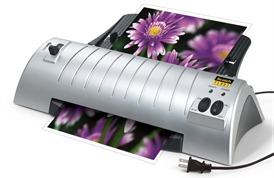 Scotch Thermal Laminator & 9×11 Scotch Thermal Pouches
My Desk Drawer: Here is my teacher supply drawer in my desk, this is where I keep some back up supplies along with other daily use items. The clear divider is an expandable drawer organizer from The Container Store.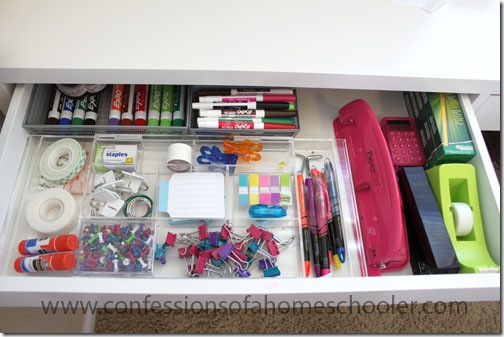 As you can see I keep backup dry-erase markers, tape, glue, push pins, staples, note pads, post its and clips in here.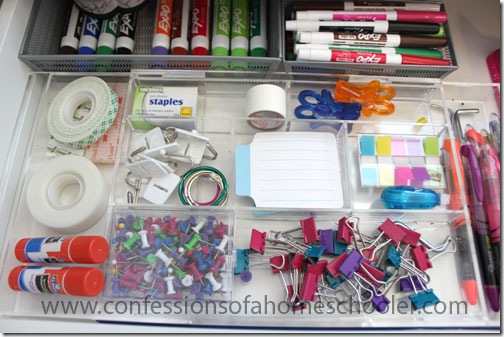 I also keep my other things such as stapler, tape dispenser, and hole punch.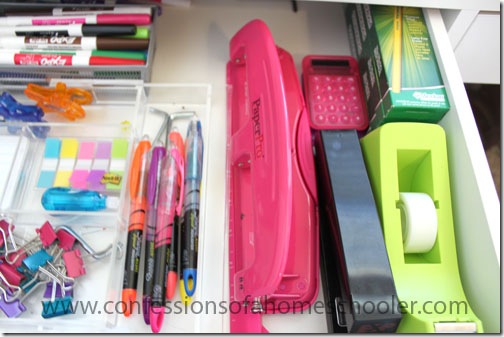 Speaking of the Hole Punch, I couldn't do without this thing! Actually, I have a single hole punch as well as a 3 ring hole punch. I couldn't find this exact one online, but I purchased this pink one at Office Depot. They had other colors, I think blue and green maybe?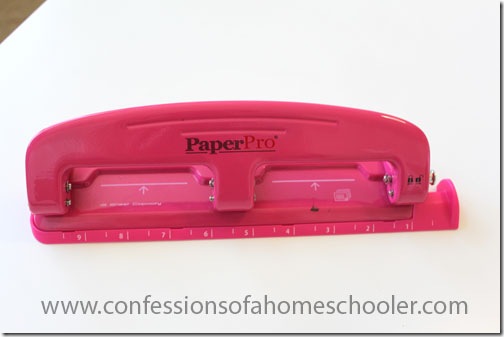 Pencils and Sharpener: I use both the regular Ticonderoga pencils, the Ticonderoga Red Correcting Pencils, and also grabbed some of the Tri-Write Pencils and the Beginner Wide Pencils to help with pencil-grip issues.
After a couple of years homeschooling, I finally broke down and found an electronic sharpener. Really for me, with the amount of sharpening that goes on in our home, its just an essential product. We currently have the Bostitch QuietShapr Electric Sharpener – $23.62. For the most part I've been happy with this. I did have some issues with the first one, but I exchanged it for a new one and it appears to be doing okay. Either way, I'm just sayin' an electronic sharpener is nice to have around.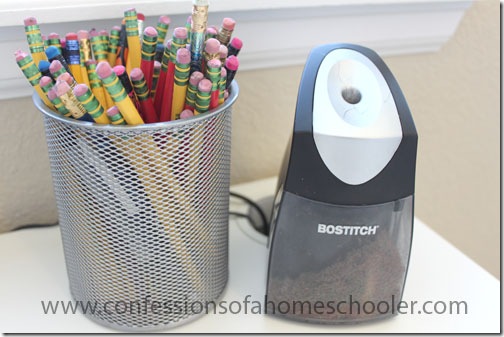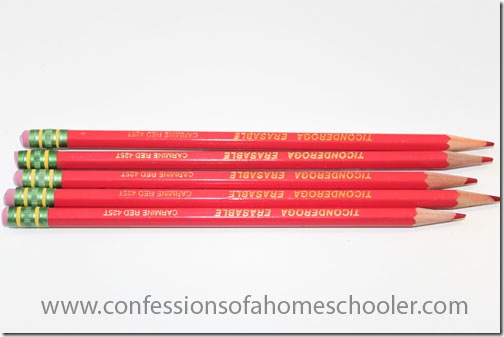 Construction Paper is a must for our homeschool. We use it all the time, for everything from craft projects, to just fun art activities and play time. The paper is being held up by a Clear Acrylic Magazine Sorter from the Container store. Not super cheap ($25 ea.), but I use it for this paper, and some of my flimsy teacher's manuals. It works for the paper because stored like this, kiddos can get out the color they are looking for without dumping it all over the floor like they would if it were just stacked.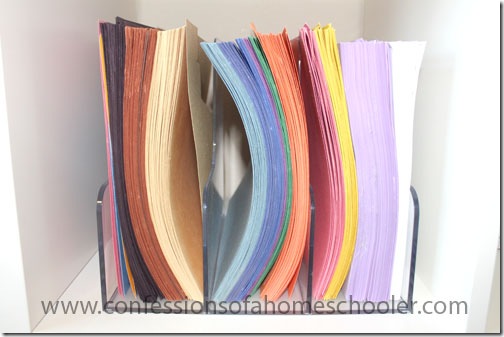 Dry-Erase Markers: As mentioned before, we go through a lot of Expo Dry Erase Markers. Not only do I use them to teach with on our white board, but the kiddos use them to write on their Daily Learning Notebooks as well.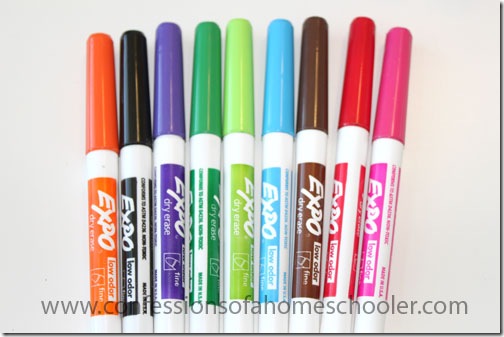 Stapler & Tape: I've had this stapler since the beginning of time I think? Anyway, I've had it a LONG time! And recently purchased a new tape dispenser. Unfortunately the Teeny Tot Immediately lost the little white thing that holds the tape in the dispenser so…I'll have to figure out something to do with that. But both are used frequently in our day-to-day.
Post-it Tabs: I always get a few packs of these little post-it tabs. I use them to keep track of where I am in my teacher's manuals, and the children use them to keep their place in their reading and some workbooks that the pages don't rip out of.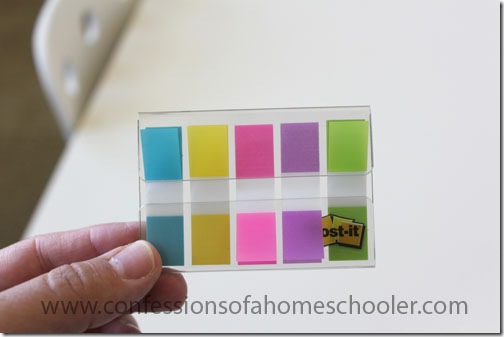 White-Out Tape: We use this periodically, I wouldn't say it's a daily use thing. But the kiddos do use it if they've made a mistake in a larger writing assignment and I don't feel like being mean and making them re-copy it all over again from the start.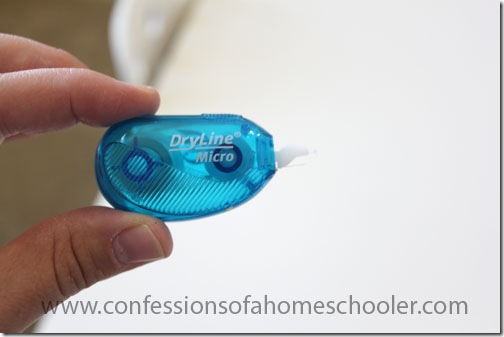 Push-Pins: There are nothing special about these, but we do use push-pins quite frequently. I use them to hold up things on our calendar, and the words on our "Word Jail" board as well. Anyway, they're just good to have around!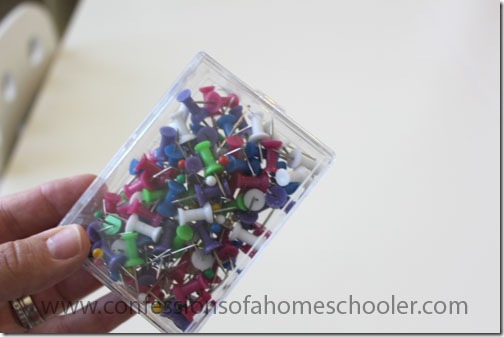 Paper Clips: Again I don't use these daily, but I do find that they come in handy when I need to keep a little stack of papers together. Sometimes the kiddos will use them too when writing a story that is several pages long that they aren't ready to staple together yet.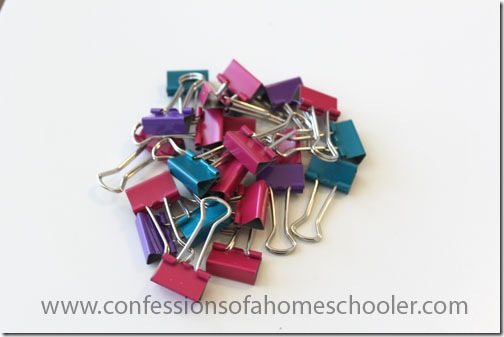 Mavalus Tape! This is a must for me! It's like masking tape, but it holds literally everything on our walls, and doesn't mark or take off paint! I get a TON of questions on what I use to hold all of the things up on my walls, and this is it homeschoolers! I haven't found a tape or wall mount I like better. And I'm not sponsored by these people, nor did they pay me to write this post, but man I wish I was! I could definitely use some more Mavalus Tape!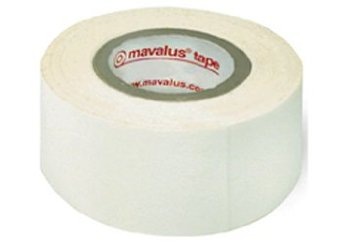 Workboxes Before our Ikea makeover, I used the Cropper Hopper 10 Drawer Rolling Carts to store and organize our daily work. Now we use our Ikea drawers. Either work great. Click here to read all about our workboxes! They revolutionized how we do school. No kidding. Click here to see a workbox video overview of both systems.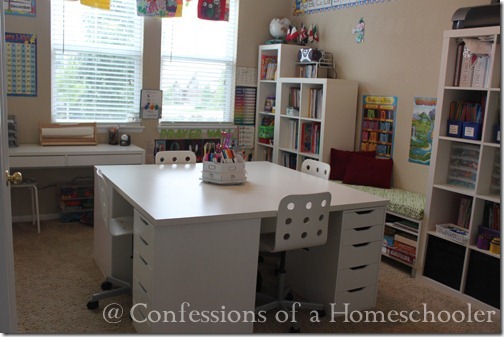 White Board: I found a 5' x 8' whiteboard at a church school closing for literally $5! What a steal, make sure to check Craig's List in your area for school furniture, you'll be surprised at what you can get ahold of!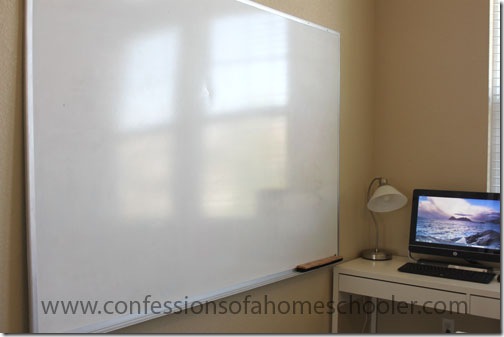 Daily Calendar Area: Here is our annual Calendar Poster (This is held onto a cork board with small thumb tacks. Click here to see more details and get printables shown below in our Calendar Activities.)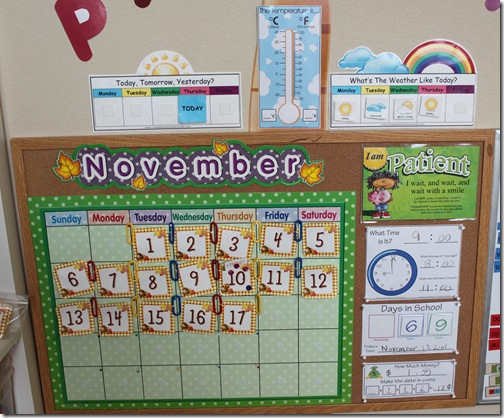 Desktop Carousel:  I know you've all seen my supply caddy that literally holds our Ikea school desks in place. I honestly do LOVE this thing! It's called the Making Memories Desktop Carousel. I found ours at Michael's craft store and bought it using a 40% off coupon. They range $40 or so. Here's one at Overstock.com.  I've also seen a new one called Recollections Desktop Carousel if that helps any of you out there! I keep the majority of our supplies in this caddy so everyone can share.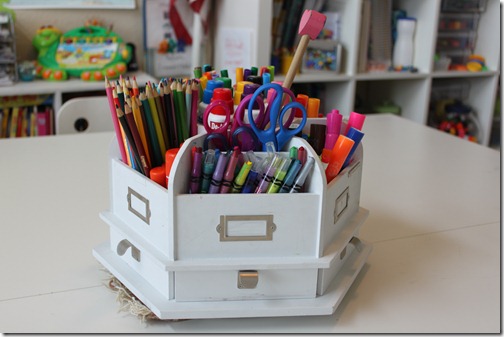 Printer: And last but definitely not least…my printer! I think every homeschool needs a printer and I don't know how we would survive without one! I previously did a printer forum if you want to go check it out where people discussed pros/cons to printers they've had. I previously had an inkjet printer, and after reading several of your posts saying that Laser Printers were where it's at, we decided to bite the bullet and get one.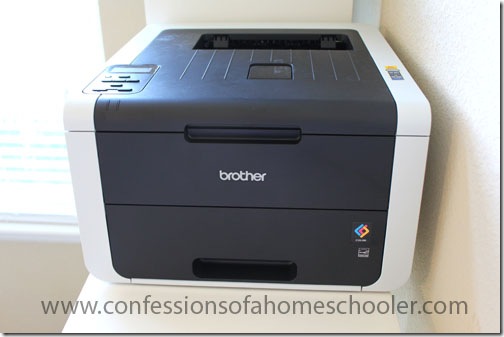 I've only had it a few weeks, but I can't say I've been happier with a printer prior to this one! We purchased the Brother HL-3170CDW printer. It's a Color Laser Printer with Wireless networking and Duplex. It retails for $279, but we found it for $200 on Amazon using our Prime membership. Ink runs about  $50/cartridge but they yield up to 1400 pages, so you aren't replacing them so often.
Honestly this thing prints insanely fast, and the color is actually really good. Now, this one is a "small business" classified printer. So you may consider one that is a bit less expensive. Obviously I print quite a bit for my business as well as our homeschooling, so we really needed something that could handle the load.
I'll write up something a little later once we've had a chance to really put it to the test, but right off the bat I'm quite happy I decided to give Brother another chance. Even though I kind of slammed my Brother 490CW for it's slow printing, high ink costs, and poor color and resolution in my Printer Forum. And I did go in it looking for an HP laser or inkjet, but after seeing sample prints at the store, I went for this one.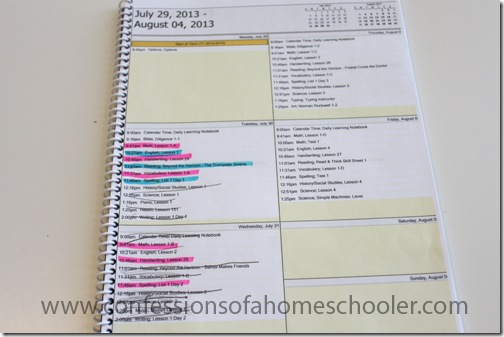 .
One other new thing I'm trying this year is to print out the year's worth of lessons and give each one of my children their own bound plan. That way they can see what they have each day, then check it off as they go. I also have a copy so I know what's up and they can't get away with anything goofy!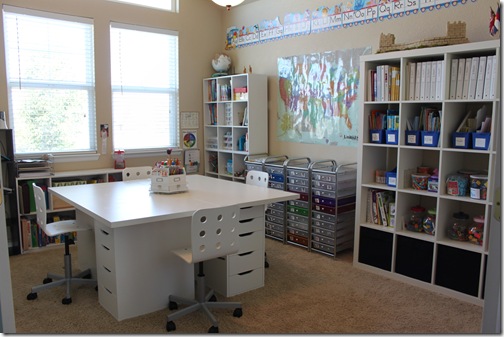 And that's about it for our homeschool supply list. The rest of our things in our schoolroom are just bonus, but those are some of my favorite thing's I'd definitely fight to keep!
Want to see more of our school room? Make sure to stop by my Schoolroom ala Ikea post!
More organization posts that you might enjoy: