Good morning readers!  Today I wanted to share a yummy homemade pancake recipe with you! I'm still working on perfecting these, but for the most part the kiddos like them just as good as the frozen waffles that you pop in the toaster and they're just as easy, but full of good things instead of processed ingredients that no one can pronounce!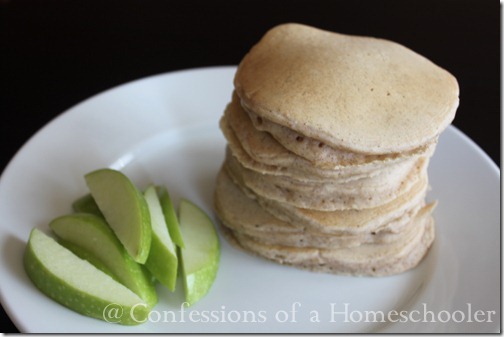 Ingredients:
1 1/4 cup whole wheat flour (You can also substitute regular white flour, but it's just not quite as healthy.)
1 Tbsp sugar (Can substitute 1 Tbsp honey)
2 tsp baking powder
1 cup milk
2 Tbsp lemon juice or 1 Tbsp Vanilla (Both offer a great flavor to the pancakes, we prefer the lemon.)
1 egg, beaten
Optional: 1/4 c your favorite ingredient. Some ideas we like: white chocolate chips, blue berries, strawberries.
Directions:
Mix all ingredients in a bowl and cook on flat skillet until browned on both sides. Top with a pat of butter and the syrup of your choice.
Variation: Another favorite of ours, not so healthy, but super good is to top our pancakes with some whipped cream and strawberries! It's like dessert for breakfast. Mmmm.
Makes about 14 small pancakes, see above photo for approximate size.
FREEZE THEM! You can double this recipe and then just freeze cooled pancakes in a Gallon Ziploc freezer bag. Just pop them into the toaster to re-heat, it's super easy, just like those icky frozen boxed waffles, which shall remain un-named.
Happy Friday!