Happy Valentine's Day everyone! I hope you are all off to have a fun time exchanging Valentine's Cards with friends and loved ones! Over here are Confessions, we're starting our day with school then heading out for a party. But before we do that, we're taking a quick jaunt over to Utah via our Road Trip USA Geography Curriculum!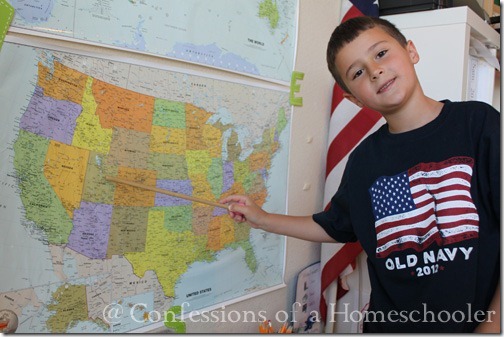 Utah became the 45th state on January 4, 1896. It is nicknamed "The Beehive State" in reference to early Mormon settlers who were described as having carried "swarms of bees" with them. Thus the nickname commemorates the industry of the people of Utah. Utah is known for it's Great Salt Lake which has no outlets. This means that dissolved minerals carried into the lake by rivers and streams are trapped there making the lake extremely salty. (Almost seven times as salty as the world's oceans.) Only brine shrimp and algae are able to live in the Great Salt Lake.
Here are some of the things we learned about this week:
Located Utah on our wall map
Read our National Geographic Atlas and located Salt Lake City, Utah using the map coordinates.
Worked on memorizing our US Presidents Song
Learned about the state and it's flag
State Bird:  The California Gull
State Mammal:  The Rocky Mountain Elk
State Flower: The Sego Lily
Famous People: Robert Leroy Parker a.k.a. "Butch Cassidy"
The Pony Express mail service
State Landmarks: Arches National Park & Temple Square
Food: Honey
Here is what I managed to get photos of for the week:
We made designed a postcard from Utah, and wrote a fictitious letter to a friend. This time I had Strawberry Shortcake make up an address so I didn't have to gray it out.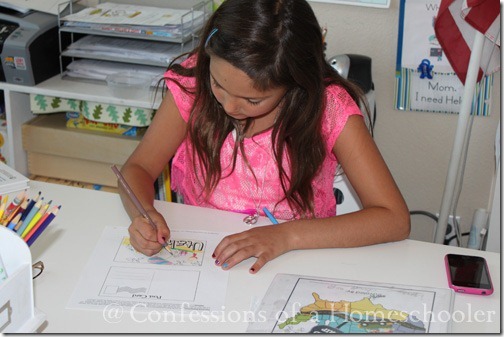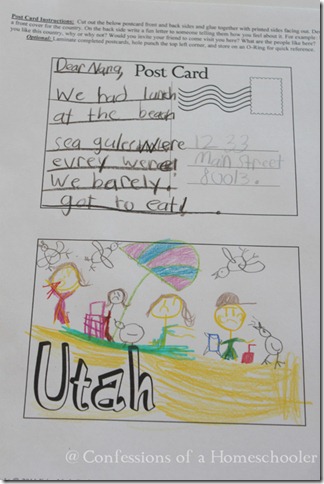 Robert Leroy Parker, a.k.a. "Butch Cassidy", was born in Beaver, UT in 1866. He was a notorious American train robber, bank robber, and leader of the Wild Bunch Gang in the American Old West. Cassidy and his partner, "Sundance Kid" were pursued by authorities, then supposedly left to Bolivia to enjoy their winnings. They were supposedly killed by Bolivian police.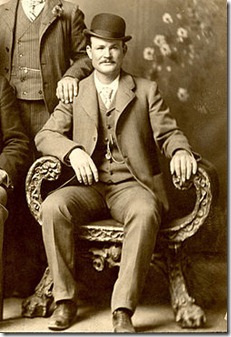 We read through all of the fun facts on Utah from our Which Way USA Highlights Subscription. If you can, this is a really fun United States subscription. The magazines have fun games, and the fold out you see below has pictures with lots of fun facts along with a full sized map of the state on the other side.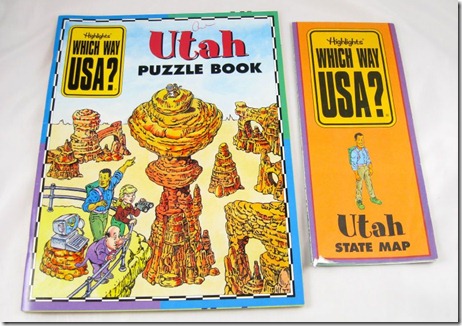 After learning about the animals symbols for Utah, we classified and added the animals to our USA animal wall!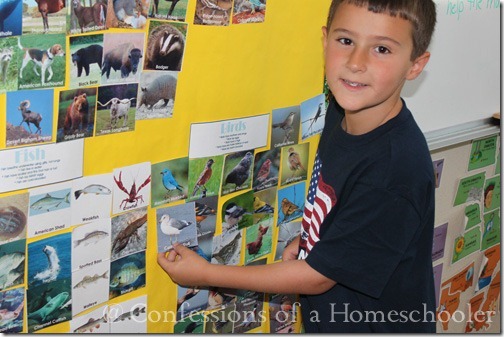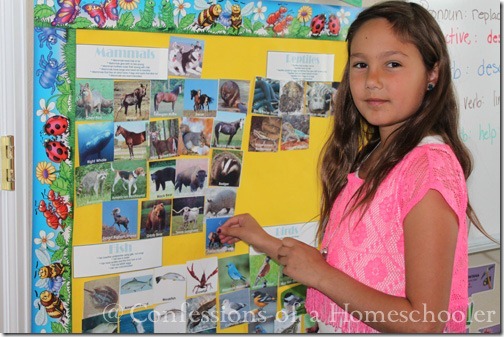 Arches National Park is a visually impressive sandstone park located just outside of Moab, UT. It is 119 square miles in size and 5,653 feet high at the top of Elephant Butte. The park lies atop an underground evaporate layer of salt bed, which is the main cause of the formation of the arches, spires, and balanced rocks in the area.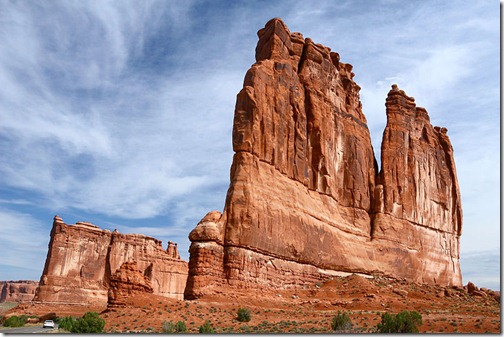 Tinker Bell added Utah to our United States Bulletin. After that we reviewed all of the states we've learned so far on our travels.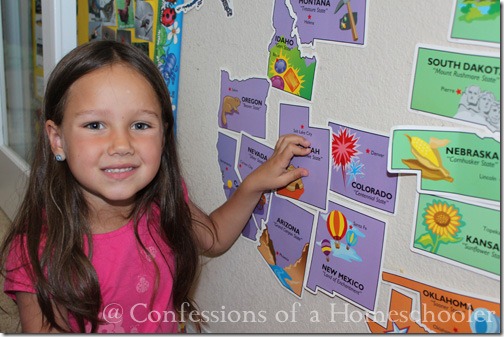 We took turns locating Salt Lake City, Utah in our National Geographic Atlas.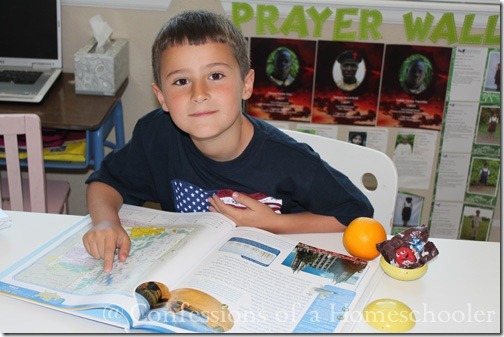 The Teeny Tot insisted on having a turn. I have no clue what she's pointing at, but clearly she was thrilled with herself for getting to do it too.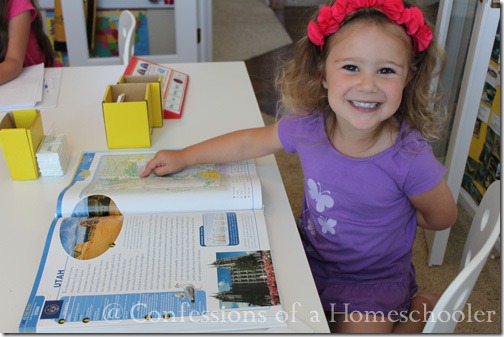 Strawberry Shortcake worked on a wooden United States puzzle that we had for fun. I couldn't find the exact one because it's fairly old, but here is a similar United States Puzzle.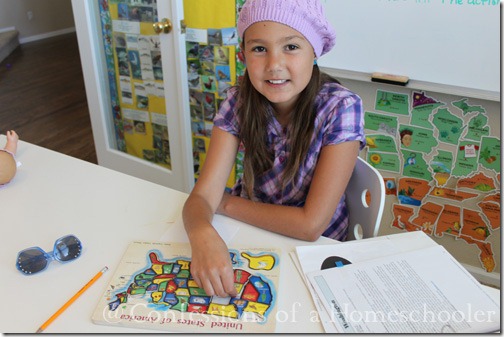 Temple Square is a 10 acre complex owned by the LDS Church. It is located in the center of Salt Lake City, UT. In 1847, when Mormon pioneers arrived in the Salt Lake Valley, church president Brigham Young selected a plot of ground to build a temple on. The site attracts 3-5 million visitors a year and is the most popular tourist attraction in Utah.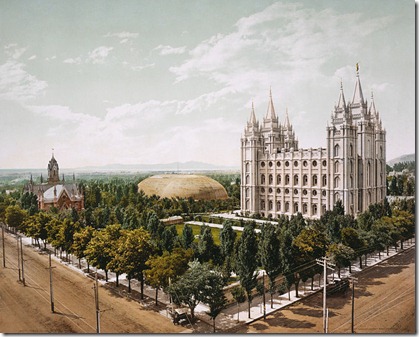 Everyone completed their state worksheets as we read through all of the Utah state facts in our curriculum: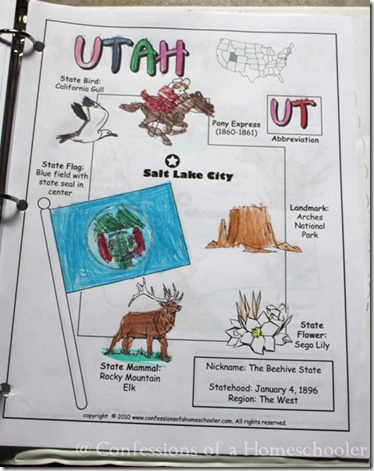 The Pony Express was a mail service crossing the Great Plains and the Rocky Mountains, the trail went from St. Joseph Missouri to Sacramento CA. It was used between 1860 and 1861 and was the west's most direct means of communication with the east. The Pony Express was vital for tying California with the Union just before the American Civil War. Mail was carried by horseback riders from one location to the other. The 1900 mile route followed the Oregon Trail, the California Trail to Fort Bridger in Wyoming and then the Mormon Trail into Salt lake City, Utah. From there it followed the Central Nevada Route to Carson City, NV then passed over the Sierras into Sacramento, CA.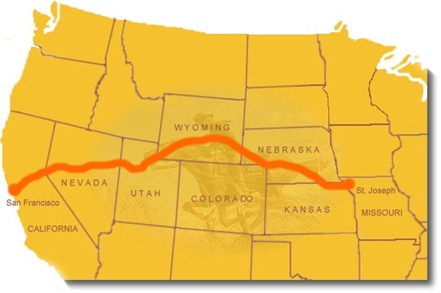 Then Turbo had the honor of adding the state to our wall map. I've had lots of questions on this, and the directions are in the curriculum, but we purchased two of these Trend USA Wall Maps and then simply cut one up into states, then used small velcro dots to attach them as we travel through our state study.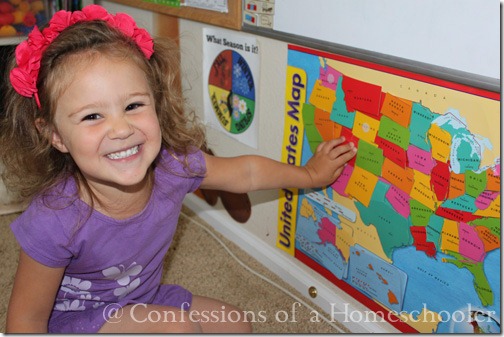 We are still working on the history portion of the curriculum by reading through "If You Traveled West in a Covered Wagon" by Ellen Levine.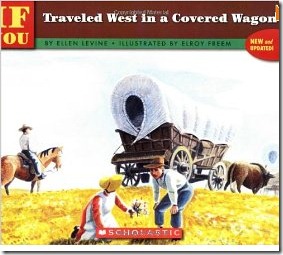 Finally we concluded our week by adding the Utah state flag to our Travel Log.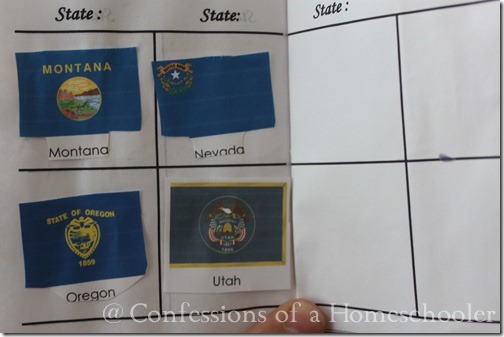 And that wraps up our Utah study! If you'd like to come along with us on our Road Trip USA journey, click the image below to learn more!