Hi everyone! I can't believe the holidays are already hear. And I'm sure a lot of you are starting to make lists of items to get, so I wanted to share some of our favorites with you as well. This year I'm going to post an educational gift guide, then another one for boys/girls, and finally one for sewers and quilters just incase any of my family is reading LOL!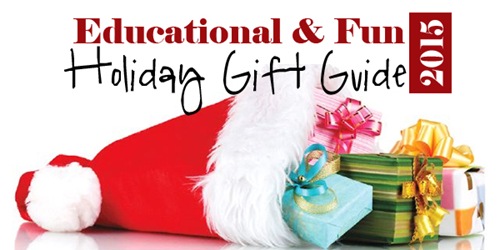 In this post I have a bunch of fun stocking stuffer ideas for you as well as educational, and also fun, gifts for elementary aged students.
Stocking Stuffer Ideas: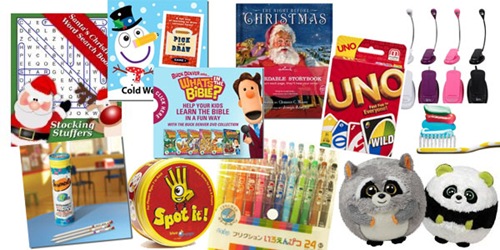 Christmas Recordable Books (My parents did this for our children, and they LOVE it! It will be a wonderful keepsake for years to come.)
Pilot FiXion Erasable Pens (We LOVE these and use them for school work all of the time because they're erasable! YAY!)
Fuzzy socks
Candy
Toothpaste and toothbrush!
Gift Cards
Glow Sticks
Stickers
Fun erasers
UNO (One of Tinker Bell's favorite games!)
Blacklight Invisible Ink Pens (These are fun!)
Gifts for prek-elementary kiddos:
Spielgaben is a company that produces environmentally sustainable and non-toxic child friendly materials. The Spielgaben set comes with all of the colorful materials you see below, including the 3 wooden trays and a chessboard that store all of the materials together. The set also comes with learning resources that include learning activities, user guides, over 30 sets of interactive worksheets, 65 inspiration cards, and more!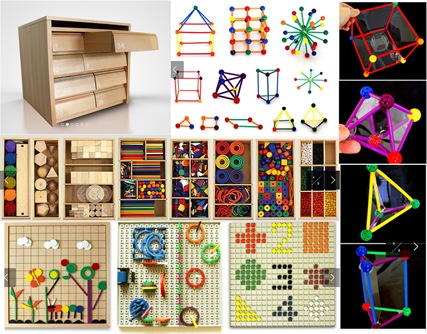 I love giving and getting art supplies at Christmas time. They last us the rest of the year usually, and are always a fun thing to play with too! This year we're going to try out the Kwik Sticks paint stick set from The Pencil Grip.  They're basically paint sticks that dry in about 90 seconds, but still have a paint-like finish and are super smooth to draw with. They look super cool so I can't wait to try them, and I think a set of Kwik Sticks plus a Mix Media Art Paper Pad would be a great gift for younger artists!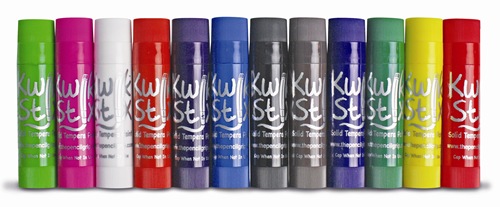 I'm getting the Spiral Art Design Center for Miss Lady Bug this year and I think she'll love it! Actually I have my suspicions that a few of my older kiddos will love this too. I remember having one of these when I was a kid, and had so much fun making cool designs with the different disks and colors!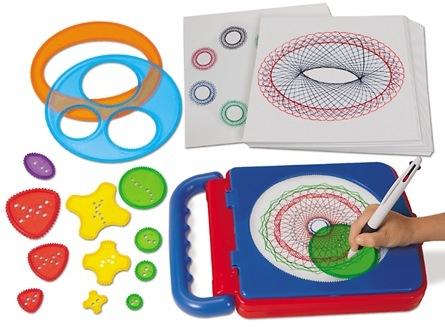 Another requested item on my daughters list this year is the Lakeshore Learning Weaving Loom. I have to admit this actually looks really cool, and it seems like a great way for younger kiddos to learn a cool skill!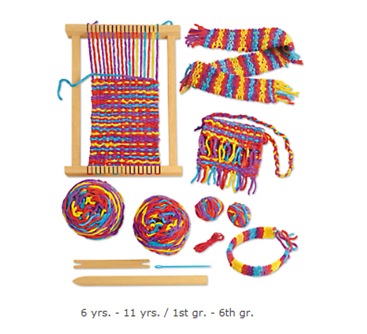 My last item is the Lakeshore Learning Arts & Crafts Supply Center. we received this as a review item last year, and it's remained one of my kids "go-to" items! They love creating crafts with all of the fun supplies, and it's great for encouraging creativity too!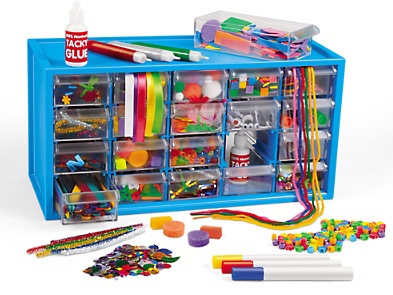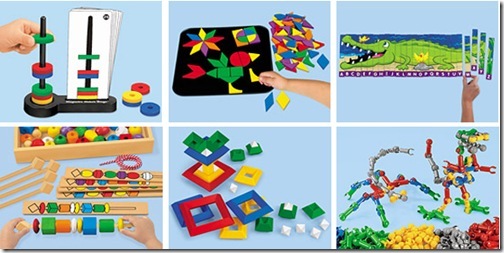 Robotics Education:
Electronic Snap Circuits: There are several sizes and types of snap circuit kits you can buy, and they're both fun and educational! This one has 300 different projects for your kids to work on and includes a concise illustrated manual. You kids will have fun building a radio, doorbell, burglar alarm, and more!
LEGO Simple & Motorized Mechanisms Base Set: Our co-op has been using this great educational tool from LEGO Education for awhile now and we love it. Each month we meet and do another lesson on motorized mechanisms. You can see my LEGO Education posts here. I highly recommend these sets, they're very fun, but also promote critical thinking and logic skills.
LEGO Education Mindstorms: Turbo has been asking for a Mindstorms kit for a while now. They're kind of pricey, but we have a friend with one and it's actually quite amazing! Turbo is asking for money this year from his grandparents, so he can hopefully save up to get a kit. With the kit you can build, program, and test real-life robotics technology.
I hope that gives you some great ideas for educational and fun gifts for Christmas this year! Happy Holidays!
Disclaimer: There may be affiliate links contained in this post. If you purchase through these links I receive a small percentage. Please know that even if I include affiliate links, I still love these products, and would not recommend them unless I truly thought you would like them too!