I'm back today with another Homeschooling 101 post.  Today we're talking about homeschooling and Time Management!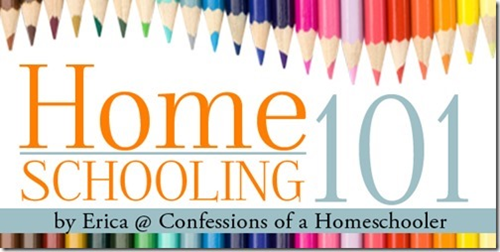 Good time management for homeschoolers is a necessity.
You've already seen a sample of our daily schedule. But there are a few more tips I'd like to share with you on the topic of time management and keeping your sanity.
First of all, no one can "do it all" so to speak. Something usually has to give when you're juggling homeschooling, running a household, parenting children, being a spouse, serving in ministry, and working.
Remember, the only pressure we're under is pressure we've put on ourselves.
If your schedule is too hectic, take a minute (I know, I know, you don't have a minute, but trust me this will help.) and write down all your commitments. Next see what you can get rid of, and what is necessary, and then make any necessary changes to your schedule.
Having some sort of routine that you follow will go a long way to helping you stay above water. And good time management is crucial to both your mental and physical well-being.
Here are some more tips to help keep things organized and running smoothly…
Set a basic family schedule
Setting a basic routine that your family follows can be a vital element to your homeschooling journey. For example dictating Monday as laundry day, Tuesday as bathrooms, and so on can help you stay on top of things instead of feeling like you're drowning in a sea of tasks. You can rest, knowing at some point during the week, everything will get taken care of.
Delegate household tasks
If everyone is chipping in to help, chores won't seem so daunting. Don't be fooled by the younger ages of your children. Teaching them life skills even at an early age is entirely appropriate and also gives them a sense of worth and belonging in your family unit.
Keep things simple
Set expectations based on the needs of your family. Pairing down on activities, or labor intensive curriculum, might just save some of your sanity on a day to day basis.
Plan ahead
I've already talked about planning ahead for your school year, but I really can't stress it enough. Being organized is extremely helpful in getting through a homeschooling year. When we don't plan ahead we find ourselves flying by the seat of our pants, unprepared for activities, and sometimes even in a state of chaos in the classroom as we're scrounging for supplies and materials.
If you've planned ahead and done your job well, then the homeschooling part is a matter of following a preset plan. You will find yourself much more prepared, and much less stressed.
Set your priorities
Decide what will be priorities for your family and focus on those first. Once you have taken care of the big things, you can have the freedom to welcome other smaller things into your day knowing that you've met your major goals. If you decide to let something minor go that day, it will be okay as you've taken care of the things you previously set forth as a priority.
With homeschooling it is common to feel like you've got a thousand plates spinning all at once and can't seem to keep up. For a homeschooler this can be an overwhelming thought, with the big question being "how do I keep all my plates from falling?"
In other words, how do we keep our heads above water in a world that seems to be crashing in around us? (I just want to be clear that this isn't some fool-proof master plan, it's just how I keep those little men in little white coats from coming to take me away.)
"The big question is…

How do I keep all my plates from falling?"
First, list your plates: Take a few minutes and list all of the things you have going on right now that require your attention. Here are mine…God, husband, Strawberry Shortcake, Turbo, Tinker Bell, the Teeny Tot, homeschool & school planning, family time, animals (2 dogs, 1 cat, 4 fish, 1 hamster), cooking, cleaning, laundry, extracurricular activities, blogging, time with friends, and me time (yeah right…).
Second, prioritize: Take a few minutes to list your priorities as well as your commitments mentioned previously. Take care of the big priorities first, and then let the rest fit in where they can. You can see how I have set up the priorities for our family below.
And finally… simplify: Take a look at all of your plates, pray for wisdom to know what God has for you right now, and what He doesn't. Don't waste your time on things that God isn't in, you'll just be spinning your plates in vain! Psalm 127:1 "Unless the LORD builds the house, its builders labor in vain."
For more information on homeschooling check out my Homeschooling 101: A guide to getting started!