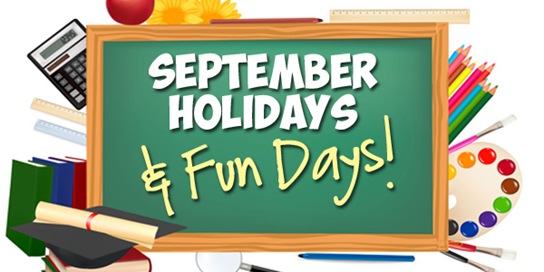 I know this post is a little late being that we're already a week into September, but I've been meaning to do some fun posts on monthly activities to help make your homeschooling a little more fun and engaging!
We like to find a couple of things each month that we do to make it special. It's not always an educational thing, but I at least like to make note of major holidays and celebrate a few out of the box days as well!
So here's what's going on for the month of September 2014…
Holidays:
September 1 – Labor Day
September 2 – VJ Day, WWII
September 7 – Grandparents Day
September 11 – 911 Remembrance
September 17 – Constitution Day
September 21 – International Peace Day (UN)
September 23 – Autumnal Equinox
September 24 – Rosh Hashanah (begins at sundown)
September 26 – Native American Day
Fun Days:
September 5 – Cheese Pizza Day
September 6 – Read a Book Day
Head to the library and pick out a fun book to snuggle up with
Check out one of these literature units!
September 7 – Grandparent's Day
Call your grandparents today and tell them you love them!
Send a special note or flowers
September 8 – International Literacy Day
Have your students each read a story on their level out loud to the family!
Celebrate whatever skill level they are at!
September 12 – Chocolate Milk Shake Day
Make your own milk shakes: 4 scoops (2 cups)  vanilla ice cream, 1/2 cup cold milk, 1/4 cup chocolate syrup. Blend until yummy!
September 14 – National Pet Memorial Day
Take a few minutes to remember any pets you're family has lost today. Have each person name something they love and remember about their pet.
September 16 – Mayflower Day
Celebrate the day the Mayflower sailed from England to America!
Make your own Mayflower and see if it sails! (The link is to a Thailand boat project, but the same concept will apply to your Mayflower!)
September 16 – Collect Rocks Day
Head outside and collect some cool rocks to add to your collection
Make some fun Rock Art!
September 16 – Mexican Independence Day
Have a fiesta to honor Father Hidalgo as he rang his church bells at 11:00pm on the 15th to rally his people to fight off Spanish rule! Below are some yummy recipes for your fiesta.
September 17 – Constitution Day
Celebrate the final Constitution Congress meeting held on September 17, 1787 where our forefathers signed the Constitution of the United States!
September 18 – National Cheeseburger Day
Check out your local restaurants for Cheeseburger specials!
Make you own homemade cheeseburgers
September 19 -  International Talk Like A Pirate Day
Ahoy Matey! Check out my Treasure Island unit study for more fun on pirates!
Talk Like a Pirate day is just for fun, so practice up your pirate-ese with some terms like these:
Ahoy: Hey there!
Aye: Yes
Booty: Treasure
Shiver Me Timbers! An exclamation of surprise.
Mutiny: To rise against those in authority.
Plunder: The act of robbery or pillaging.
Jolly Roger: Pirate flag, typically black with white bones.
Lass: A woman.
Matey/Me Hearty: Friend or shipmate.
Pieces 0' Eight: Pieces of silver which can be cut into eights to be used for small change.
Thar: The opposite of here.
Y-ho-ho: Pirates laughter.
September 20 – Oktoberfest, begins on the 20th usually but dates can vary
Oktoberfest was originally held in Munich, Bavaria Germany but celebrations are now held around the world. It is usually a huge celebration with food, music, dancing, rides, and carnival booths.
Check out your local area for an Oktoberfest near you!
September 21 – Miniature Golf Day
Gather the family and head out for a fun game of miniature golf!
September 26 Johnny Appleseed Day
And that's it for this month! I'll see you next month with a new list of holidays and fun days!