With fall in full swing, I just couldn't pass up this totally awesome recipe. Actually a friend made them for me one night, and my husband and family insisted on more!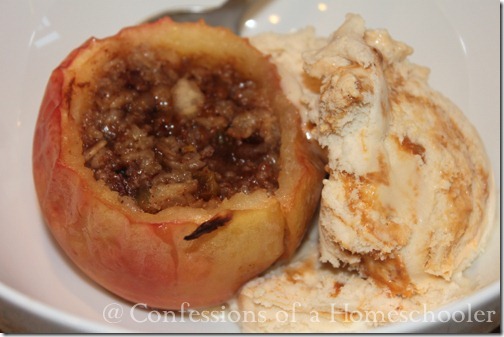 Oh yeah baby, these apples are packed full of yummy chewy goodness!
Just be ready to give your taste buds a delicious fall treat my friends. 'nuff said.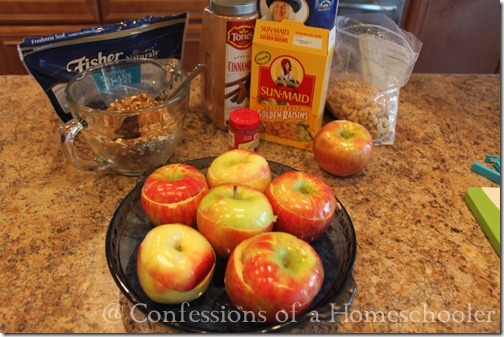 Ingredients:
6 Macintosh apples (One per person. I actually used honey crisp and they withered a bit, but still worked fine)
1/2 lemon juiced, or 1 T. lemon juice
4 T butter, softened
3/4 cup Quaker Oats (oatmeal)
2 T. brown sugar
1/4 c. walnuts (I used pecans, still delicious!)
1/4 c. golden raisins
2 tsp. ground cinnamon
1/4 tsp. nutmeg
1 pint vanilla ice cream (I used Caramel Vanilla Swirl…because that's what we had. And it's good.)
Directions:
Step 1: Trim the tops off of the apples, and scoop out the insides, leaving enough around the edges so the apples stand up well. Rub the edges of each apple with lemon to keep from browning. (I actually forgot the lemon rub, and once you bake it, it's no big deal.)
Step 2: In a medium bowl, combine the remaining ingredients well. (You can also finely dice 1/4 c. of the apple insides and add that in. I've had it both ways.)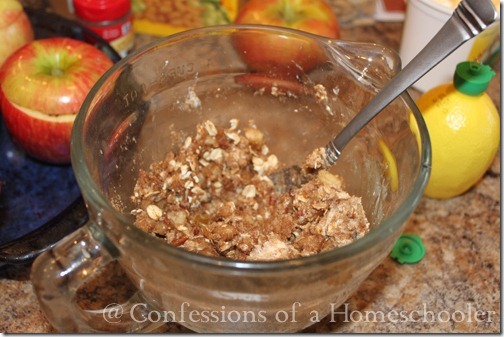 Step 3: Set apples upright in muffin tins or small baking dish and stuff full with mixture.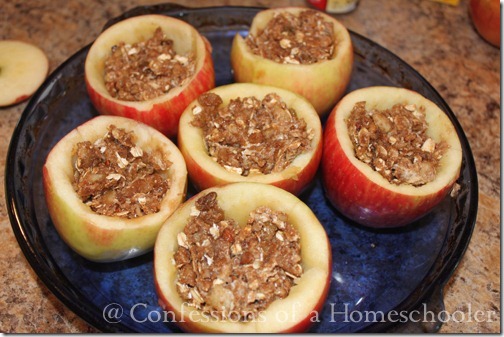 Step 4: Replace apple tops and bake at 425 degrees F for approximately 20 minutes or until insides are warm and bubbly and yummy!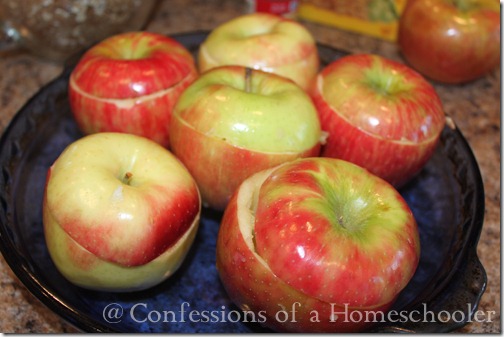 Step 5: Serve while still warm with a scoop of vanilla ice cream! Then encourage your kiddos that even though it looks a little weird to try it anyway!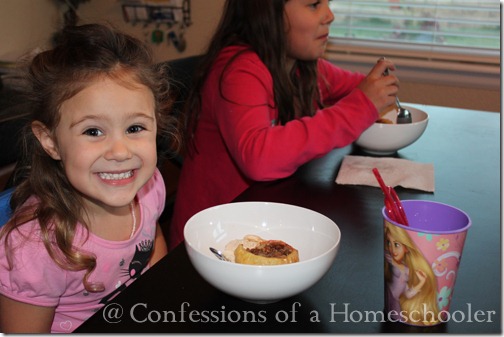 Hope you enjoy this yummy fall dessert!
Have a fun fall recipe to share? Make sure to comment below and share your recipes with others!