Welcome to our final day in the 10 Days of Character Studies: Day 10. Today we're going to talk about being selfless.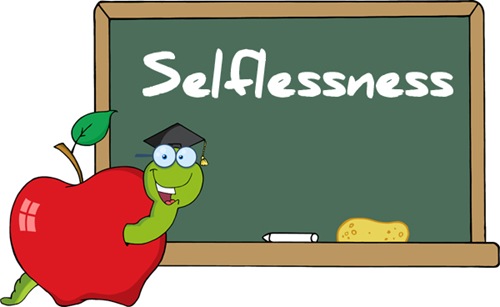 Philippians 2:4 Let each of you look out not only for his own interests, but also for the interests of others.
What does selflessness mean? Showing unselfish concern for the welfare of others. Selflessness means that we act without thoughts of how we will profit or be rewarded for our actions. We choose to help others because we may identify with them, and their needs. And we choose selflessness out of obedience to what God has called us to do.
What does selfishness mean? Concerned chiefly or only with yourself and your advantage to the exclusion of others.
What does our verse for the week say about being selfish? I haven't found anywhere in the Bible where selfishness is rewarded or condoned. God repeatedly tells us to love one another, love our enemies, love others above our selves, and serve with a cheerful heart. Our best example of this is Jesus Himself. "Just as the Son of Man did not come to be served, but to serve, and to give his life as a ransom for many." Matthew 20:28
Lessons Learned:
This week we are going to take a look at Ananias and Sapphira's selfishness, Achan's sin, the rich man who hid his eyes from the poor, and Judas Iscariot's greed. We'll see the consequences of their actions, as well as the blessings of those who were obedient in selflessness. We'll also talk about ways we can serve others without expecting anything in return.
Click to download: A Character study: Selflessness
AND…as a special bonus for making it all the way through the 10 Days of Character Studies, I wanted to share the Fruit of the Spirit Study with you all as well! This is a 14 day study written by my good friend Beckie. She no longer blogs, so now I'm blessed to be able to share this wonderful study with you with her permission.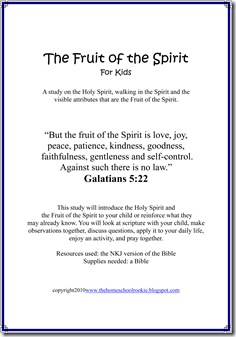 I hope you enjoy the the 10 Days of Character Studies, click the button below if you missed any of them! You can also click on the "Homeschool" tab then scroll down to "Bible" to see a pop-up menu of all of my character studies.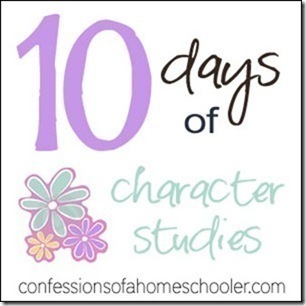 Be sure to visit these brilliant women during our 10 days adventure between November 7th-18th! I love these ladies and we know you will too.