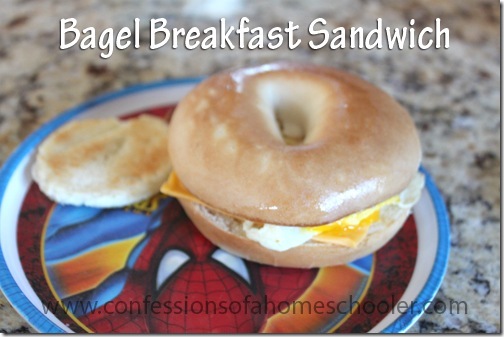 Hi everyone, I have another fast and easy breakfast recipe for you today!
My son loves breakfast sandwiches and he loves bagels. So he's been asking for these breakfast bagels quite a bit lately. And they're super easy too, which is just what I need!
Ingredients:
Bagels
Eggs
Cheese
Ham (You can use sausage patties too!)
Butter or cooking spray
Directions:
Melt a couple of tablespoons of butter in a skillet on medium heat. You can substitute cooking spray if you like, it's mainly to keep the eggs from sticking.
Crack an egg in to the skillet, and cook until done on one side, then flip.
Place your bagel open sides down onto the skillet just to toast it a bit and heat it up.
If you like you can warm a piece of ham or cook a sausage patty in the skillet as well.
Once your egg is done, simply place the bottom half of the bagel on a plate and top it with the egg, ham slice, cheese, and the top half of the bagel.
And voila'! You're done! Egg, ham, and cheese breakfast bagel ready to go!
Now of course, I have to make 4 of these!
Serve with a little O.J. or fruit and enjoy your day!
Hope you enjoy!