Hi everyone! I have some super exciting news! Some of my most visited posts are my curriculum forum discussions. Commenting on old blog posts can be a pain and don't get looked at very often. So, we wanted to create an area where we can have ongoing conversations, ask questions, and generally chat up a storm!
So my amazing and talented husband created a homeschooling forum for all of us to use! YAY!!
And as a kick off I have a fun week of discussions, and giveaways going on, so make sure to check back daily to see what we're talking about and how to win some free homeschooling goodies!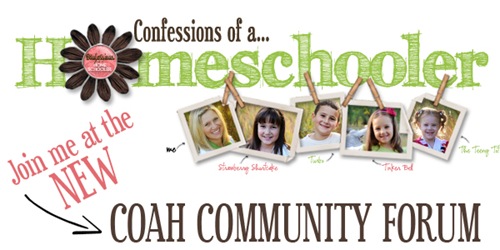 What is this community about?
The short answer is homeschooling, but the long answer is everything!
I'm so excited about the forum, I hope it will be a great place where we can all go and get to know each other, build up a support group, ask questions, get help, encourage one another, and share fun things!
That means that you can come here and talk about parenting, homeschooling, recipes, crafts, organizational tips, etc. and anything else that you would like! My hope is that we'll engage, encourage, and support fellow readers. Check it out by starting a new discussion of your own. For instance, if you wanted to talk about:
Curriculum – You may discuss which curriculum works best for you and why, or which one you're struggling with and why. It's all good here.
Recipes – You can share your favorite recipes here! Just make sure not to directly copy recipes from another website, instead post a link to that site so that we're not inadvertently plagiarizing someone else's hard work.
Organizational Tips –Feel free to share any tips you have on keeping the mountains of homeschooling papers, text books, teacher's manuals, and art projects under control.
DIY Projects-Feel free to share any fun DIY projects that you're in love with! Make sure to link to any blog posts you have with eye candy too!
Those topics would be exactly the type of thing that we want to have a discussion about.
Trust Levels
Trust levels are set up to help keep those pesky spammers away. We want real people in our forum, and nobody wants to sift through spammy posts to get to the good stuff! So essentially trust levels help everyone. The more you participate, the more capabilities you'll be rewarded with in the forum. You can read all about the trust levels here, but here's the rundown of the basics:
Level 0: New users, can't start topics or private message, but you can read and comment on posts. The more you comment, the quicker you'll become a level 1 user and can post your own topics!
Level 1: You can now read, reply, and post new topics! YAY!
Level 2: You can now invite people to read your topic, and invite outside users.
Level 3: You're a super user! You now have some admin-y type capabilities.
Messages
Once you're logged in you'll see a little speech bubble at the top right corner of the forum. If you post topics or comment on an existing post you'll be notified of replies in your message section. You'll also find any PMs (private messages) in this area as well.
If you have new notifications you'll see a little number up in the top right indicating you have new messages!
And if you click on your little picture/gravatar image in the top right corner, you can edit, and update your profile info!
Before Creating New Topics, Please…
Make sure that you take a look around before just starting a
new topic – there's a good chance that somebody else has already asked the same question.
Please search before opening a new topic, as someone might have already created the topic you want to open. Note that we do search on your behalf as you compose a new topic, too.
When creating a topic be sure to select the correct category so it is easier to find. It is OK to leave category blank if none feel applicable.
Make sure to be very descriptive in your topic, and give it an accurate title. That way it will be easier for others to find and help out.
How to post a new topic
Here's a simple diagram on posting a new topic.
Click the green button that says +New Topic.
Next create a title – Make sure the title is clear and concise.
Category – Pick a category for your post to go under.
Post content Type in the contents of your text, you can add website links by clicking the ∞ button at the top tool bar.
How to add a website link to your post
We all love to check out new and fun things, so have fun adding links to your favorite places!
Highlight the text you would like to link.
Click the ∞ button and paste your url in to create a link! OR copy and paste the url right into your post. That works too.
To search the forum:
To search for something specific, click the search icon, then type in your key words. You can search for something general like "math" or you can search for more specific results such as "math u see".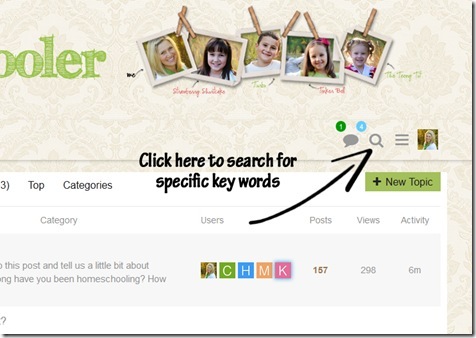 To see all of the available categories:
To browse through a specific category, simply click the "Categories" button and you will see all of the available categories. Click the one you wish to read through and you'll see all of the posts within that category.
You can also click the "Latest" button (the pink one below) and the forum will sort by the most recent posts.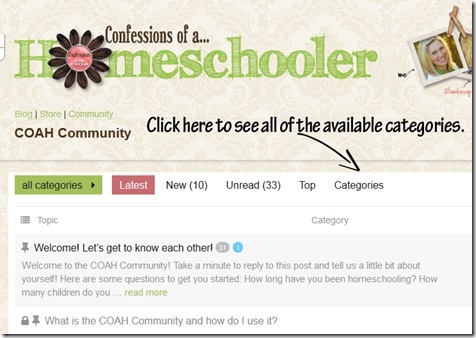 Things to Avoid Doing
Please do not post affiliate links in posts. Nobody else will appreciate them, and you will be flagged by other users.
Please do not spam us with your web site link. Nobody appreciates people who sign up and then spam their software immediately without contributing. There are some exceptions, but you should first email us to ask if you can.
Please be nice. People posting nonsense, demonstrably false statements, propaganda, or inflaming other people repeatedly for no reason will be warned and then banned. This is meant to be an encouraging, and supportive discussion area.
Help us! If you see someone posting inappropriate or rude comments, please flag their post and notify me, so I can help keep this community a positive place to be!
GIVEAWAY: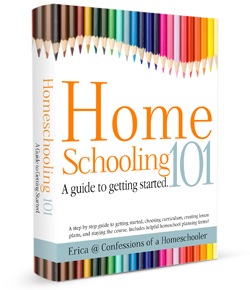 To kick off my COAH Forum launch, I'll be giving away a free copy of my Homeschooling 101 eBook to one of my new friends in the forum!
How to enter: (Follow the instructions on the rafflecopter below.)
1. Make sure to visit my COAH Community forum and create an account. (NOTE: this is a separate account from my store)
2. Next reply to the "Welcome! Let's get to know each other!" post and introduce yourself! (I'll be picking the winner from this thread, so make sure to stop by and say hello!)
Let us know things like…
How long have you been homeschooling?
How many children do you have?
What teaching style do you like best? Charlotte Mason, Traditional, Eclectic, etc.
Why did you start homeschooling?
3. Next take a minute to browse around the forum. I've started several discussions that are questions I get asked all of the time. You all are an amazing community of homeschoolers, and I know you have some wisdom to share with everyone!
Feel free to respond to any of the questions asked, and once you've reached level 1 you can feel free to ask your own questions, post a fun recipe, craft, DIY project, or leave a quick note encouraging others!
I'll be picking a winner from all of my new forum friends using rafflecopter, so make sure to come back and then click the rafflecopter noting that you've joined the community!
Details: Winners will be announced on the above rafflecopter on Sunday, March 1, 2015!
So let's grab a cup of coffee, or something less-caffeinated if it's late, and go forth, and converse!
Uhem…I'll be over there waiting to chat with you all, so don't leave me out there talking to myself. People will think I'm one of those weird un-socialized homeschoolers ;o)