Sawa dee ka! And welcome to our fun World Geography week on Thailand!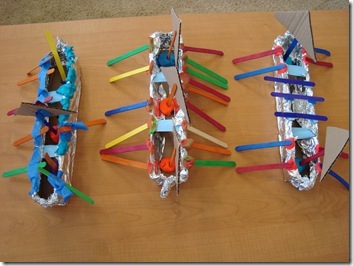 (Krathong Floating boats)
Here are some of the things we learned about Thailand:
Where Thailand is on the map, the Gulf of Thailand, the Mekong River, and the capital Bangkok.
How to say "Hello" in Thai – Sawa dee Ka!
How to pray for the Thai people
About children in Thailand
Completed a lapbook activity
Completed and classified animals of Thailand
Learned new Geography terms
Made a Krathong floating boat craft
Learned more about Thailand—National Geographic
Learned about the Thailand Floating Markets
Each day we review all the countries we've learned so far. I also ask about capitals, language, how to say hello and what the money is for each country just for review.
Of course we learned about animals found in Thailand and then added them to our Animal Wall
We worked on our Mapping Thailand activity:
We made these cute Krathong Floating Boats after studying about the Thailand Floating Markets. You can see instructions for the boats here: Krathong Floating Boats
Since Thailand was our last country in Asia, we did a quick review of all the countries and colored in the ones we learned about on the Asia map.
Of course we went out for Thai food to complete our week! It's all part of my "Erica doesn't cook on Friday nights" meal plan ;o)
When we were eating my preschooler saw the waiter walk by and started saying "sawa dee ka! sawa dee ka!" he was so thrilled that she could say hello in Thai that he came and taught us a few more words, then took our picture! We got wonderful service after that too! Here's my yummy Phad Thai, even the kids liked it! And with fried bananas and homemade coconut ice cream for dessert a good time was had by all!
Of course we stamped our passports and greeted each other, Sawa dee ka!
Click here if you'd like to follow along with our Expedition Earth Geography Curriculum Journey!
Expedition Earth is a hands on world geography curriculum that covers 31 countries across the world. It is designed primarily for K-5th grade students. Students will learn the continents, oceans, people, cultures, animals, climates, try new foods, crafts and more, all through hands-on activities!