Hi everyone! As I mentioned previously TONIGHT is my FREE webinar with Amy McCready! There's still time to join us, so make sure to register now!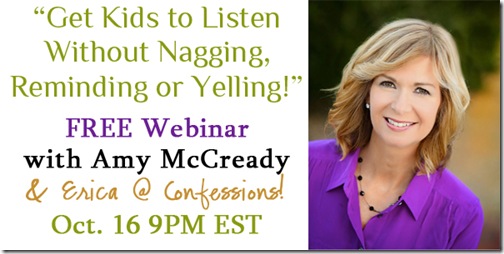 What's the Webinar About?
Get Kids to Listen Without Nagging, Reminding or Yelling (And who couldn't use some help in that area right!?)
Who Should Attend: Frustrated parents of kids ages 2-16!
A special note from Amy:
Why is it so difficult sometimes to get kids to listen? You know she heard you, but she ignores you. You ask again and still . . . no response. If you're tired of nagging, reminding and yelling to get kids to listen–this session is for you! Discover proven tools for your most frustrating discipline dilemmas including the 5 R's of Fair & Effective Consequences. This hour-long investment will lead to a lifetime of peace in your home. Join us to learn easy to implement strategies to correct misbehavior and reclaim the calm voice you had before kids.
What do you need?
All you need is your computer and an hour of free time :o) (No webcam required.) You'll see and hear Amy on your screen and you can even ask questions and she'll answer them as she goes through the presentation.
**I'll also be online chatting along with everyone while Amy teaches us via live video feed. YAY!
Join us TONIGHT!
Wednesday, October 16th, at 9:00 PM, EST
-> Register Now! <-