Hi everyone! I'm back today with another Homeschooling 101 post for you! Last time around we discussed Storage Solutions and  Organization. And today we're going to talk about the inevitable FIRST DAY OF SCHOOL!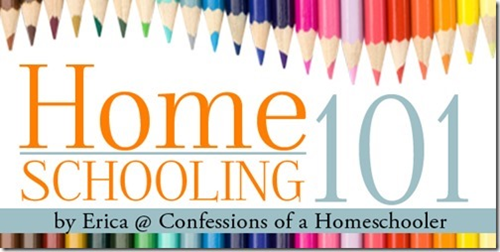 Once your curriculum is ordered, lessons are planned, the work area is organized and ready, it's time to start school! Typically students and teachers are excited for the first day and it's no different in your homeschool.
To help foster our excitement I let students help to set up the school room, purchase supplies, and organize their work area. Once it's officially time to start school, everyone is excited and ready to go!
Some people like to start school on a Wednesday, so they're only doing three days the first week, then break for the weekend, and then start in on Monday with a full week of lessons. I typically start on Monday, but keep the first day light and fun.
Remember, there is not one "right" way to homeschool, and what works for one student might not work for another. What works for one family might not fit for another. So keep in mind God's ideal for your family, and choose what fits best for you. Don't waste time comparing your homeschool to others, because no two look the same.
The night before our first day I like to do a special end of summer dinner. We usually have a fun outside BBQ with a special dessert. Then we make sure that everyone gets to bed at a decent hour so they're well rested.
Day 1:
On the first day of school, I usually plan to cook a special breakfast so I know that our children are ready to learn! If needed, remind them to get a drink and use the bathroom prior to starting. There's nothing like starting on day one and having everyone ask to use the bathroom right off the bat!
First Day Photos:
Next, we head outside to take first day pictures. As a homeschooler this is something we can forget to do, but it's a great way to commemorate the day, so don't forget to take pictures!
Tour the Classroom:
Next, we do a quick tour of our new school area and make sure everyone knows where things are located. Then I let the children take a few minutes to go through their workboxes to see what is in store for them this year. We also take a moment to review our rules so everyone is familiar with them.
Next we discuss our pre-determined daily schedule so everyone knows what will be expected of them through the day. As we progress through the first few days, I also remind them as we are going what we have next so they become familiar with the schedule.
Finally we start our day with the Pledge of Allegiance, then move on to our lessons.
Keep it light:
Since it's your first day, try to keep it light. Allow students time to get used to the new schedule, and if you're a new homeschooler, they'll need time to get used to homeschooling itself.
Don't be discouraged if day 1 is harder than expected. Or if day 1 is fabulous, but day 2 or 3 things start to fizzle.
There is an ever-so slight chance your student's excitement may fade once they learn that school is hard work. I encourage you to keep a positive attitude, and if necessary gently remind students of your rules as well as rewards for good behavior.
What should my daily schedule look like?
I've had numerous questions on what our daily schedule looks like. While each day can bring on a life of its own, we do have a basic schedule, or more of a routine if you will. Barring any unforeseen circumstances we do our best to stick to this routine. I find that both myself and my children do better with a general overall guideline of how their day will go.
While everyone's routine will vary, I know as a new homeschooler just having an example to start off with is helpful. So for what it's worth, here is what our typical daily schedule looks like. Keep in mind the schedule in a homeschooling home is a fluid thing and can change.
You know …provided nothing unexpected happens…like say my toddler decides to paint the floor with her new blue fingernail polish.
A full school day currently takes us about 4 hours for the older kids (3rd & 4th grades), about 3 hours for my 1st grader, and about an hour to an hour and a half for my preschooler. However, you will want to check with your state for hourly attendance requirements.
Preschool:
Typically speaking I usually suggest 1-2 hours for a preschooler per day depending on what they can handle. If your preschooler starts to get frustrated or disinterested let them take a break and either return to activities later in the afternoon, or the next day. Keep in mind that most preschoolers attend school only 2-3 half-days per week, so there is no need to force a certain amount of time.
Kindergarten:
For us, Kindergarten usually takes about 2-3 hours per day to complete all of our work. Each subject only takes about 15-20 minutes depending on their attention span. Again you'll want to check your state requirements.
Elementary and Up:
From first grade and up most states will require a certain amount of attendance averaging a specific amount of hours over the course of your year. You will need to consult your state's requirements to see how much time you should be spending on school each day.
Most curricula will give you a guideline for the appropriate amount of time to spend on that subject. It might also be based on age. This will help you when planning out your day. For our state, we're required to average 4 hours per day over 172 days per year.
Want more information? Check out Homeschooling 101: A guide to getting started!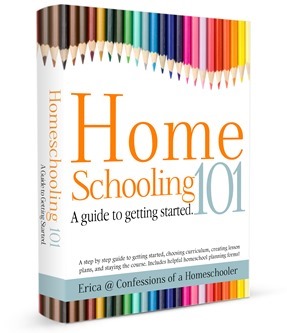 If you've missed my previous posts make sure to check them out!