I'm back today with another Homeschooling 101 post.  Today we're talking about homeschooling an only child.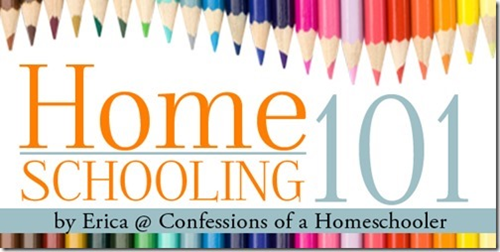 Sometimes when we think of homeschooling, we envision a larger family. But that's just a stereotype; there are many families who  homeschool an only child. One thing I've learned over the years, is that homeschooling families are as diverse as the world we live in! Don't be intimidated by the size of your family, large or small, you can homeschool if you are committed!
Not only do you have the added benefit of truly being able to tailor your curriculum to your child, but your child will also benefit from one-on-one teaching.
And since you only have one student, you'll most likely find you can finish school a little faster than most which gives you a lot of opportunities to add in fun activities like field trips, and other hands on projects! It also gives you time to participate in other homeschooling groups which I'll talk about below.
I know socialization can also rear its ugly head in this situation, as well. But keep in mind the secret to socialization is teaching your child to get along with people of all ages. And depending on where you live, your child probably already has a group of friends and activities that they are participating in.
Here are a few ideas to help enhance your year when homeschooling an only child.
Include the whole family
Sometimes doing a science project is just more fun with other people. Include both parents in a fun science experiment. Take nature walks as a family and have everyone keep a journal of what they find on the walks. Go on field trips together, do art projects, and read books together. You might also consider encouraging your student to give a presentation to both parents in the evening or invite grandparents or friends over to listen. Have your student stand in front of the room, state their name and age, then give their presentation. Allow them to answer questions and take comments after their presentation is complete.
Join a co-op
Joining a co-op is beneficial for both the only child as well as the parent. Co-ops can often provide lessons that a parent might not be able to do on their own. And they create an environment where parents and students can get to know other homeschoolers and form relationships. Visit www.HSLDA.org or do an online search for homeschool co-ops in your area.
Provide opportunities for independent studies
While homeschooling creates a beautiful bond between a parent and a child, taking a break from the intensity of the one-on-one teaching time is also a valuable tool. Choose some curriculum that allows your student to work more independently wherever it makes the most sense. Doing so will give you and your child a small break from each other during the day.
Offer to host a small group activity
There are a number of small group ideas that can augment your homeschool. Offering to host for a group of similarly aged children is a great way to create lasting friendships and a fun learning environment as well. It is great for activities that are better suited to groups as opposed to individual study.
You will probably be able to enlist the help of the other parents who will be attending as well. Have them alternate bringing a snack to the group meeting, providing materials, or even teaching a lesson. Most families are happy to get involved if someone else takes the lead!
Here are a few small group ideas to help you get started.
LEGO Club
Keepers of the Home
Contenders of the Faith
Science Club
Book Club
Classic Literature Club
Art Group
PE Group
Geography Group
Provide extracurricular activities
Change your location, ie. do school at the library, park, or somewhere more exciting than at home.
Take field trips
As you can see, homeschooling an only child doesn't need to be boring or lonely. Instead you have the unique blessing of being able to focus on your child's needs more directly.
You can choose your pace and tailor your curriculum to the unique needs of your student. And there are a variety of options for you to provide a quality education for your child, as well as get them involved in outside activities, that will encourage positive friendships to last a lifetime!
For more detailed information on homeschooling an only child check out my Homeschooling 101: A guide to getting started!