I'm so excited to share a new book with you all today. New York Times Bestselling author Lysa TerKeurst has written a fabulous new gem called The Best Yes: Making Wise Decisions in the Midst of Endless Demands and it's all about finding your Best Yes.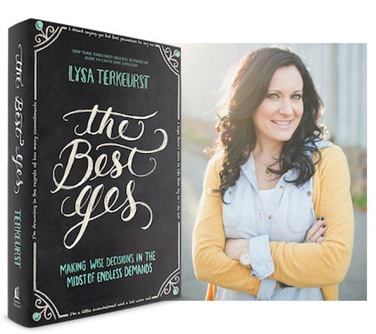 Many call this book "inspiring".  I call it a necessity!
As a homeschooler, mama, blogger, wife, Christian, daughter, business owner, and long time people-pleaser, it's a game-changer for me.  And at a time when my life has been getting more and more hectic by the hour, I can't tell you how thrilled I was to receive an email from Lysa about her new book.
Here is a word from Lysa herself on why she wrote The Best Yes.
And I agreed with every single one of her points! I know my kiddos are growing up fast, and I don't want to miss out on the "sweet" parts of life or regret where my time went.
I wrote this message because I need this message.

I wrote it because I'm tired of rushing and stressing and missing out on the sweet parts of life.

When I set my life to the rhythm of rush, I just quite honestly don't like who I am.

Rushing robs me of the parts of life that feed my soul. When a woman lives with the stress of an overwhelmed schedule, she'll ache with the sadness of an underwhelmed soul.

And I guess I'm just tired of that deep ache. Maybe you are too?

Instead of constantly dreading saying yes and feeling powerless to say no, there's another option.

And that is to ask, "What is my Best Yes in this?"

In The Best Yes, we'll discover how to:

Cure the disease to please with a biblical understanding of the command to love.
Escape the guilt of disappointing others by learning the secret of the small no.
Overcome the agony of hard choices by embracing a wisdom-based decision-making process.
Rise above the rush of endless demands and discover your Best Yes today.

When I un-rush myself and use the Best Yes as a filter of every decision I make, the best of me emerges.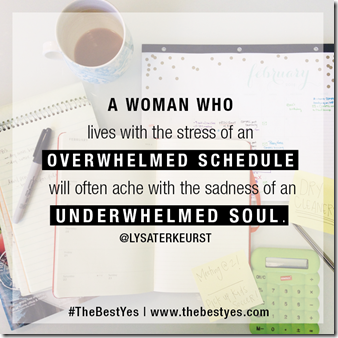 Who is Lisa?
I'm sure you've all heard of this amazing lady already, but just in case…Lysa TerKeurst is the New York Times bestselling author of Made to Crave and Unglued. She isn't shy about admitting what a mess she can be. But in the midst of everyday "growth opportunities," she's been learning God's lessons and sharing them on her blog www.LysaTerKeurst.com and in her books. Lysa is president of Proverbs 31 Ministries and writes from her sticky farm table in North Carolina where she lives with her husband, Art, five kids, three dogs, and mouse that refuses to leave her kitchen.
Saying no isn't an unnecessary rejection. It's a necessary protection of our Best Yes answers. ~ Lisa Terkeurst
One of my favorite things about The Best Yes…
One of the most amazing parts of Lysa's new book is that every penny of the royalties and proceeds of this book is going to support Christian non-profits! So not only are you being blessed by this book, but so are thousands of others!
Get your copy today!
This nugget of goodness is available for just $15.99, so make sure to get your copy of The Best Yes: Making Wise Decisions in the Midst of Endless Demands today!
This post is part of Lysa TerKeurst's "The Best Yes" Blog Tour which I am delighted to be a part of along with many other inspiring bloggers.  To learn more CLICK HERE.