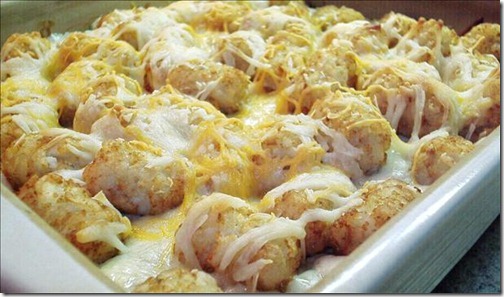 (source)
I have to let you all know, this was my first time making this super easy Tater Tot Casserole recipe! My husband had it growing up, and to my recollection we never did! It turned out to be a crowd pleaser so I thought I would share it with you all for nights when you need something super easy and quick!
Ingredients:
1 can cream of mushroom soup
1 tsp. ketchup
1 tsp. Worcestershire sauce
1 lb. ground beef
1/2 diced onion chopped
1 bag frozen tater tots
1 1/2 cups shredded Cheddar cheese
Salt and pepper to taste
Cooking Spray
Optional: frozen peas
Directions:
Preheat oven to 350 degrees F (175 degrees C)
Brown ground beef and onion in sauté pan and drain grease, and salt and pepper to taste. Optional: add frozen peas to meat mixture
Add cream of mushroom soup, ketchup, and Worcestershire sauce to meat mixture and mix well.
Spray bottom of a  9×13 casserole dish and spread meat mixture evenly across bottom.
Arrange tater tots evenly over beef layer.
Sprinkle shredded cheddar cheese evenly over the top.
Bake in preheated over for about 30 minutes or until cheese is bubbly.
Enjoy!