Hi readers! I have a really fun and challenging activity to share with you today! It's something that Strawberry Shortcake has been working on for our weekly co-op group. Since she's in 6th grade this year, they're working on career paths, and I thought it was such a great idea, that I wanted to share it with you!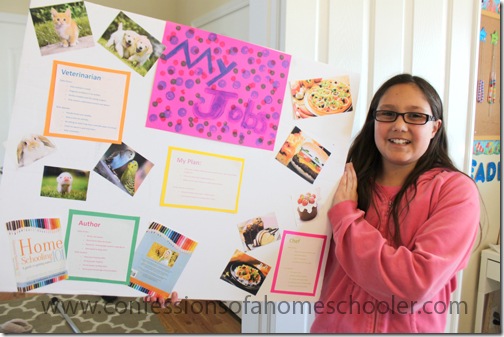 The Assignment:
Pick 3 career choices that sound exciting. (2 should require a college degree, 1 can be non-college.)
List daily duties, skills/abilities needed for each career choice.
Create a plan of action stating how you plan to get there. Include possible college choices, and if you have an older student, have them list some of the entrance requirements to help them get started planning now!
Compose a presentation to showcase your career choices, skills, and plans.
Some suggestions to help research careers include internet searches, interviewing someone you know in the field, and if possible shadow someone in the field to get a good feel for what your life would be like.
Here are some of the things Strawberry Shorcake came up with.
Veterinarian:
She loves animals, always has. But she isn't super fond of blood or needles which she discovered was one of the things she'd be experiencing in this field! I guess she'll have to decide if it's worth it. And for the record I think she's just not fond of needles when they're going into her.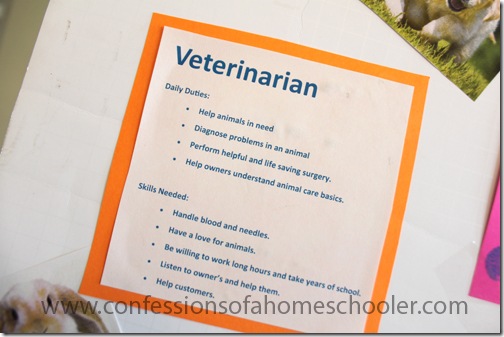 Daily Duties:
Help animals in need.
Diagnose problems in an animal.
perform helpful and life saving surgery.
Help owners understand animal care basics.
Skills/Abilities:
Handle blood and needles.
Have a love for animals.
Be willing to work long hours.
Be willing to go to a college to get a degree in veterinarian medicine.
Listen to owner's and show compassion to them and their animals.
Help customers.
Chef:
She loves to cook, and is very creative in this area. She isn't afraid to experiment, and often comes up with delicious new creations!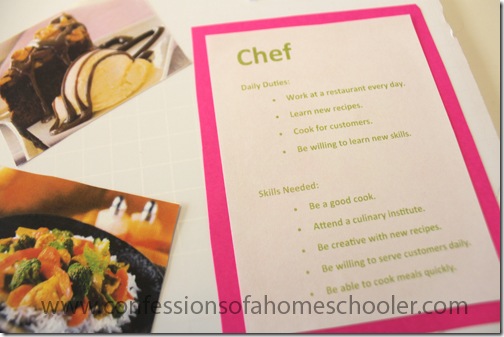 Daily Duties:
Work at a restaurant daily, might have to work your way up to be chef.
Learn new recipes.
Cook for several different customers.
Be willing to learn new skills, and use criticism as a building tool.
Skills/Abilities:
Attend a culinary institute to learn cooking skills and techniques.
Be creative with new recipes.
Be willing to serve customers daily.
Be able to cook several meals at once, and quickly.
Author:
Writing is definitely a gift of Strawberry Shortcake's! She is a natural at it, and is never at a loss for words! And I especially like her …uhem…mentor.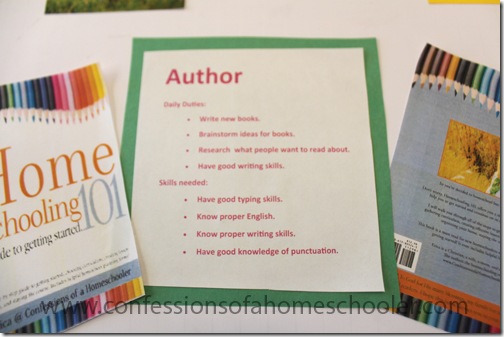 Daily Duties:
Be self motivated.
Write new books often.
Brainstorm ideas for books.
Research what people want to read about.
Have good writing skills.
Skills/Abilities:
Have good typing skills.
Know proper English.
Know proper writing skills.
Have good knowledge of punctuation.
Possibly attend writing classes.
My Plan of Action:
Research colleges and schools that have good veterinarian, chef, and writing programs.
Find out what their entrance requirements are.
Take appropriate classes to help ensure that I will be accepted and meet their requirements.
Possible colleges:
Colorado State University – Veterinarian School
Cook Street School of Culinary Arts – Chef
Regardless of your student's ambitions, I think this is a great project that definitely makes them think about their future.
It's one thing to say "I want to be a (fill in the blank) when I grow up." But it's quite another to actually take the time to research the career, and see what is required to actually make it happen!
I was pleased to see Strawberry's variety of choices, and knowing her, I think she would do amazing in any of these fields!
I hope you enjoy this project, and I'd love to see pictures of your student's presentations if you participate!