Hi everyone! I have an exciting post for you all today! I'm going to start a new series of curriculum reviews on my YouTube channel.  I think that sometimes its just nicer to see curriculum in person (a.k.a. video) rather than trying to figure out what it looks like online, or via photographs.
I thought it might be helpful to show you how we use it, prepare it, store it, set it up, and things like that. I'll also include what materials I recommend that you purchase when using the curriculum, and what supplies I think are optional. Remember these are just my opinions, and what I've found work best for us. Of course you'll want to do what's best for your family.
I want to start off by saying that these are not sponsored posts, I really just wanted to try and give you all a better look at the curriculum that we use.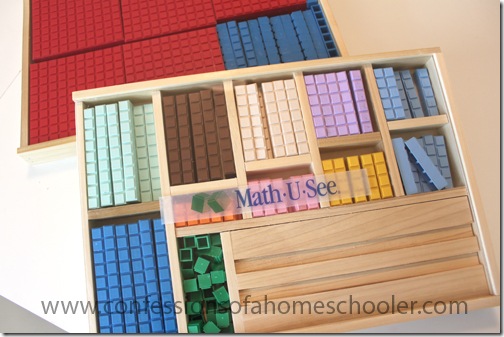 So let's get started!
Today's video review is all about our well loved Math U See curriculum. As most of you know, I've used Math-U-See for several years now. We did venture out and try a couple other programs, however we found that Math-U-See seems to work best with our learning style.
Click here to see my Math-U-See Video Review
Another cool thing about Math U See is that Homeschool Planet has pre-made lesson plans for Math U See curriculum, so you can just add it into your planner instantly!
Supplies mentioned in this video:
I apologize that the video ended up kind of long! I wanted to be thorough and give you as much information as I could without boring you to death!
By the way…you know you're a homeschooler when…you are willing to watch a 20 minute video on math curriculum LOL!
I hope you enjoy this series, and I'll see you next time with another fun curriculum review!